Stream of Thought
Adventures of a Wild Woman – A Passion for Making
by Shirley Walle of Wild Gatherings
(https://goimagine.com/wildgatherings/)
Life experiences create who we are. Every day, things influence us. As a maker, I perceive artistic possibilities in everything I see. I love "handmade". I thrive on being a maker, and I love purchasing products from another maker. It's what makes my world go round.
Born and raised in Reseda in the San Fernando Valley of Southern California, I've called the Pacific Northwest my
home since 1974. I love Oregon's high desert; the humbling Badlands of ancient Juniper trees; Big Sagebrush, Indian Paintbrush, Woolly Mullein, and willow-saturated marshlands created by the ever-eager beaver. I also appreciate and become recharged within the dark and damp secrecy of Oregon's rain forests. Alright, enough of the nature-inspired banter.
I built ships at age 5. Well, little wooden boats. My dad, Willard, would cut pieces of wood for me, and I would sit on the back porch with a hammer and nails and build away. And there were mud pies, and kites made from newspaper and sticks, and forts made from appliance boxes.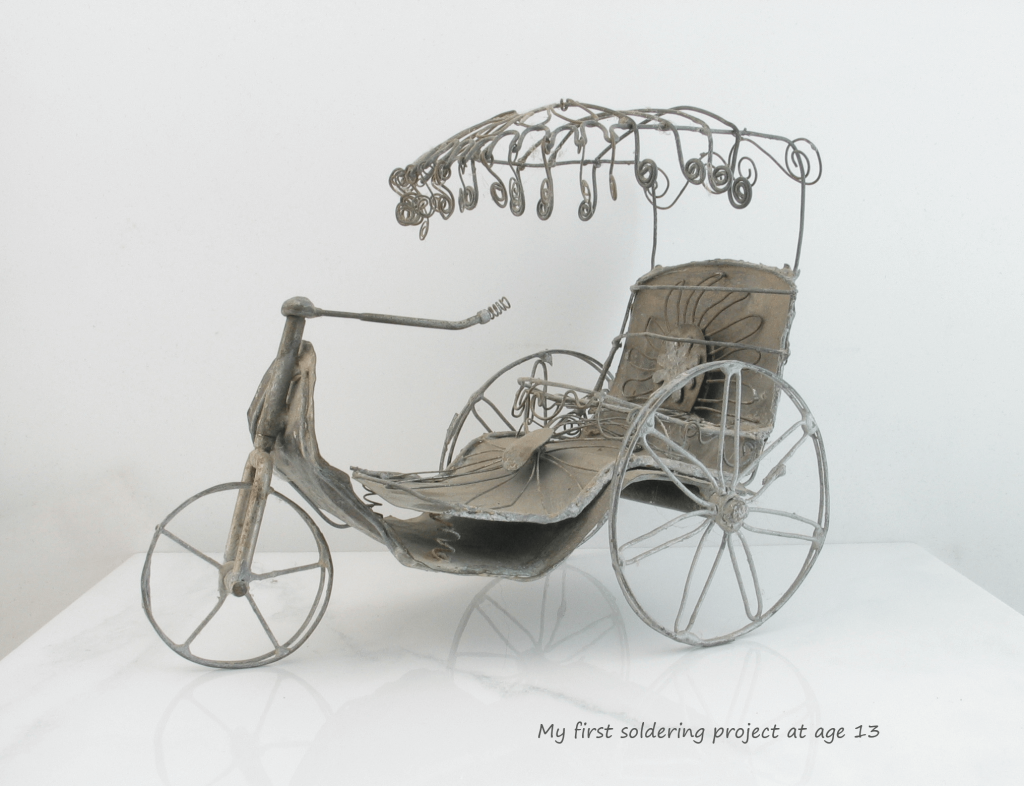 My first soldering experience at age 13 was for a Jr. High School – an intricate miniature three-wheeled surrey with moving wheels, a steering rod, and fringe on top. My dad was very supportive of my playing in the garage. He would set me up with a soldering gun, lathe, saw, torch, etc. He taught me at an early age, by example, that I could make, do, or fix just about anything. If I didn't know how, I would figure it out. Occasionally I would ask.
A couple of years later I stepped into the school's welding shop for another project – I wanted to build a wire birdcage to house my finches. The teacher showed me how to use a big contraption called a spot welder. I designed and planned out the cage, and proceeded to spot-weld hundreds of wires together. The cage stood about three feet tall and a foot-and-a-half wide. It was a work of love.
WILD GATHERINGS ~ In 1993 I was preparing to engage in my very first craft booth at a year-round Public Market in Salem, Oregon. I'm a list-maker. One list was of items I could collect in the wild to sell, such as rocks, seeds, sage, wildflower bouquets, etc. – I labeled the top of this list, "Wild Gatherings". The name stuck and has become all-encompassing for the many aspects of my craft. Through the years I have crafted kaleidoscopes; obsidian needle chimes; perfumes, soaps, & massage oils; copper olive oil lamps; geode aromatherapy diffusers; bud vases made out of old silverware; handmade cone incense; soy and bees wax candles; and on and on. These days I focus on jewelry and small home décor pieces – substantially lighter in weight and easier to mail or transport to shows!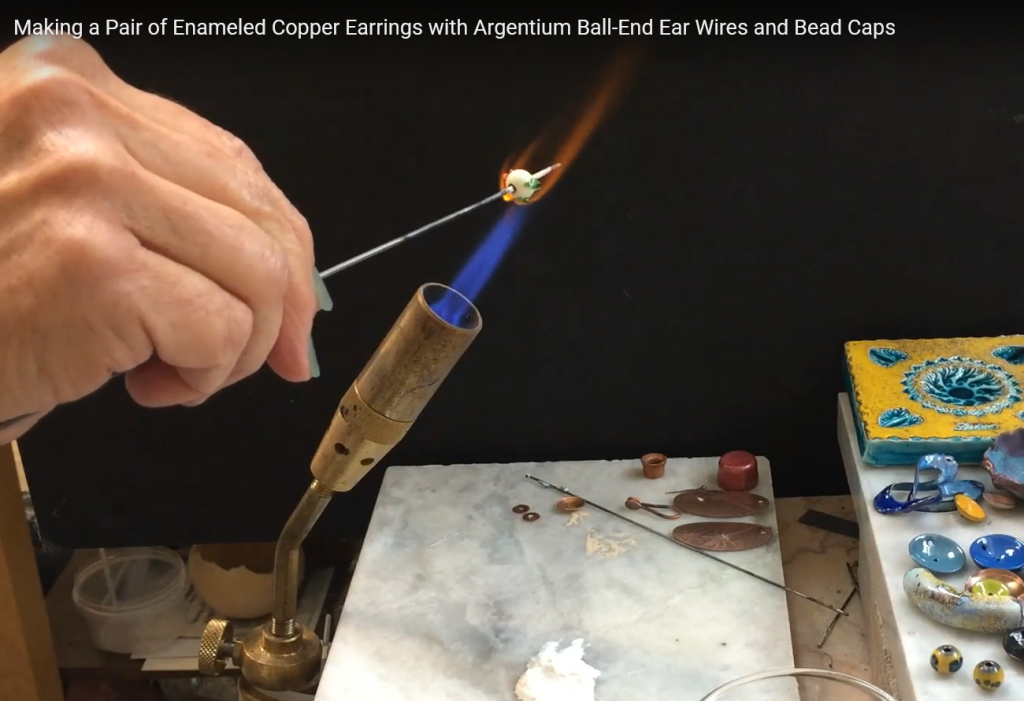 COPPER and ENAMELING: I have always been fascinated by copper and it's many uses, as well as enameling. It's not paint! Vitreous enamel is glass powder melted onto metal using a kiln or torch at a temperature of at least 1500ºF. In the nineties I learned about torch-fired enamels at a local Gem & Mineral Show, which opened up an entirely new and exciting medium. My studio has expanded since those days. Copper and silver fabrication and enameling have become my passion.
FOR THE BLIND/VISUALLY IMPAIRED: I was a computer graphic artist for fourteen years, creating tactile graphics from higher-education math textbooks for college students who are blind. With a focus on providing art and jewelry for visually-impaired people, I incorporate Braille positive affirmations into my work. The terms "I am enough" and "Be about it" are particularly appropriate.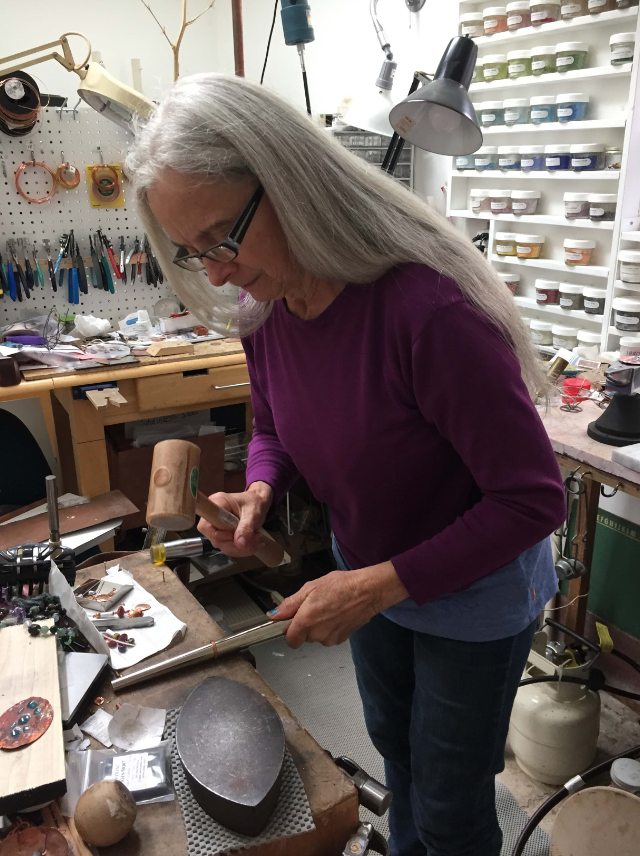 Fast forward to today and I still enjoy creating something out of very little. I thrive on being resourceful, inventive, innovative, and original. I compose my jewelry from raw, reclaimed, or recycled copper; fine, sterling, and Argentium silver; vitreous lead-free enamel powders and frit; and, last but not least, a hot torch! I am not necessarily into perfection and refinement. Rustic, organic, occasionally crusty – or polished, shiny and bright. I love wild things like lichens, moss, rough tree bark, insects, and flowing streams. I aspire for these rhythms and textural elements to be reflected in my work. Coarse, never boring, and ever-evolving.
If you visit my shop you are sure to find some unique creations. Thank you for taking the time to learn more about my journey.