Please sign in so that we can notify you about a reply
Look no further for a gorgeous unique holiday blend. Scented with crisp forest pine highlighted with Cranberry and vanilla to create a unique holiday blend. It's perfect!!

This soap gift box comes ready to gift in a beautifully wrapped box! The perfect thoughtful gift for anyone! Or to pamper yourself ;)

Soap gift box includes:
One Cranberry Woods Soap Bar
One Wood Soap Dish
One Exfoliating Soap Pouch


Soap Saver Pouch: Made of Natural Sisal, non-toxic, and odor resistant for safe use, anti-mildew. Extend your soap lifespan: allowing the soap to dry quickly. This soap saver pouch is a vital choice for optimizing your soap's lather! It is also ideal for exfoliation, almost like a gentle loofah. Friction between the soap saver and skin encourages blood circulation and the shedding of dead skin cells. The pouch is made of vegan sisal fibers yielded from the agave plant.

Instructions for soap pouch: Easy to use, just put a bar of soap inside the bag, pull tight the drawstring, add some water to produce foam. Soaps can be completely used up even small soap bars. It can be hung on a hook making it easy to dry the soap and bag, durable to use for a long time. Machine wash in cold water and hang dry if needed.

*If this is a special gift, please let me know in the notes and I can add a tag to match the occasion you're wanting the soapbox for*

This offer is for 1 gift box.

OUR skin-nourishing ingredients are sustainably produced, cruelty-free, while most commercial "soaps" are actually synthetic detergents that offer no natural benefits to the skin.

The very best reason to use natural soap is the ingredients. A product is only as good as the ingredients used to make it.

• Phthalate Free
• Paraben-Free
• Palm Free
• Vegan

How to Care For Your Soap:
Due to their humectant qualities, handmade soap bars should be kept away from water and humidity when not in use. Store on a soap rack or dish that allows excess water to drain off. Avoid leaving your soap in standing water. You can also use a loofah. This will preserve the life of your soap.

Shipping and Delivery:

- Your order is ready to ship within 1-3 business days
- Packages are shipped via USPS or FedEx shipping
- All shipments include tracking and delivery confirmation.

Thank you for supporting a small business!!
All of Poppy and Bloom's products are made from scratch in small batches with the highest quality ingredients (that you can pronounce) from reputable suppliers. We make our cold processed soaps the "good old-fashioned" way by mixing fats, lye (also known as sodium hydroxide), and a liquid together. Once these ingredients are mixed together a chemical reaction takes place called saponification. During the saponification process, the fatty acids in the fat and the lye combine, which creates a whole new product called soap. There is no lye left in the final product, only a very mild bar of soap of the highest quality.
Our soaps are made with oils that are moisturizing on the skin. We use olive oil, avocado oil, coconut oil, shea butter, castor oil, and natural clays as our main sources of ingredients. We occasionally offer soaps with mango butter, hemp oil, and tussah silk. These luxurious oils and butters produce a thick and creamy bar that not only cleanses but keeps the skin soft and hydrated.
These organically sourced ingredients are rich in antioxidants and vitamins that promote healthy skin and beauty benefits.
Each soap is designed with love to leave your skin feeling clean and refreshed.
Hi! We are Darlene and Matthew, founders and creators of Poppy and Bloom Soap Company.
A husband-and-wife team making small-batch soap out of our home. Parents to two lovely daughters.
This journey started when I decided to create a natural soap for my daughter who suffers from severely dry skin. I started doing a ton of research and found myself experimenting with different oils and butters and created a recipe to help soothe her skin the natural way, free from harmful chemicals.
These handcrafted soaps are made with ethically sourced ingredients to care for your skin.
I hope you enjoy these delectable scents and beautiful designs.

From our family to yours,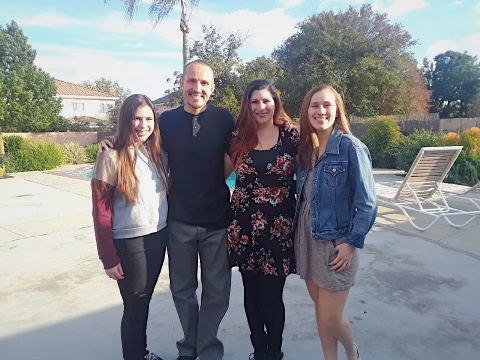 Returns and exchanges
Thank you for being a customer of Poppy and Bloom Soap Company. If you are not entirely satisfied with your purchase we are here to help! Please Email and write a brief message about your concerns and we will get back to you.
Due to the nature of bath and body products, all sales are final.
Shipping Policy
All orders ship via United States Postal Service priority mail or, if light enough, first-class mail. Turnaround - All orders are shipped within 48-72 hours (excluding holidays) Monday - Friday 9am - 5pm. If there will be any delay in this turnaround time, we will contact you by email to let you know.

Medical Disclaimer
If you are allergic or sensitive to any of the ingredients in our products, they may cause skin irritation. Even natural ingredients may cause sensitivities. Every person is different, and we cannot guarantee you will not get a reaction or irritation.
Poppy and Bloom Soap Company is not responsible for any individual reaction to any particular ingredient. Each product description on our website includes a complete list of ingredients. People with sensitivities to any listed ingredient should not use the product. If at any time irritation occurs, discontinue use of the product.
By visiting Our Site, you acknowledge, understand, and agree to the Poppy and Bloom Soap Company's terms and regulations.
Privacy

Poppy and Bloom Soap Company will never give out any personal information or emails to third parties. We respect your privacy and use your information simply to send our products and receive messages. This includes communications concerning purchases, and questions you may have about our store. Your information is only used to fill your order. We do not sell or redistribute your information to ANYONE.

Payments
- Credit / Debit Cards
Information
I hand-cut each bar of soap. They are simply wrapped with a designed cigar band or shrink-wrapped which includes the ingredients on the back. These are handmade items and as I try my hardest to duplicate batches - it is not always possible so please allow for slight variations. Like any bar of soap, all-natural handmade bars prefer to dry out in-between uses. Please use a draining soap dish to help prolong the life of your bars. These bars can be rather large - feel free to cut them in half for easier handling as well as the opportunity to switch scents sooner!