Please sign in so that we can notify you about a reply
ALL DETERGENT FREE, all colorants are from pure clays, all fragrance is from pure essential oils that are skin and face safe.
My samples are a 1 oz bar, and being a clay soap, they should last 1-2 weeks with daily face washing! If you're not sure which one to try, consider purchasing my 3-Sample Pack to save almost $2.00! That is under the listing Clay Face Soap Sample 3-Pack.
---
KAOLIN, BUTTERMILK & CHAMOMILE: featuring buttermilk, white kaolin clay, oatmeal, calendula extract, roman & german chamomile essential oils, and real natural honey. These ingredients are known to be beneficial to DRY/SENSITIVE SKIN
ROSE CLAY w/SHEA BUTTER & HONEY: featuring rose kaolin clay, shea butter, pure raw honey, essential oils of rose geranium and bourbon geranium. *ALSO available in a VEGAN version, using beer to help with natural lather, in place of the honey. These ingredients are known for balancing NORMAL and COMBINATION skin, without drying.
RHASSOUL CLAY w/CARROT & ARGAN OIL: featuring rhassoul clay, pure CBD isolate, aloe vera, moroccan argan oil, hydrolyzed silk, kokum butter, extracts of calendula, marshmallow root, and sunflower, essential oils of carrot seed, neroli & frankincense. These ingredients are known to benefit DRY/MATURE SKIN

SEA CLAY & OATMEAL: featuring goat milk, colloidal oatmeal, french sea clay, and essential oils of rose, roman chamomile, & michelia alba. These ingredients are known to benefit SENSITIVE, MATURE, and COMBINATION SKIN.
CAMBRIAN BLUE CLAY w/ALOE & OLIVE: featuring Cambrian Blue Clay (formed in Siberian salt lakes during the Cambrian Period, considered among the oldest clays in the world, and naturally contains silver ions), soothing aloe vera, anti-oxidant rich olive oil, and essential oils of Clary Sage and Litsea Cubeba. These ingredients are known to benefit SENSITIVE/OILY SKIN.
BENTONITE, HEMP & CHARCOAL SOAP featuring fine bentonite clay, activated coconut charcoal, natural hemp oil, rose hips, vitamin C, and essential oils of tea tree, bergamot (bergatene free), blood orange, and tangerine. These ingredients are known to be beneficial for OILY/ACNE PRONE SKIN
---
AVAILABLE IN FULL SIZES AND MULTI-PACKS! Visit my Clay Face Soap Multi-Pack and Clay Face Soap Sampler Pack listings for savings!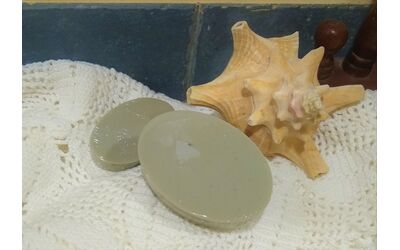 After many years of research and creating products for my own hyper-sensitive skin, I wanted to create a soap I could use on my face. I certainly couldn't find one at the store. I created the first type for me, have used it for years, and it is a part of this line- Sea Clay and Oatmeal. The picture is of my first ones, an It's still my go-to, although I've tried each one, and had friends and family test them as well. They have become quite popular with my customers, although I just released them for public purchase this year.


These are made in very small batches, each high quality ingredient added in safe amounts, at the correct temperature & stage for best functionality, hand blended and hand poured. The colors are strictly from the clays (or charcoal), and the light scent is from the essential oils added to benefit each unique skin type. I really love formulating and creating a product that can make my customer's skin look and feel beautiful!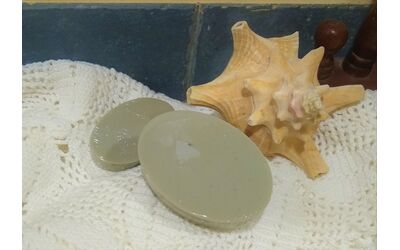 ---
Hello, and welcome to my shop!

I am Ms. Terry, an independent small business owner, and I create all of my soap art and bath products by hand, in small, love-filled batches. Using the highest quality ingredients, I strive to create an experience, not just a product.

As we all know, handwashing is important- but that doesn't mean it has to be boring! Handwashing, bath time, shower time, skin care, and self-care can be fun, invigorating, or relaxing. I have a soap for everyone, and if not- I'll make one (custom orders welcome, possibly a small fee or minimum purchase).

No matter your skin type, I'll work to find the best options for your skin care routine and customize for allergies/sensitivities. Whether you like to soak in a spa-style salt, milk, or bubble bath, or you prefer to steam away your stress in the shower, I'll create a self care-collection perfect for you. I offer personalized, unique custom gift sets for your loved ones, co-workers, and host gifts.
---
Many of my soaps are vegan. All are free of harsh detergents, and use sustainable, non-GMO, cruelty-free ingredients. All ingredients are skin safe. Where possible and safe to do so, I choose environmentally friendly packaging, including short-life biodegradable shrink wrap. When I use bubble wrap to ship, it is recycled.
Look around and please feel free to ask questions!
---
PS: this is a new venue for me, so please forgive any mistakes, discrepancies, or other general weirdness, while I work to create a unique shop for your shopping enjoyment!
Terms & Conditions:
*no minimum order
*I typically ship within 3-5 business days. Heavier traffic seasons may cause delays (Black Friday/Christmas).
*custom orders ship in 1-2 weeks, possibly more for larger orders, please contact me for an estimate
*I ship using USPS First Class & USPS Priority Mail, Priority Cubic, and Priority Mail Flat Rate through Pirate Ship- and I do not add a handling fee.
*Orders cannot be canceled once they have shipped.
*I am not shipping internationally at this time, please check back for changes.
*Wholesale inquiries welcome, but I am a small, one-woman business. Some products are quite intricate, and I may not be able to offer at keystone. I may, however, be able to offer discounts for bulk orders. Please email me with your question or proposal.
*Please send all inquiries to: ms.terrys.soapsnsuch@gmail.com or message me through Go Imagine
---
Returns:

Due to the personal nature of my items, I cannot accept returns, but I will do my best to ensure each customer is happy. If you have a problem with your order or my product, please do not hesitate to contact me through *email, and I will do my best to make it right. Please be considerate with this policy, as you are purchasing an intricate hand made item. No two will be exactly alike, small "flaws" may be considered part of the design, and scent is quite subjective.
Please be on the lookout for your product, once it ships. As much as I would like to, I am a very small business and cannot afford to replace items that are stolen from your doorstep or left in the sun for days. If you may not be home during arrival, you may purchase a cooling pack with your order.

I have yet to ship a package that has arrived in poor condition. If your product arrives in damaged condition, please take pictures. Do not send me the product. Thank you.

*Please send questions or concerns to: ms.terrys.soapsnsuch@gmail.com. or message me through Go Imagine