About this Product
Get a spa-like experience when you lather up with this beauty. A clean mix of peppermint, gardenia, eucalyptus, cotton, hyacinth, musk, sandalwood and ylang ylang. Smells so refreshing, you'll feel like you stepped into a spa.
Every batch is made in small quantities and every soap is cut, packaged and labeled by hand. I take great pride in crafting my artisan soaps, but please remember, LIFE IS SHORT, USE THE PRETTY SOAP!
To Use: Keep soaps in a dry, ventilated area when not in use, preferably on a draining soap dish, which will help the soaps last far longer. You can also cut your bar in half if you feel the bar is too big or if you are anxious to try your next scent!
Price listed is for 1 bar of soap
Not edible/Do Not Consume - For External Use Only - Keep Out of Eyes and Mouth - Discontinue Use If Irritation Occurs - Consult a Physician with Concerns.
Please view our Terms & Conditions under Maker's Policies prior to purchase - by purchasing through our website, you agree to our Terms, Conditions, and Policies.
Norwich, CT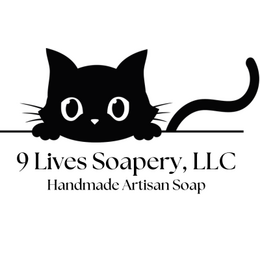 Meet the Maker
Thank you for visiting my site! My name is Doreen McKeag, owner and creator of 9 Lives Soapery, where I create artisan, homemade soap. I am born and raised in Southeastern Connecticut and live with my husband, John, and one of the inspirations of my business name and logo, Gracie, a domestic long-haired cat. I have always had a cat in my life and love their quirky, independent nature. Isn't she beautiful? My husband and I enjoy traveling, visiting local breweries, watching football, and when I'm not soaping, I'm riding my Echelon spin bike, my second addiction next to soap.
I started soap making as a hobby, creating soap for my husband and my family. I've always been one to jump right into new projects feet first, learning as I go. I learned how to crochet from watching YouTube videos and have made blankets for my whole family. I started making soap using melt and pour as I was apprehensive about using lye in the cold process method. After I learned that a local soap maker was holding classes, I didn't hesitate to sign up. I finally ditched my fear of lye and I've been making soap ever since. I was making so much soap I had to start giving it away to family and friends, and after getting rave reviews, I decided it's only right to share them with all of you.
I make a variety of different soaps using skin loving oils and butters and a few unique ingredients to add that special touch. All my soaps are made in small batches, and no two bars are alike due to the handmade nature of them. I do not use any unnecessary chemicals, and only use phthalate free fragrance oils and essential oils, skin safe colorants, and natural colorants. I hope you give them a try, I'm sure you will love them as much as I do!
How it's Made
This soap is made using the cold process method. The oils and butters are melted and then mixed with the lye solution, and then the magic happens, saponification occurs! This is the chemical reaction between the lye and oils which creates soap. The batter is poured into molds and set on the shelf to harden and finish saponifying. After 24 - 48 hours, the soap is unmolded and cut, and then set on a shelf to cure for 4 - 6 weeks which allows the water to evaporate from the bar, creating a hard, long-lasting bar of soap.
Ingredients: Olive oil, Distilled Water, Lard, Coconut oil, Sodium Hydroxide, Fragrance Oil, Avocado Oil, Castor Oil, Coconut Milk, Kaolin Clay, Organic Cane Sugar, Salt, Mica Colorant, Tussah Silk

Each bar weighs approximately 4.5 oz. They are handmade and hand cut so there will be slight variations in weight and appearance.

Shop Policies
We want you to be pleased with the products and service you receive, and we also want you to shop in confidence knowing that your product is fresh, handmade and has never been used by another customer. Due to the personal nature of our products, we cannot accept returns; however, we appreciate all feedback, positive and negative. You can notify us by e-mail at 9livessoapery@gmail.com.
Please sign in so that we can notify you about a reply