Please sign in so that we can notify you about a reply
This joy filled frog love card is endearing and playful! Enjoy as a fine art note card or a 5x7 print of my original watercolor frog painting titled, "Froggy Love Breakthrough". The card is blank inside, so it's a prefect happy day card, birthday card, love card, friendship card, anniversary card or VALENTINE'S DAY card. Give it to someone as a card, or frame it and enjoy in your home as a frog print. I individually sign each art card print. My fascination and love for green tree frogs and the jungles that they call home inspired this painting, and I am excited to share art with you that inspires love in the world!
~ Meaningful Valentine's Day Card
~ Celebrate LOVE art by framing this 5x7 art print.
~ Send this fine art note card to someone you care about.
~ Cards are blank inside.
~ Collect original art prints, individually signed by the artist.
~ Share love, kindness & compassion with this love card!
**This card is also available as part of a larger Animal LOVE ART inspired stationary card set: https://goimagine.com/valentin...

ART PRINT CARD
This is a print of my original painting, printed in the USA on premium matte finish cardstock. I sign each 5x7 inch art print card. With this art card, comes a complimentary colored envelope in a protective plastic sleeve.
10% NET PROFITS DONATED
Purchasing this watercolor art print card supports a Pacific Northwest artisan on a mission to create and share inspiring, joy filled & meaningful art with the world, as well as support frog conservation & education. 10% of the net profits from the sale of this frog art print card will be donated to a frog conservation & education organization.

COPYRIGHTED ORIGINAL ART:
This is a print of an original watercolor painting by Sequoia Win'Ni (Wendy Bloom). All rights & copyright reserved by the artist.

SHIPPING:
Ready to ship in 1-3 business days via USPS.
A flat rate of $3.75 for shipping & tracking will be added to the purchase price of this card.
We invite you to spend $35 or more in our shop, and then we can give you FREE shipping.
Some things you may be interested in…
~ Purchase the ANIMAL LOVE ART inspired Stationary CARD SET: https://goimagine.com/valentin...
~ Purchase MORE of our Fine Art Note Cards: https://goimagine.com/rainbowo...
We pour our hearts and loads of time into creating meaningful & beautiful joy filled art inspiring wonder, and we look forward to bundling up your order and sending you a meaningful package of our art.
Original watercolor painting printed on premium matte finish cardstock & signed by artist. Card comes with complimentary colored envelope in protective plastic sleeve.
As family members, co-artists & "life adventure buddies", our truest relationship is best described as "best friend sisters", though we did come into this world as mother (Sequoia aka Wendy Bloom) & daughter (Megan Bloom). We cherish spending time with each other in and out of the art studio. As artists, with a passion and fascination for the natural world, we decided to join forces and create something really special. As co-owners and co-artists of Rainbow Orca Designs, the majority of our creations are a true collaboration. Each of us pour our love and joy into each piece as we hand it back and forth between the two of us. When you purchase our art, you are buying collaborative works of art made with love & joy.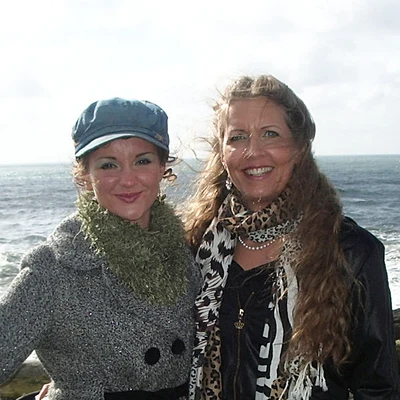 Return Policy:

We don't usually accept returns. Please contact us if you have any issues or problems with your order.
Shipping:
We ship all orders within 1-3 business days via USPS. We will supply you with USPS tracking # details when your order is shipped.
Copyright:
Sequoia (Wendy) and Megan Bloom, co-creators and business owners of Rainbow Orca Designs are the legal copyright owners of all illustrations, reproductions, and creation designs & patterns. Purchase of original art pieces or prints does not transfer copyright and all work remains the property of these two artists upon purchase. The buyer is not entitled to reproduction rights, digital or in print.