Please sign in so that we can notify you about a reply
10ml- Liquid Orchid

Watercolor Ink- Not Waterproof for smooth blending- Can be used with other colors or thinned for washes. Non Granulating

- Custom curated hand milled liquid black. Hand mixed for dense pigmentation, light fastness and long lasting quality. Watercolor base, for ease in mixing with other colors. Dropper style bottle for quick and simple use. dilatable for washes and can be thinned without deteriorating binder.

-Shake well before use.
-Keep closed when not in use.
-If ink thickens over time, add a few drops of water and shake.

Disclosures:

- Most pigments are non toxic but should not be used around food or drink.
- Wash hands properly after use.
- KEEP AWAY FROM PETS & CHILDREN - CHOKING HAZARD
- All paints are handmade and may contain voids or bubbles.
- Consistency varies between colors.
- Some colors are single pigment and some are mixed.
- Some colors may vary slightly in appearance from photos depending on your device monitor.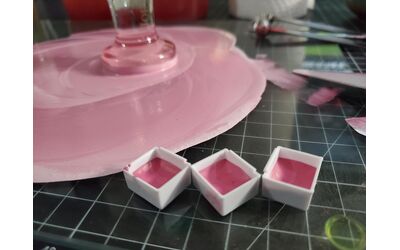 Watercolor Ink is made in small batches hand milled on a glass slab. The archival pigments normally found in watercolor suspended in binder in a dropper bottle for easy use. This is perfect for using straight out of the bottle for an almost gauche like consistency or for thinning for washes. Thinning with a small amount of water will make a thin ink like viscosity perfect for lining. Thinning with water will not compromise the binder, little is used in the milling process to keep the pigmentation dense.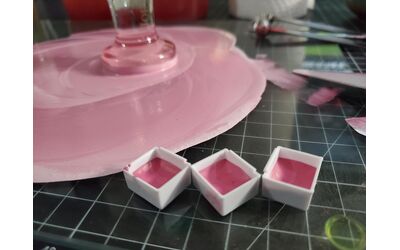 I make things because I have to.

I have always had a passion for learning the techniques and processes of as many art forms as I could find. I can't recall when the mission started but since then it has led me to drawing, painting, photography, digital painting, tattooing, fabrication, stamp carving and many other mediums. Before I finish one project I usually have already started the next two.
Sometimes it's a struggle to stay motivated but rewarding myself with pizza helps.
Color in particular has always fascinated me. The history of the pigments, where they come from, how they are made if they aren't natural, and what can be done with them. I love stumbling across colors that help each other sing. Usually when I do find a magic combination, it becomes all I want to paint with. Right now I am having an affair with Prussian Blue and Yellow ochre.
My most recent endeavor has been making hand milled watercolor paints and inks. I became interested in the craft when I learned the difference between handmade watercolor paint and mass produced paint. I decided to attempt making my own paint and began educating myself.
The process started with an apron, gloves, and a respirator. Learning how to make it was fascinating, the milling process, the recipes, the pigments, everything was so nuanced. Each pigment behaved so differently when milled. Some would take 20 minutes, others took hours, finding the right balance for each required a lot of time and research.
Putting together palettes was much more fun and creative than the milling process but one of the most satisfying things was mixing pigments to create new colors. It took some science, experimentation and sore forearms.
Eventually I started making liquid watercolors because I wanted a consistent ink that was blend-able and was surprised by their convenience. Storing them in a dropper bottle allowed me to easily tint with a drop or thin for a wash.
Once I'd tested my first finished batches, It wasn't long before I decided I wanted to show other artists the difference as well. So I created Doom & Bloom Ink to do just that.
I'm an art supply addict who makes art supplies now. You can find watercolor paint in many places but my colors are unique to me.
You can also find me on social media...
Instagram: @doomandbloomstudios
Tik tok: @doomandbloomink