Please sign in so that we can notify you about a reply
Small but Mighty Candles - they may be small but they pack a mighty impression! Beautiful rose-shaped candles, subtly scented with rose&tuberose fragrance, comes with their own adorable heart-shaped steel tin.
Since this is a handmade item, no two candles will be exactly the same. Wax colors will vary from batch to batch, and computer monitors do not always display colors the same way. Please put in comments if you request a particular color palette. You can also request unscented.
Shipping is always free for anything in this store!
Specs:
Pure palm wax (naturally shimmering textured wax, made from 100 percent plant-based, natural, renewable resources, burns clean and long)
Eco wick (paper-cotton wicks with no lead or zinc)
Premium fragrance oils (no pthalates or other harmful substances)
1 oz (35 g) by weight
Heart-shaped stainless steel tin measures 2.5"L x 2.25"W x 1.0"H
Clear lid to easily see contents - great for gifting
Candles burn for about 5 hours.
Our palm wax sources are renewable in nature and do not contain GMO material. The materials come from a RSPO (Roundtable on Sustainable Palm Oil) member source. Palm wax is an environmentally friendly product that burns cleanly with no odor. The wax forms beautiful shiny crystals as it is melted then cooled. Tins are recyclable steel and can be refilled with a new candle, look in this store for refills.
Returns can only be accepted if item is in perfect sale-able condition upon receipt.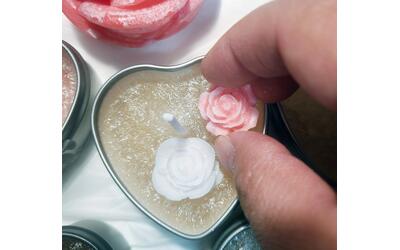 Wax is heated to the right temperature, scented and dyed various colors. While hot, it is poured into wax molds. Separately, a bed of wax is weighed and poured into heart tins. The wax flowers are then arranged on top, in an aesthetically pleasing way. Each candle is totally unique and cannot be exactly duplicated.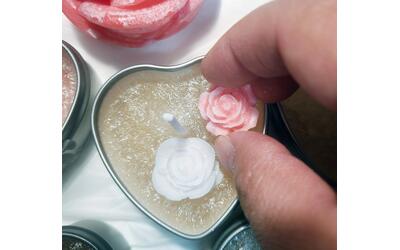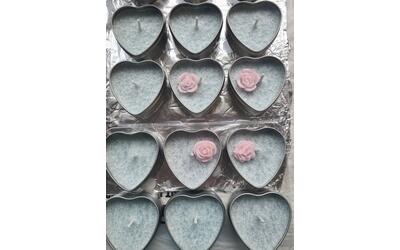 I have been fascinated by candles and candle wax since I was a kid! It's been a remarkable discovery to find that I could make them myself.
With a background in several other crafts, and raised by an artistic mother, I could not settle for plain candles. I researched and discovered the most beautiful ways to present candle wax - and the very coolest wax to use: naturally shimmering palm wax is 100 percent plant-based, natural and renewable, and burns long and clean!
And... being only five foot tall, I am attracted to small, artistic and detailed - yet impactful; diminutive - yet powerful! You will find that everything in this store is sweet and miniature.
In my handmade process, candles are made in very small batches - and no two candles are exactly the same. Every single candle is like a discovery, and I cannot wait to get back to making more. I hope you agree, these candles are unique and beautiful!
Enjoy browsing, and I hope you'll take a few home with you!
xo Angela
Shipping is free throughout this store! Where possible, this store will ship with clean, reused shipping materials in order to reduce waste.
If items arrive damaged from shipping, please take photos and send them to us.
We only accept authorized returns. Contact us to get an authorization. Buyer pays for return shipping. Please pack your return carefully as no refunds can be given on returns received in un-saleable condition.