Please sign in so that we can notify you about a reply
In these trying times everyone needs to escape, even if only for a minute. Let my quilts take you someplace peaceful. You can visit the mountains or the beach, wherever your happy place might be.
Product Details
This handmade art quilt is mounted on stretched canvas and comes to you ready to hang. To see a short video showing the close-up details of this little quilt click here: https://www.instagram.com/p/CN...
Shipping
Unless noted specifically in a listing all my art quilts ship Priority mail from the post office. I ship them in one business day and they "normally" arrive in two – three days. Tracking / Delivery confirmation and Signature confirmation are included.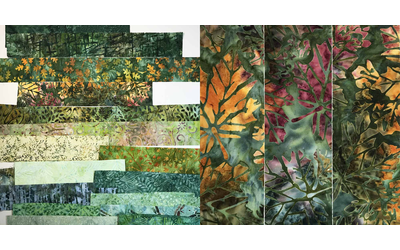 All of my art quilts are made with 100% cotton batiks. Why batiks? Every piece of batik fabric is a work of art in itself (See photo number #1). I love the freedom this gives me when creating. Batiks are created by first applying wax to portions of a piece of fabric. The fabric is then dyed and the wax removed. Most of the batiks I use are created on the island of Bali where they cure the dyed fabric in the tropical sunshine. Using these fabrics is like taking a tropical vacation without leaving home. :)
I start each project by deciding my basic color scheme. I start pulling out fabric; always more than I will need. Chances are also about 100% that the final quilt will contain at least a few fabrics that were not in the original group. The quilt takes on a life of its own as I progress and each selection can change the direction of the quilt. I audition each fabric, and as you can see from the pictures a single piece of fabric can dramatically change the look of the quilt depending on which section of it I use. The three strips in the first picture are from one piece of fabric.
Thread is also important to the final look of the quilt. I have a nice selection of variegated threads... OK, I admit I was kind of surprised how much I had when I got this new thread carousel and finally had all of it in one place.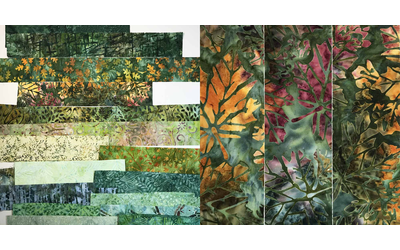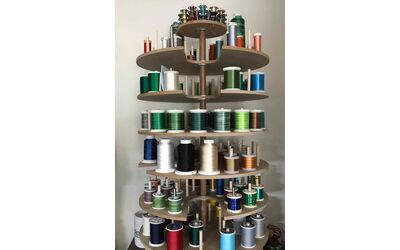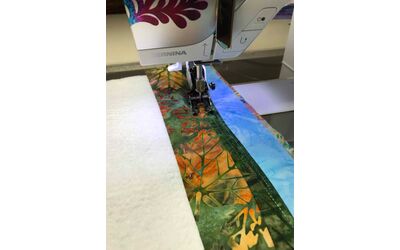 I made my first quilt in 1986. It was made from some old flannel shirts that I cut into squares and then sewed back together ten squares at a time on my lunch break. In my infinite (and naive) wisdom I decided to pin baste the quilt instead of using the more conventional thread basting method... we were still finding pins in it years later. I also decided that if one layer of batting was good; two must be better. Great idea until I tried to quilt it and couldn't even get the quilting hoop over it. It wasn't pretty, or quilted, but it was warm and lasted many years.
The turtle you see in my banner and logo was my very first art quilt. It was based on a picture my husband took with an underwater camera when we first moved to Hawaii. As soon as I saw the picture I knew I had to make a quilt.
Fast forward to today...
I love fabric! Batiks to be exact. I use them almost exclusively in my art quilts because of the depth of color and variety they provide. We now live in the country on a dead-end dirt road surrounded by acres of forest in upstate New York. My travels take me into the Adirondack Park and the Rensselaer Plateau where I see potential quilts everywhere I look.

Custom Orders

You can contact me directly by using the Contact the Maker button at the top of the page.
The basics

I have found that creating an original art quilt takes time. Plan on 5 - 6 weeks; more for larger sizes. The amount of detail will also add to the time it takes. I will have a better idea once we have discussed what you are looking for and will provide you with a time estimate and approximate start date.
The largest size I can do as one panel/quilt is 40" square. Larger sizes will be broken up into multiple panels.
Once we have talked and determined the details of your art quilt I will send you a quote spelling out the details of your order. Upon acceptance of that quote I will create a custom listing for you for the initial deposit. This deposit is non-refundable should you cancel the order. Changes or additions to the original quilt design (as described in the quote and deposit listing) may result in additional charges to you and will be due as part of the final payment. The final amount will be due upon completion of the quilt and before it is shipped.
Please note: Quilts that contain subject matter that is so specific to you that they can't be sold to anyone else will require a 100% non-refundable deposit before work is started.

Returns and exchanges
I do not accept returns on sale items and custom orders.
For all other items please contact me within 2 days of delivery. The item must be shipped back to me via Priority mail, or something comparable to how it was shipped to you, within 5 days of delivery.
Conditions of return
Buyers are responsible for return shipping costs. If the item is not returned in its original condition, the buyer is responsible for any loss in value. Your refund will be issued once I have received your item(s) and determined their condition.

I want to hear from you

Please contact me if you have any questions or concerns and we can work together on a solution.