Butter Me Up Organics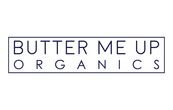 I started Butter Me Up for myself back in 2008. I was living in Pasadena and had always been VERY particular about the products I used on myself. At that time, that meant you shopped at Whole Foods or the lucky boutique you ran across once every 5 years that didn't just make things that smelled good. Finally, one day after spending $25 on a body butter, I thought to myself, 'I can make this'...and Butter Me Up Organics was created. I spent the next THREE years pouring over ingredients, benefits, quality, safety, certifications and where the ingredients came from and carefully crafted each recipe with purpose. Each recipe is my own and many, many hours of care and research was poured into every one. I chose things not on the cost but for the most benefit each recipe could bring. I designed everything to have the most therapeutic qualities possible in the bottle/jar/tin. I continue to hand make each product today. Each item is packaged in glass, tin or paper. Many people tried to convince me along the way to use plastic and with the extreme added cost of glass, especially in shipping, I almost did. But I couldn't. It just seemed to negate all of the care that I put into the standards of the ingredients and the recipes.
I use all recycled paper, soy inks, sustainable printers, and recycled packing materials. It is important to me to keep this earth as green as possible for the future generations.
Well here we are, years later and I'm beyond happy with the choices I made. My margins aren't nearly as high as others. I could get everything cheaper, but I feel great about the product that I'm giving. I KNOW it's the best that's out there, and that makes me feel great. Making them by hand without any synthetic ingredients, fragrances or dyes is a quality that is unparalleled. I love emails. I've received many emails with photos about how the Boo Boo b Gone helped a child's eczema disappear the same day or how a mother bought the acne treatment and green soap for her high school son with severe acne and now it's gone. Seeing those before and afters gives me a feeling I can't even describe as anything but purpose. I'm doing what I love, helping people with the best ingredients available here on earth. Who wouldn't be happy?
Contact me at jillian@buttermeuporganics.com
Thank you so much for supporting us in the work we do. Your support is invaluable to us <3