Divine Wine Studios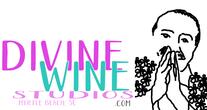 Address
Myrtle Beach, South Carolina
I have been fascinated by candles and candle wax since I was a kid! It's been a remarkable discovery to find that I could make them myself.
With a background in several other crafts, and raised by an artistic mother, I could not settle for plain candles. I researched and discovered the most beautiful ways to present candle wax - and the very coolest wax to use: naturally shimmering palm wax is 100 percent plant-based, natural and renewable, and burns long and clean!
And... being only five foot tall, I am attracted to small, artistic and detailed - yet impactful; diminutive - yet powerful! You will find that everything in this store is sweet and miniature.
In my handmade process, candles are made in very small batches - and no two candles are exactly the same. Every single candle is like a discovery, and I cannot wait to get back to making more. I hope you agree, these candles are unique and beautiful!
Enjoy browsing, and I hope you'll take a few home with you!
xo Angela