Sister Moons Castle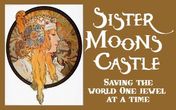 Welcome to Sister Moons Castle. Step into our Castle Shoppe - A treasure trove of Magical Wares. Have a cup of mead and enjoy the world of my imagination. Walk the halls of my store and discover everything from Steampunk jewelry, to stunning Bohemian flair. Page through embellished Journals for your potions, lotions, and secrets. Open delightful treasure boxes, beguiling jeweled amulets, embellished containers, boxes and flasks. You will find everything from Bohemian flair to Steampunk jewelry. My influences Include Celtic, Nordic, Art Nouveau, Victorian, Boho Chic, Renaissance, Old World Design influences, as well as Minimal Chic, and Eclectic Styles.
Hello, I hope you enjoy browsing through the shop for the newest elements within my designs and collections of treasures. My name is Ruthie. I make my living as an artist and designer. I design and manufacture original jewelry and wares, each product is carefully and lovingly handcrafted in our little town on the river - at the base of mystical Mount Shasta.! Enjoy!
*FLAT RATE SHIPPING* All Items will ship for one flat rate. Excuse our dust as we set up shop...
________________________________________________________________________________________________________________
NOTES: At this time the Goimagine Community Site, is only selling in the USA.
*If you are an International buyer you may contact me, we can accommodate you with the product you want, we do ship International on our other sites. We can also PayPal invoice you.
Our other websites*
www.SilverMoonGalleria.com.
I also sell designer components, findings and other products. We are rebuilding our jewelry Supply site here https://silvermoonbrassco.weeb...
We are purveyors of Quality components, Jewelry Findings, Chains, Charms, Beads, Jewels, Parts, Rare Finds, Antique Vintage, and contemporary components
....................................................................................................
Silver Moon Galleria Office - Manufacturing @ 4219 Dunsmuir Avenue Dunsmuir Ca, 96025
Feel free to contact us with any questions:
Mail Inquiries - silvermoongalleria@yahoo.com
Message machine - 1 530.926.1553 Please leave a message. We will get back to you as soon as possible, your call is important to us!
,,,,,,,,,,,,,,,,,,,,,,,,,,,,,,,,,,,,,,,,,,,,,,,,,,,,,,
✩Helpful CHARTS
✩Did you know that 25 mm is equal to 1" ?
✩METRIC LENGTH - U.S EQUIVALENT*
1 mm - just over 1/32 of an inch
2 mm - just over 1/16 of an inch
3 mm - 1/8 of an inch
4 mm - 5/32 of an inch
5 mm - 3/16 of an inch
6 mm - 1/4 of an inch
7 mm - 9/32 of an inch
8 mm - 5/16 of an inch
9 mm - 11/32 of an inch
1 centimetre -

10 mm - 3/8 of an inch
1 meter (m) - 39.37 in