Please sign in so that we can notify you about a reply
Navajo Black Onyx Sterling Silver Pendant Necklace~~ Southwestern Native American Indian, feathers, OOAK jewelry signed vintage. I designed (repurposed) this with vintage sterling and genuine onyx pieces, with old Indian jewelry feathers. The main piece is stamped R (Roy Buck) sterling. The piece measures 2 1/2 inches long, with an 18 inch chain. Definitely one-of-a-kind! Cleaned up, polished up in great shape.
Our history: Donna began collecting rocks as a little girl growing up in Sparks, Nevada. As a young adult she was drawn to gemstones and gemstone beaded jewelry. After working in a bead store until it closed down, Donna felt the urging to open up her own store. The fall of 1992 saw the opening of Bead It, an outlet for our beads and jewelry. An injured back and a desire for much needed time off prompted the closing of Bead It.

In 1996 one of our customers was teaching a silver jewelry smithing class at the local community college. At Donna's urging, I took the class with her. I had no desire to make jewelry before that, but found it to be my life's calling.

In 2006 Donna found Etsy, a perfect fit for our handmade sterling silver jewelry. She opened our jewelry store Gemoriah and soon after, Gemoriahbeads. Our jewelry has been sold through boutiques in Monterey and across the country. It has also been shipped worldwide.

In 2015 Donna was diagnosed with MS. Since, it has become extremely difficult for her to make jewelry. As of 2018 Donna is no longer able to run Gemoriah or Gemoriahbeads. I have taken over operations, as this is our only source of income. Our sales make it possible for me to stay home and take care of my handicapped wife and my children.

We wish you blessings~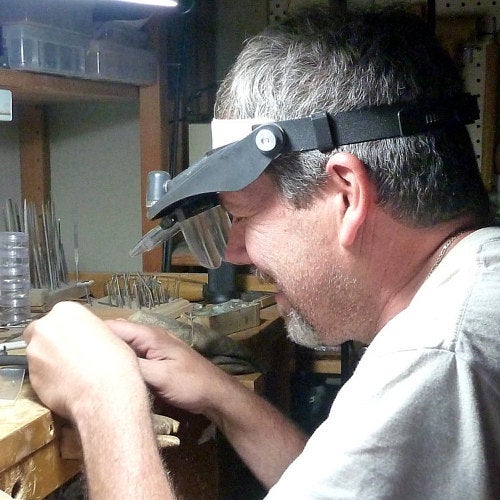 Please let us know if there are any problems within 2 weeks of receiving your item. We will try to remedy any late deliveries, manufacturer defects, etc in a timely manner. If you have changed your mind and simply want to return an item, please contact us within 14 days. Item must be in new, unused condition for a refund.