Please sign in so that we can notify you about a reply
Coco Beads? Most Coco beads come all the way from the Philippine tropical islands where coconut trees grow in abundance and easily sourced all year round. Coco beads contrast well with metals and other natural beads – adding a raw natural appeal to jewelry designs. These are cut so that they interlock with each other and are very comfortable against the skin. This bracelet is made with Stainless Steel Memory Wire and has, along with the Coco beads, Round Acrylic Flower Beads of beige and brown. There is a single silver charm with the word "Peace" right in the middle of the top row.
I made it with Memory Wire so anybody can get it on and off and not have to fool around with a clasp. It's 3 Rounds of Large Bracelet size Memory wire so it has the look of a wrap bracelet but without the hassle. This could be a gift for any lady or maybe just for yourself!
If you haven't tried Memory Wire Bracelets yet, you really should. They are easy to put on and take off and are very comfortable to wear. The wire is hardened wire and comes in a coil and looks like a "slinky" (remember those toys from years back?). You literally wind them around your arm and wind them off. VOILA!
Hello and welcome to my shop. My name is Janet and I have been designing and making jewelry for almost 20 years. I still love doing it every day. I am always looking for new ideas and my inspiration can come from anywhere… Whether it's walking on the beach, in the park or around the neighborhood. Sometimes I will see something, a color or a shape, and I will think… Wow, that would make an awesome pendant or earring and I can't wait to get home and get started on it. I have even been known to get up in the middle of the night to start a project so I don't forget it by morning.
I am a happily retired wife and I have two wonderful sons. They have blessed me with two awesome daughters-in-law and six beautiful grandchildren.
A few years ago, I was diagnosed with Parkinson's. I never imagined that I would have this disease. But, I decided that it was not going to beat me so I went at it head on! With the help of an awesome neurologist and some really good meds, I only have it in my left wrist so far. It hasn't spread any further, but, it still makes making jewelry an adventure, to say the least. When my tremors start or become bad, usually, I can sit down at my work bench in my studio and start working on a piece of jewelry and within five or ten minutes the tremors will go away. And, that's a good thing.
Anyway, please, take a few minutes to look around while you're here. I hope you find something you like. Since everything is handmade by me, I don't list it in my shop until it's ready to ship so there is NO WAIT TIME. I usually ship out the same day or the next. I look forward to hearing from you.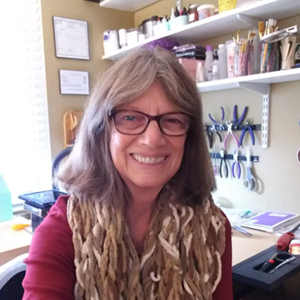 PROCESSING AND SHIPPING TIMES:
I need very little time to prepare an order because every item listed in my shop is already made and ready to ship. I can usually get your order packed and shipped the same day I receive it. However, if I don't get it until after maybe 2pm Pacific Time, I probably won't get it out until the next day. The only things that will be later shipping are custom made items. The shipping time on those items will vary and will be discussed with you before the item is even made.
DELIVERY TIMES:

I cannot guarantee delivery times right now.. Actual delivery time will depend on the USPS and we all know that our mail system has been hit hard with the COVID-19 Pandemic. Once your package leaves my hands, it is in the hands of the Post Office and we are at their mercy as to when it will be delivered. Usually, the mail is getting back to normal, but, it could always take longer. I will send you a tracking number and you can see exactly where your package is at all times.
RETURNS, EXCHANGES & CANCELLATIONS:

I'm sorry, but, due to the Pandemic, I can not accept returns or exchanges at this time (This may change later), so please read the description carefully of the piece or pieces you are buying. If further information is needed, send me a message and I will try to answer your questions. I want you to be happy with your purchase and feel comfortable buying from me, so, feel free to ask me questions before you buy!
I will accept cancellations if you can get a message to me before your order is shipped.