Please sign in so that we can notify you about a reply
This purple necklace is made with glass seed beads and a silver dragon charm. Black and yellow accents are great for fall or spring themed outfits. The mixture of purples and yellow is associated with promoting happiness and spiritual awareness. The dragon is an omen of good luck while also a protector against negativity. Approximately 19 inches long. I have a passion for colors, crystals and stones and the effects they may have on our lives. For centuries cultures have believed in the healing and positive energy influences brought about by crystals, stones and colors! I find corresponding what I wish for with colors and natural beads brings a sense of hope and belief in them coming true. In my journey, I have also found a love for upcycling old jewelry. Taking the discarded, broken pieces that were once loved and cherished in the past and giving them new life and the opportunity for them to continue bringing joy into this world. Join me on my adventure and maybe we can help each other align our wishes with our reality. Due to the hand crafted nature of the jewelry, size shape and color may vary per item.
We are a mother daughter created and ran shop! We have always been crafty, our family is filled with crafty, creative people. The past two years though we fell in love with up-cycling leather and and broken antique/vintage jewelry. We love breathing new life into items once loved and cherished. We have also found passion for creating healthy, natural beauty products. Moving our family and loved ones away from using commercially made skin care has been a fun and rewarding process.
We have finally taken family and friends advice and decided to spend the last two years of Emeralds home schooled high school years to start an e-commerce shop. We hope you will join us as we embark on this project. We would love the opportunity to bring you some joy and beauty with hand beaded jewelry and handcrafted soap. Keep an eye out for other products to be added to our shop soon!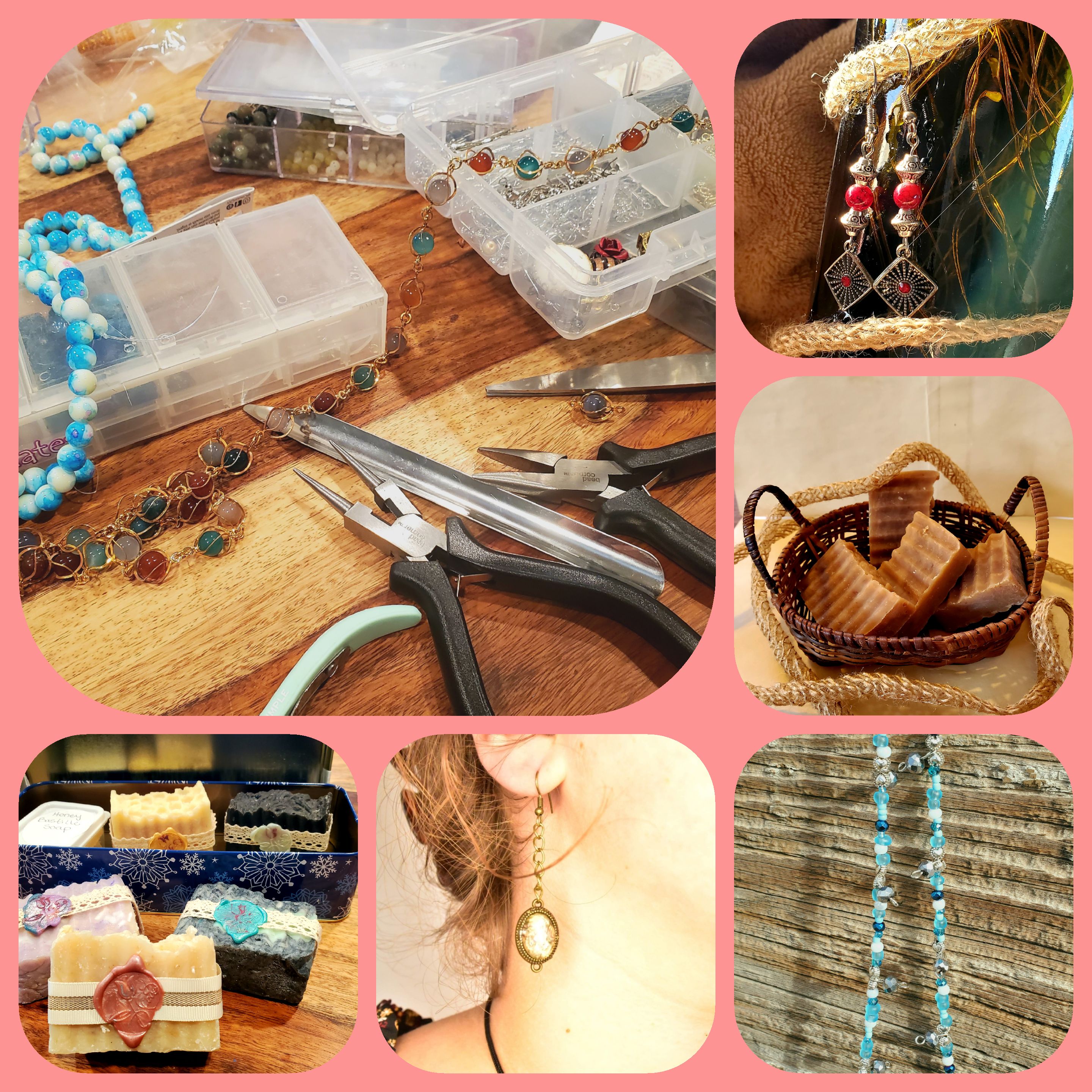 Shipping: 2-3 business days unless stated otherwise
Return Policy: We do not accept returns on soaps, bath teas and bubble baths. Returns on jewelry and other items are accepted if submitted within 7 days of delivery. If refunds are requested, refunds will be processed after the item is returned ( return shipping cost is buyers responsibility).
Cancellations: Orders may be cancelled with in 24 hours.
Disclaimers:
The content and information provided in this shop and our facebook page are provided by Antique Rose Cabin and are for educational purposes only.

Our soaps and other products are meant for you and your skin to enjoy. The information provided has been collected from various sources to inform you about the possible benefits of herbs, essential oils, crystals/ stones and other natural ingredients.

The information in our descriptions regarding health-related benefits of certain ingredients, or stones/crystals in our products is for educational purposes only. While many of the herbs, essential oils, stones/crystals, and other natural ingredients in our handmade soaps, and jewelry are believed to have healing properties, the information should never be used to self-medicate or treat any form of physical or mental disease or health problem. We do not recommend the use of these products as a substitute for medical care.

The statements regarding health-related benefits of certain ingredients, or products have not been evaluated by the Food and Drug Administration and are in no way intended and should not be construed as medical advice to diagnose, treat, cure, or prevent any disease or health condition. Never disregard professional medical advice or delay in seeking medical advice because of something you have read on or purchased through "Our Site."

The information provided is never meant to substitute the advice provided by your personal physician or other medical professionals. Do not use the information found on this website to self-diagnose any medical conditions or treat any health problems or diseases. The information provided is not intended to prescribe or be taken as medical advice. If you have or suspect that you have a medical condition please contact your health care provider immediately.

Please always consult your doctor or qualified health professional should you have any concerns and always consult with your doctor before changing any medications or healing practices.

If you are allergic or sensitive to any of the ingredients, or metals used in our products, they may cause skin irritation. Even natural ingredients, and hypoallergenic metals may cause sensitivities. Every person is different, and we cannot guarantee you will not get a reaction or irritation.

People with severe allergies--please note: If you have severe anaphylactic-type reactions to ANY of the ingredients, or metals used in ANY of our products, please do not buy our products. We are dedicated to keeping clean soap making instruments and space as well as clean product storage space, but we cannot guarantee against possible cross-contamination of individual ingredients.

Antique Rose Cabin is not responsible for any individual reaction to any particular ingredient. Each product description in our shop includes a complete list of ingredients. People with sensitivities to any listed ingredient should not use the product. In case you are in doubt or have sensitive skin, always try an allergy patch test and if at any time irritation occurs, discontinue use of the product.

We are happy to answer questions and offer possible suggestions regarding any of our products.