About this Product
Sometimes the most beautiful things come in the simplest of packages. Gently exfoliate away the stress of the day as the creamy lather soothes your skin and soul. No scent is necessary when raw local honey and coconut milk mix in this moisturizing beauty!

Ingredients: Olea Europaea (Olive) Fruit Oil, Cocos Nucifera (Coconut) Oil, Distilled Water, Oryza Sativa (Rice) Bran Oil, Sodium Hydroxide, Butyrospermum Parkii (Shea Butter), Theobroma Cacao (Cocoa) Seed Butter, Helianthus Annuus (Sunflower) Seed Oil, Cocos Nucifera Extract (Coconut, Water), Ricinus Communis (Castor) Seed Oil, Avena Sativa (Oat) Kernel Flour, Kaolin Clay, Honey, Sodium Lactate
Net Wt. 4.75 oz/ 134.6 g
Boone, NC
Welcome to Lux & Lye! You are welcome here as you are. You are enough!
Contact Maker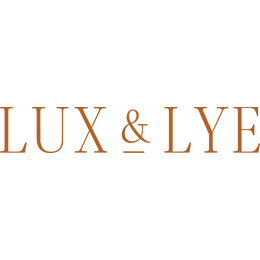 Meet the Maker
Hi I am Natalie, maker behind Lux & Lye LLC. My hope is to create a space and product that allows you to feel naturally beautiful as you are now, not as you try to be or hope to be, but encouraging you to feel enough in the season of life you are in now, in the good and the bad.
We believe the best part of being alive is being true and authentic to the person you are created to be. We thrive and find the most joy when we are striving to be the best version of ourselves each and every day.

Culture may try to encourage us to be someone else, to look, dress, act in certain ways, but finding the true excitement and childlike sense of wonder in this life is freeing and gives you room to live and love more authentic to who you are.
Follow us on this journey as we continue to work towards encouraging others to be the AMAZING person they already are!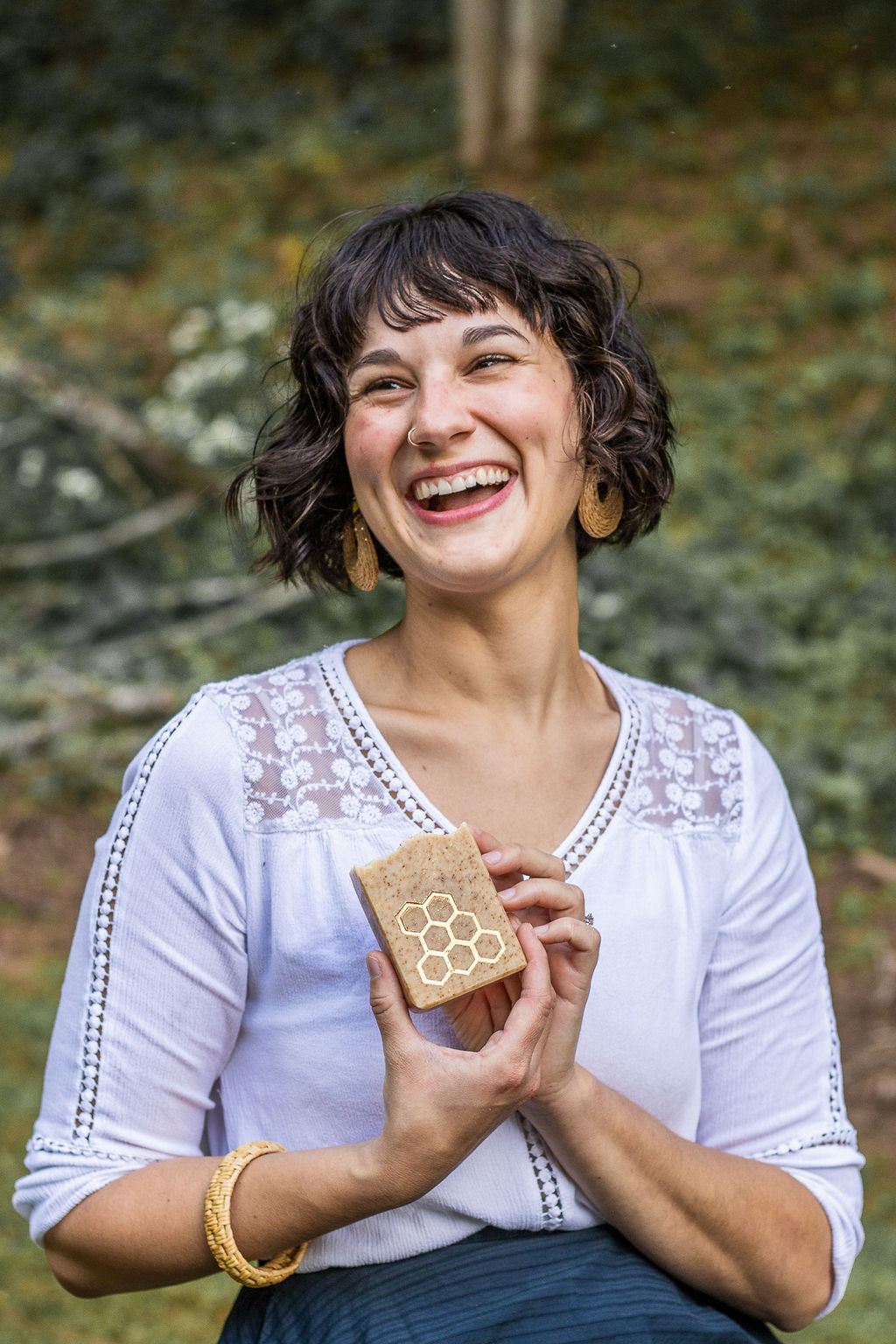 How it's Made
All our products are made in smaller batches using plant-based, minimally process ingredients. All our products are artificial fragrance free, palm free, sustainably made and packaged (our "plastic" wrap on our facial soaps is compostable bioplastic-no microplastics), and cruelty free. We care about our community local and far. We partner with a local organization to help create affordable housing in our area. We also partner with Eco-Soap bank to donate any soap scraps and leftover soap to provide hygiene and education to people around the globe.
Shop Policies
Claims
We do not make any claims that any of our products will be a cure for anything.
Ingredients
Lux & Lye LLC, and The Soap a blog by Lux & Lye LLC, aim to use the highest quality, natural ingredients for all products and recipes shared on either website. We love to share research and information about natural products and other topics. Although we are passionate about our products and research, it is your duty to educate yourself on the ingredients in our products and recipes before trying either. Because we value education, we highly recommend you do your research using multiple trustworthy sources.
Reactions
Although our products and recipes are as naturally-based as possible, there is still a possibility of adverse reactions. If you have never used an ingredient in our products and recipes, and therefore, unsure how your skin may react, test a small area to check for a reaction. Make sure to never test on sensitive parts of the body or around any openings in the body or skin abrasions. If you have a reaction, wash the area immediately, and discontinue use.
Privacy Policy

Effective date: July 1, 2022

Lux & Lye LLC ("us", "we", or "our") operates the www.luxandlye.com website (the "Service").
This page informs you of our policies regarding the collection, use, and disclosure of personal data when you use our Service and the choices you have associated with that data.
We use your data to provide and improve the Service. By using the Service, you agree to the collection and use of information in accordance with this policy. Unless otherwise defined in this Privacy Policy, terms used in this Privacy Policy have the same meanings as in our Terms and Conditions, accessible from www.luxandlye.com
Information Collection And Use
We collect several different types of information for various purposes to provide and improve our Service to you.
Types of Data Collected
Personal Data
While using our Service, we may ask you to provide us with certain personally identifiable information that can be used to contact or identify you ("Personal Data"). Personally identifiable information may include, but is not limited to:
Email address
First name and last name
Phone number
Address, State, Province, ZIP/Postal code, City
Cookies and Usage Data

Usage Data
We may also collect information how the Service is accessed and used ("Usage Data"). This Usage Data may include information such as your computer's Internet Protocol address (e.g. IP address), browser type, browser version, the pages of our Service that you visit, the time and date of your visit, the time spent on those pages, unique device identifiers and other diagnostic data.
Tracking & Cookies Data
We use cookies and similar tracking technologies to track the activity on our Service and hold certain information.
Cookies are files with small amount of data which may include an anonymous unique identifier. Cookies are sent to your browser from a website and stored on your device. Tracking technologies also used are beacons, tags, and scripts to collect and track information and to improve and analyze our Service.
You can instruct your browser to refuse all cookies or to indicate when a cookie is being sent. However, if you do not accept cookies, you may not be able to use some portions of our Service.
Examples of Cookies we use:
Session Cookies. We use Session Cookies to operate our Service.
Preference Cookies. We use Preference Cookies to remember your preferences and various settings.
Security Cookies. We use Security Cookies for security purposes.

Use of Data
Lux & Lye LLC uses the collected data for various purposes:
To provide and maintain the Service
To notify you about changes to our Service
To allow you to participate in interactive features of our Service when you choose to do so
To provide customer care and support
To provide analysis or valuable information so that we can improve the Service
To monitor the usage of the Service
To detect, prevent and address technical issues

Payments
We accept all four major credit cards, as well as PayPal, for payment. Credit cards are processed by a third-party (Shopify or Paypal), so we do not have access to, or store, any credit card information used to process payments.
Transfer Of Data
Your information, including Personal Data, may be transferred to — and maintained on — computers located outside of your state, province, country or other governmental jurisdiction where the data protection laws may differ than those from your jurisdiction.
If you are located outside United States and choose to provide information to us, please note that we transfer the data, including Personal Data, to United States and process it there.
Your consent to this Privacy Policy followed by your submission of such information represents your agreement to that transfer.
Lux & Lye LLC will take all steps reasonably necessary to ensure that your data is treated securely and in accordance with this Privacy Policy and no transfer of your Personal Data will take place to an organization or a country unless there are adequate controls in place including the security of your data and other personal information.
Disclosure Of Data
Legal Requirements
Lux & Lye LLC may disclose your Personal Data in the good faith belief that such action is necessary to:
To comply with a legal obligation
To protect and defend the rights or property of Lux & Lye LLC
To prevent or investigate possible wrongdoing in connection with the Service
To protect the personal safety of users of the Service or the public
To protect against legal liability

Security Of Data
The security of your data is important to us, but remember that no method of transmission over the Internet, or method of electronic storage is 100% secure. While we strive to use commercially acceptable means to protect your Personal Data, we cannot guarantee its absolute security.
Service Providers
We may employ third party companies and individuals to facilitate our Service ("Service Providers"), to provide the Service on our behalf, to perform Service-related services or to assist us in analyzing how our Service is used.
These third parties have access to your Personal Data only to perform these tasks on our behalf and are obligated not to disclose or use it for any other purpose.
Service Providers Used:
Shopify-website and payment processor
Shippo-shipping service
Shopify-domain host
Paypal-payment processor
Mailchimp-email marketing
Google-Analytics and email
These companies are the companies Lux & Lye LLC uses to support the business. These are the companies trusted to maintain secure information and fulfill the services needed to fulfill our business operations. They are all trusted and secure businesses that are General Data Protection Regulation (GDPR) compliant. We would never choose to support a business that does not ensure protection of our customers' data and information.
Analytics
We may use third-party Service Providers (Google Analytics) to monitor and analyze the use of our Service.
Google Analytics
Google Analytics is a web analytics service offered by Google that tracks and reports website traffic. Google uses the data collected to track and monitor the use of our Service. This data is shared with other Google services. Google may use the collected data to contextualize and personalize the ads of its own advertising network.
You can opt-out of having made your activity on the Service available to Google Analytics by installing the Google Analytics opt-out browser add-on. The add-on prevents the Google Analytics JavaScript (ga.js, analytics.js, and dc.js) from sharing information with Google Analytics about visits activity.
For more information on the privacy practices of Google, please visit the Google Privacy & Terms web page: https://policies.google.com/pr...
Links To Other Sites
Our Service may contain links to other sites that are not operated by us. If you click on a third party link, you will be directed to that third party's site. We strongly advise you to review the Privacy Policy of every site you visit.
We have no control over and assume no responsibility for the content, privacy policies or practices of any third party sites or services.
Children's Privacy
Our Service does not address anyone under the age of 18 ("Children").
We do not knowingly collect personally identifiable information from anyone under the age of 18. If you are a parent or guardian and you are aware that your Children has provided us with Personal Data, please contact us. If we become aware that we have collected Personal Data from children without verification of parental consent, we take steps to remove that information from our servers.
Changes To This Privacy Policy
We may update our Privacy Policy from time to time. We will notify you of any changes by posting the new Privacy Policy on this page.
We will let you know via email and/or a prominent notice on our Service, prior to the change becoming effective and update the "effective date" at the top of this Privacy Policy.
You are advised to review this Privacy Policy periodically for any changes. Changes to this Privacy Policy are effective when they are posted on this page.
Contact Us
If you have any questions about this Privacy Policy, please contact us:
By email: Contact@luxandlye.com
By visiting this page on our website: www.luxandlye.com/contact

Our Philosophy
Lux & Lye LLC is established under the rules of respect, integrity, honesty, and love. We will never sell your data to anyone ever. All data collected is collected via 3rd party services, Google, Shopify, Paypal, GoShippo. I do not personally store any of your data on my servers. All data collected via these third party providers are stored on their secure servers and I retain access to them from time to time when analyzing general data such as demographics for understanding customer needs and target market. I do not hold any data without consent from you. Nor would I use any information such as email, address, name, etc. without your consent first.
We will never compromise who we are. Our customers are the reason we are in business. We will always uphold trust and respect and work to do good in every aspect of our business.
Proverbs 14:22
You will earn the trust and respect of others if you work for good; if you work for evil, you are making a mistake.
Matthew 7:12
So in everything, do to others what you would have them do to you, for this sums up the Law and the Prophets.
Shipping Information We promptly package your handcrafted products within three (3) business days upon receipt of your order, though we try to get it out within one business day. We generally ship our orders in boxes via UPS as we found them to be most consistent and reliable. Occasionally we will use USPS or FedEx for shipping. If you prefer a different shipping method, please make note when placing your order and we will contact you for further shipping arrangements. Any cost difference will be applied to your total order. Local Pickup On occasion, we can arrange a local pickup in the Boone, North Carolina area. We do not have a retail store or regular office hours, but orders may be picked up at select locations. If you are interested in local pickup please email us to inquire about options. See our Contact Page for more information regarding office location and contact information. Special Orders Looking for something in particular? Send us an email or reach out via Instagram (@LuxandLye), and let us know what you would like to see us make. We make no promises we can fill all special orders, but we are willing to try and accommodate you. Special batches require an 18-bar minimum purchase. Wholesale Inquiries If you are interested in purchasing Lux & Lye LLC products at a wholesale price for resale in a retail environment email us at contact@luxandlye.com with your request or view our store via Faire: https://luxlyellc.faire.com

Refunds and Returns
At Lux & Lye LLC we want you to be 100% happy with your purchase. If there is a problem that you believe is our responsibility, you must report it to us immediately upon your receiving/inspecting your shipment*. We offer refunds and returns in special cases only.
Returns accepted for 30 days
Free return shipping
No restocking fee
No final sale items
We will not accept returns or refunds on items purchased because the scent or design is not what you anticipated. Our essential oil blends are unique to our products. Due to the natural element of essential oils, they will dissipate over time. We do not heavily scent our products and therefore, anticipate the scent to be mild to light in our bar soaps. The ingredients on every product on our website has each essential oil listed out in quantity order in order to get an understanding of the scent profile before you order. If you have a question about ingredients or essential oil blends please reach out to us. We can also send soap samples upon request to help with your decision, but you will be asked to pay for the shipping costs and a small fee for the samples.
Due to the handmade nature of our products, the designs can change from batch-to-batch and will not always reflect what is seen in the photos on the website or in marketing. We try to be consistent with designs but variation is natural with handcrafted products. Our base recipes and ingredients should be consistent from batch to batch though the designs may differ. If you want to see what the newest batch design is before purchasing, please reach out to us. We will not provide a refund or return on products due to not liking the design of the current batch.
We are not responsible for items melting (lip balms or body butters) in the heat of summer months, therefore we do not ship lip balms and body butters during the summer months. Lip balms and body butters are for sale in-person only during the summer months.
If there is a problem with your order outside of variation in scent or soap design, we would require that all or a portion of the defective product be sent to us for evaluation of the problem and determination if the product requires being replaced at Lux & Lye LLC's expense.
All products are inspected carefully by Lux & Lye LLC upon completion of orders and prior to shipping. Lux & Lye LLC is not responsible for damage sustained to product shipments by USPS, UPS, FedEx, or other chosen courier.
Shipping of returned product will be paid for by Lux & Lye LLC. Our goal is to ALWAYS provide only the absolute finest quality handcrafted bath and beauty products to you at all times. Dissatisfaction with a chosen scent (soap or other product) does not constitute reason for product return based on grounds of being "defective".
Processing Timeline
Once a refund is approved we will process the full refund on your card within 3 business days. Depending on the card company, the refund can take about 14 business days to post to your account.
If you would like to return an item for store credit, we will process the request after the item(s) is returned and issue store credit within 3 business days.
*Must have proof of product damage.
Please sign in so that we can notify you about a reply