Please sign in so that we can notify you about a reply
Our Mini Bucket Bag in Natural sun-washed canvas is a breeze to carry and just the right size to hold the basics (cellphone, shades, credit cards, sunscreen and more) for casual Summer days.
This little bag is crafted from soft yet durable sun-washed canvas in a neutral, off-white color. It comes with a 16 inch carry strap that can be hand held or worn snugly over your shoulder. Choose the longer 42 inch strap to wear the bag crossbody style or both straps to switch it up when you want.
This listing is for the Mini Bucket Bag in Natural Sun-washed Canvas.
Note: Last photo is for size/style reference only and may not indicate fabric or color of item in this listing.
Details:
Approximately 9in W x 8in H x 2.5in D
Exterior is cotton canvas with a slightly faded finish
Fully lined
1 interior zipper pocket and 2 exterior slip pockets
Magnetic snap closure at top center
Leather strap is sourced and dyed in the US. Natural Leather color option may darken to a tan patina over time.
Machine or hand wash (gentle cycle, mild detergent) without leather strap. Air dry.
Please see order detail page for processing and shipping timelines (these can range between 2 to 10 days based on current queue of open orders.) Please feel free to contact me for rush orders, gift messages, specific delivery deadlines or review my Shop Policies for more info.
Processing time prior to shipping is currently 2 to 7 days. Please feel free to contact me for rush orders, gift messages, specific delivery deadlines or review my Shop Policies for more info.
Quality:
With an ever-growing marketplace, buyers now have an enormous selection of goods to choose from. My items are all handmade, by me, in my studio in New York. It is a labor of love and it insures that each item is crafted with the same exact care and quality every single time. Attention to detail, style, and durability are vastly important to create a finished product that not only looks good, but will last.
Have a question? A suggestion or comment? Need more info? Please feel free to contact me. I'm likely sitting in front of my computer or at my sewing machine and will reply as soon as possible ;)
Thanks for visiting my shop and have a great day!
Hi there. My name is Janine and I am the designer, owner and maker behind Independent Reign.

I can't believe its been over 10 years since I started this little journey back in 2007 (feel free to scroll down for that long story.)

In my shop you'll currently find beach bags, crossbody purses, totes bags, wristlets, and more. I bring a simple, modern perspective and casual vibe to each of my designs; I rely on creativity, integrity, responsibility, attention to detail, and above all, good old-fashioned hard work, and I hope that resonates with each of my items.

All aspects of production--sourcing, measuring, sewing, cutting, complaining, packaging, and shipping--are done by me, here in NYC. Its a labor of love, but it ensures that each bag is crafted with the exact same care and quality every single time. All aspects that don't involve actual production--accounting, photography, dreaming, thinking, harboring self doubt--are also all done by me here in NYC.
THE BACKSTORY

In the Spring of 2006, I followed my then-boyfriend across the world to Hong Kong. (He had been transferred there for work.) I was able to continue working remotely (part-time) for the Wall Street tech firm I had been with for 10 years, although I was only logging in for about an hour or two each day. While I was certain that living in Hong Kong and having a ton of free time would enable me to: write the next great bestseller, learn Mandarin, master martial arts, volunteer for some worthy causes, become proficient with chopsticks, prepare Dim Sum specialties, and journal about all my great adventures, I found instead that without direction, I floundered. Away from friends and family and without a schedule or goal, I felt purposeless. Exhausting the tourist spots, the hidden local spots, and anywhere else my flip flops and a little red taxi could take me, I soon grew restless.

One day, drifting through a town (as I was prone to do) in search of motivation, I instead found inspiration. Wandering into a tiny shop that caught my eye, I discovered shelves from floor to ceiling filled with ribbons and trims in every imaginable color, neatly stacked roll upon roll like giant tiered birthday cakes. Further wandering produced an entire town of tiny shops filled with sequins, beads, trims, and notions in rainbows of color and pattern. I was absolutely awed by all the colors and textures. I immediately felt my mind kick into gear as I imagined what could be made with each bead or ribbon or zipper. I felt excited! Bargaining mostly in sign language with eager shop owners, I began purchasing a yard or two of the trims as an excuse to continue browsing the seemingly endless shelves and having no idea what I would use them for. Shiny satins, smooth velvets, and sparkly sequins all made it into my bag.

With a bit of encouragement from a good friend I set about the endeavor of learning to sew. With an $80 home sewing machine and a new challenge on my hands, hours flew by like minutes. I rediscovered a creative spirit that I had somewhat knowingly pushed aside along the way. I am self-taught through A LOT of trial and error and stubborn determination (and a fair amount of swearing and complaining seems to help too.)

Fast forward a few years and I found myself back home in New York City. Things ultimately didn't work out with that boyfriend, but I found solace in a new Yorkie puppy! Journaling about Hong Kong adventures and mastering Dim Sum specialties didn't work out either....but a new passion for sewing and a business venture ensued!

I began listing a few items online way back when and was surprised when the little sequin purses that I used to make started selling. Over the course of a few months, sales kept increasing. It soon became difficult to work full-time and then come home to try to be 'creative' and/or sew bags and fill orders. I began to consider whether I could grow the business much more if I were to devote myself full time to sewing/designing. When the timing seemed right, I made the leap. It's always a risky move, and it was very difficult to maintain for the first few years. (It's pretty scary to not get a paycheck every week.) One of the hardest parts of running your own business is having the perseverance to ride the ups and downs. 10 years later, that's still the hardest part. But with my full-time attention, the business began to thrive.

My skill level has grown over the years, and I find that I'm often looking at something and thinking, "I wonder if I could make that?" That goes for anything from food to furniture to clothing -- although for now I'm sticking to accessories! New designs are never far from my mind (some good, some not so good), Often scrawled on napkins, post-its, bills, and other scraps of paper haphazardly tacked to an ever-crowded cork board hanging above my sewing machine.

When I come up with something new, I can't wait to see what it will look like when it's finished....and then I want to make it in 87 different colors and fabrics. (It can be hard to self-edit.) New projects don't always turn out like the vision in my mind...but that's part of the process. I keep working at it, making adjustments, and learning as I go. (That's actually not just a sewing lesson I've learned; it's become a bit of a life lesson). I often have no idea what I'm doing when I start something new, and I usually just wing it. I can be hard on myself when it turns out poorly, and I'm always surprised if it comes out well the first time (a rarity).

I think I lean towards a more casual style. The idea would be to look cool and be comfortable without feeling overdone or too fussy about things.

I can spend hours in a fabric store just thinking. I'm likely to utter a few profanities when a sneaky pin finds a way to stick me, and the bottoms of my socks are forever covered with fabric scraps and loose threads (as is my loyal little dog, Buddy).

Thanks for browsing my shop and taking the time to read my story. :)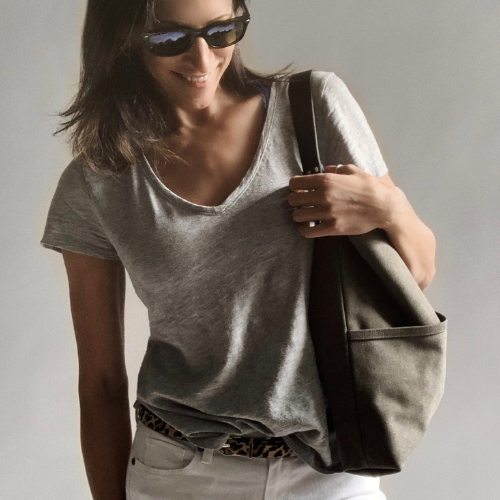 FAQ's and Terms and Conditions:
When will my item ship?
Standard production time (the time I need to create your item prior to shipping) can range from 2 to 7 days depending upon how many orders are queued up ahead of yours. This can vary during peak holiday times so please reach out if you have a specific delivery deadline

Uh oh, did you wait until the last minute to send a gift?
Need your bag for an upcoming vacation?
Have a specific delivery deadline?
Just want the bag in your hands as soon as possible?

Feel free to send me a message and I'll do my best to accommodate specific delivery deadlines or rush orders by bumping your order up in the queue or supplying a quote for rush shipping. :)
Do you accept returns for a refund or exchange?

Our bags are pretty awesome so we don't get many returns ;)..... but the answer is "yes." I want you to be happy with your purchase. Items in NEW/UN-USED condition may be returned within 30 days of delivery date for a refund less shipping. Buyer is responsible for return shipping costs.

Please note that if you received "free shipping" on an item that is returned, the refund will be less the actual shipping/packaging cost incurred. Shipping Upgrades and rush order fees are non-refundable.

NOTE: Custom, altered, and items marked as 'final sale' are not eligible for return.
Are you items handmade? Do you make every bag?

Yes, and I sure do! All of my items are handmade by me in NYC. I do all the measuring, cutting, sewing, ironing, complaining, packaging and shipping. It is a labor of love but it ensures that each bag is crafted with the exact same care and quality every time. :)
Can I get something made a bit smaller or a bit larger?

An item can usually be scaled up or down proportionally (changing all measurements equally in Length, Height, Depth.)
Changing just one measurement without the others can sometimes alter the look/shape of the design.
Other customizations will be on a case by case basis, feel free to reach out to me with your request.
I can't always promise it will be something that I have the skills and equipment (and patience ;) to complete, but I'm happy to discuss it and I love a challenge ;)
Fees may apply for customizations and changes.
Can I add a gift message or note?

Sure! Just let me know in the "Message To Seller" field during checkout what you'd like to add and I'm happy to include it. No pricing or receipt info will be included in a gift package.
Anything else I should know?

When you make a purchase from my shop, you should know that you are receiving an item that has been thoughtfully made with quality materials and diligent attention to detail and durability. I source my materials locally as much as possible and create very little scrap or waste with my production process. I often re-purpose left over leather and fabric into other items or donate leftover materials to other artists. If you have a question, a concern or a comment, it all comes straight to the source ....Me. I'm honest, hardworking and I love what I do. I think I bring a unique perspective and casual, modern vibe to my designs and I hope that shines through in my products.