Please sign in so that we can notify you about a reply
This exquisitely sculpted 3-dimensional varnished paper Pickleball Player hanging ornament sculpture, will leap into your heart and score 11 points instantly! This lightweight indoor hanging Pickleball Player ornament sculpture is an original work of art made by two artists inspired by the joys and benefits that come by playing Pickleball. Give this Pickleball ornament sculpture to someone who loves Pickleball as a sport, form of exercise, or social get together. It is a perfect one-of-a-kind gift to give to someone, or maybe to yourself.
From original art design through to completed hanging PAPER & wire sculpture, this action based Pickleball Player sculpture is a unique one-of-a-kind work of indoor art. The Pickleball Player and Paddle sculpture is made from hand-varnished paper. The wire ornamentation adorning this hanging sculpture is an original freehand design, unique unto itself. The beautiful glass beads compliment the Pickleball Player's dynamic boutique paper print.

This Pickleball Player is made from hand-varnished fun tropical themed paper that features pineapples on the outside and water droplets on the interior. The glass beads joyfully compliment this easygoing, yet athletic inspiring Pickleball Player. Perfect for all those who love spending time in the sun, eating pineapple and sharing with others. The wire element of the sculpture has silver wire. This Pickleball Player Ornament Sculpture is approximately 4-5 inches wide and 7-8 inches tall (including wire element).

Purchasing this Pickleball Player art sculpture supports the two of us as collaborating artisans in our mission to create and share inspiring, joy filled & meaningful art with the world, as well as supports pickleball development and growth throughout the USA. We donate 10% of the net profits from the sale of this Pickleball Player hanging sculpture to a nonprofit, all-inclusive/non-discrimination based national pickleball organization.

~ Celebrate your love of playing Pickleball with this totally Pickleball inspired one-of-a-kind work of art!
~ Perfect to give as a gift to ANYONE who enjoys playing Pickleball… your partner/fellow team mates?! ~ Enjoy hanging this lightweight Pickleball art sculpture in the home.
~ Made with love and intended to spread joy & love!
~ Makes for excellent Christmas Ornament, yet isn't holiday specific so can be enjoyed all year long as a piece of mobile art.
HOW TO ENJOY:
Enjoy this Pickleball Player sculpture as a hanging mobile in your home. The sculpture is very lightweight in nature, which makes it very versatile in where and how you can hang & display it inside the home…
~Hang the sculpture in a special place.
~Hang it from a piece of string or fish line.
~Hang it from a small hook or nail.
~Hang it in a picture frame or shadow box.
~Hang it on an ornament stand.
~ Enjoy it as a beautiful Christmas holiday tree ornament, as well as year-round as an indoor twig tree ornament.
~This lightweight unique hanging ornament sculpture is great for giving as a gift. It can be mailed safely and inexpensively.
ORIGINAL ART:
All rights & copyright of this design reserved by the artist.

This Pickleball Player sculpture is made by the two of us as collaborating artisans. We have poured a lot of love and joy into the creation of this art piece, and it is our hope that you or the recipient of this Pickleball Player ornament sculpture enjoy it for years to come! This Pickleball Player sculpture can be the start of a beautiful collection or add to your existing body of our unique nature & wildlife inspired sculptures!
This one-of-a-kind piece of original art has been individually signed inside with our artist monogram in addition to the date in which we originally created the design of the sculpture. Because of this, all of our animal, wildlife & nature sculptures are our own creations, each sculpture has inside it the copyright date that the original design was created. This date is when the first Pickleball Player design was created, not necessarily the date in which this particular Pickleball Player sculpture was brought to life.
MATERIALS:
This sculpture is made from paper, varnish, wire & glass & wood beads. From original sketch through to engineering of this 3-dimensional design, this sculpture is handmade by the two of us. All of our designs and creations are our copyrighted works of art.
HOW TO CARE FOR:
This art piece is to be enjoyed INDOORS. Keep in mind that the main material used in this sculpture is PAPER. This sculpture is intended to be enjoyed for many years to come. This paper sculpture has been painted with several coats of a protective varnish finish. This varnish finish helps give the paper sculpture element some protection against water or sun damage.

Keep in mind that due to the nature of the materials used to create this sculpture, take care to not crush or bend the paper and wire sculpture. Avoid hanging ornament sculpture in direct sunlight. Long exposure to bright direct sunlight, can fade the paper. Treated kindly & kept indoors, this unique sculpture can bring joy for years to come!
This hanging sculpture can be dusted carefully with a fluffy duster tool, such as a feather duster, or a slightly dampened cloth. Again, we encourage you to not hang the sculptures in full direct sun, as long-term exposure to direct sunlight has the power to damage many materials.
SIZE:
This Pickleball Player Ornament Sculpture is approximately 4-5 inches wide and 7-8 inches tall (including wire element). This sculpture comes within a 5 1/2 x 8 1/2 x 1 1/2 inch clear topped gift box tied with a silver elastic string. This wonderful gift box presentation is a perfect setup for giving this 3D ornament as a gift, as well as, keeping your sculpture safe during transport or storage.
SHIPPING:
Ready to ship in 1-3 business days.
As family members, co-artists & "life adventure buddies", our truest relationship is best described as "best friend sisters", though we did come into this world as mother (Sequoia aka Wendy Bloom) & daughter (Megan Bloom). We cherish spending time with each other in and out of the art studio. As artists, with a passion and fascination for the natural world, we decided to join forces and create something really special. As co-owners and co-artists of Rainbow Orca Designs, the majority of our creations are a true collaboration. Each of us pour our love and joy into each piece as we hand it back and forth between the two of us. When you purchase our art, you are buying collaborative works of art made with love & joy.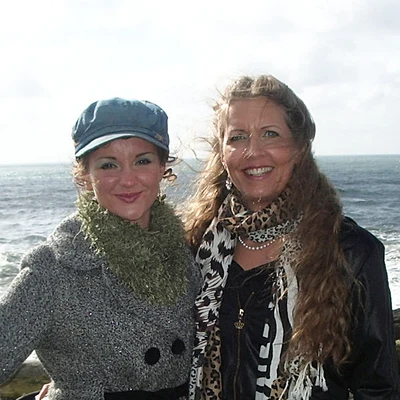 Return Policy:

We don't usually accept returns. Please contact us if you have any issues or problems with your order.
Shipping:
We ship all orders within 1-3 business days via USPS. We will supply you with USPS tracking # details when your order is shipped.
Copyright:
Sequoia (Wendy) and Megan Bloom, co-creators and business owners of Rainbow Orca Designs are the legal copyright owners of all illustrations, reproductions, and creation designs & patterns. Purchase of original art pieces or prints does not transfer copyright and all work remains the property of these two artists upon purchase. The buyer is not entitled to reproduction rights, digital or in print.