With Mother's Day quickly approaching, it's the perfect opportunity to honor all of the mothers in your life. Whether you admire a friend who is working hard as a single mom, your plant mom coworker, or your neighbor who wrangles six kiddos with ease, we've got you covered! We've collected 20 of our favorite Mother's Day gifts for a friend. From self-care goodies to customized jewelry, there's something for everyone on this list.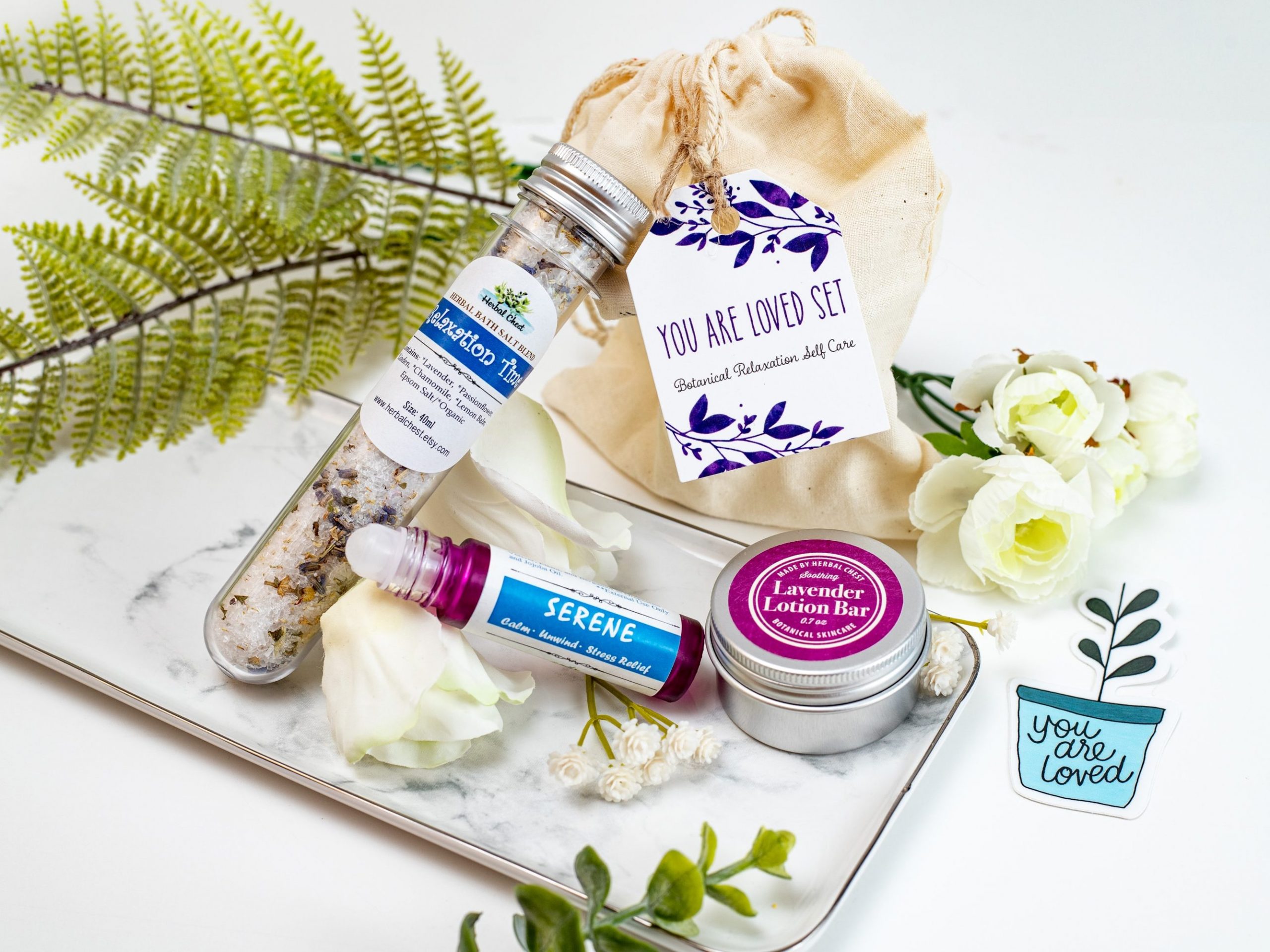 Show a friend you care this Mother's Day with the You Are Loved gift set. The set includes a lavender lotion bar, serene essential oil roller, relaxation bath time blend, and You Are Loved vinyl sticker. It's also packed in an eco-friendly cotton drawstring bag to make it easy on the environment and on you.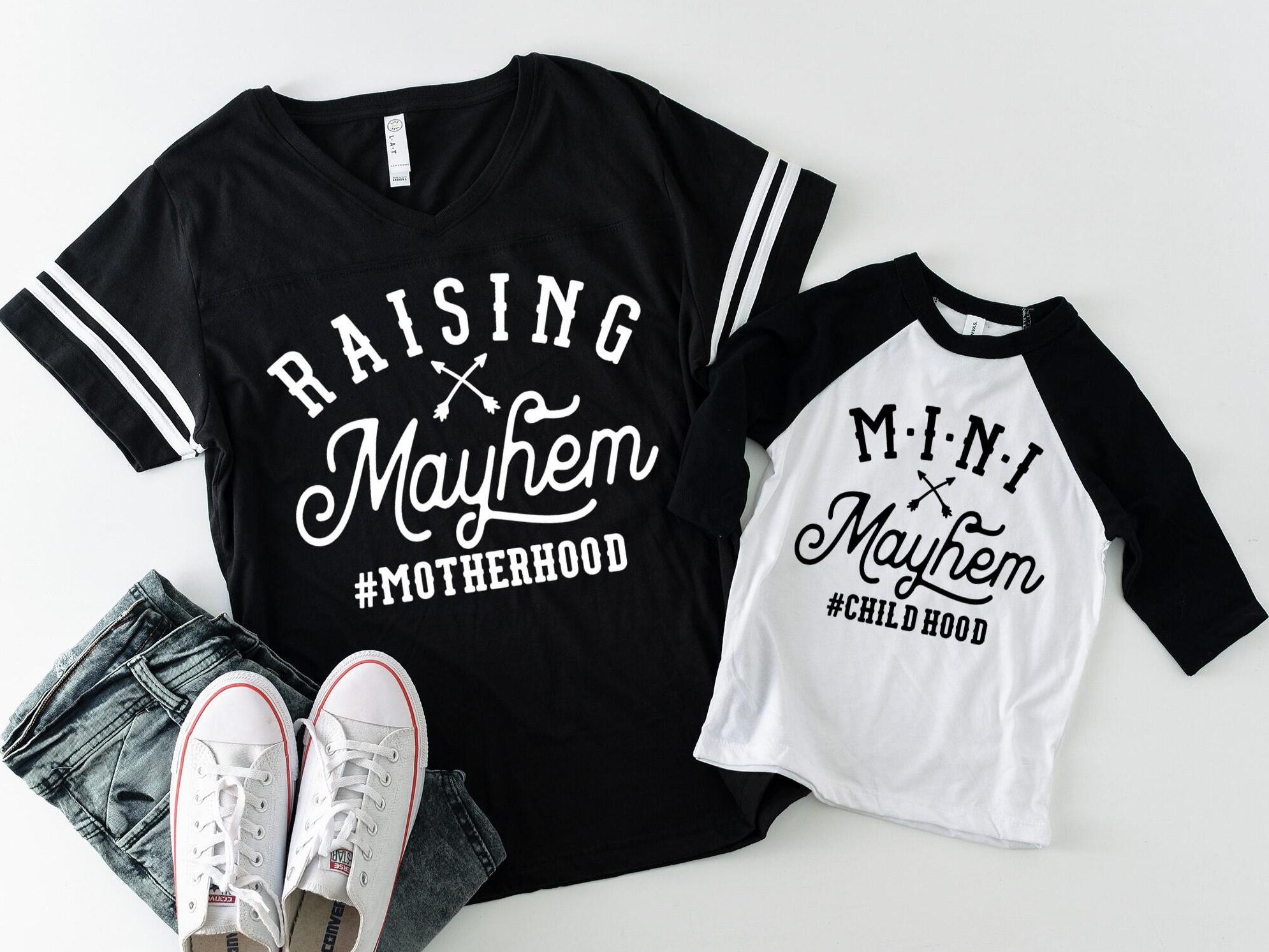 Moms of little would probably attest that each day is full of beautiful mayhem. Why not honor the work they do to power through the chaos?
The football style shirts are high quality LAT Apparel brand shirts. These have a looser fit but are true to size. They're available in women's sizes S-2XL and in plus sizes 14-28. The baseball style shirts are high quality Bella Canvas brand cotton/polyester blend tees. They're available in sizes 2T to Adult 2XL.
You can choose from design colors: black, white, pink, hot pink, red, orange, royal blue, aqua blue, turquoise, yellow, royal purple, apple green, kelly green, neon green, antique silver, old gold, and glitter gold. Choose your bff's favorite color to make this gift especially personal for her!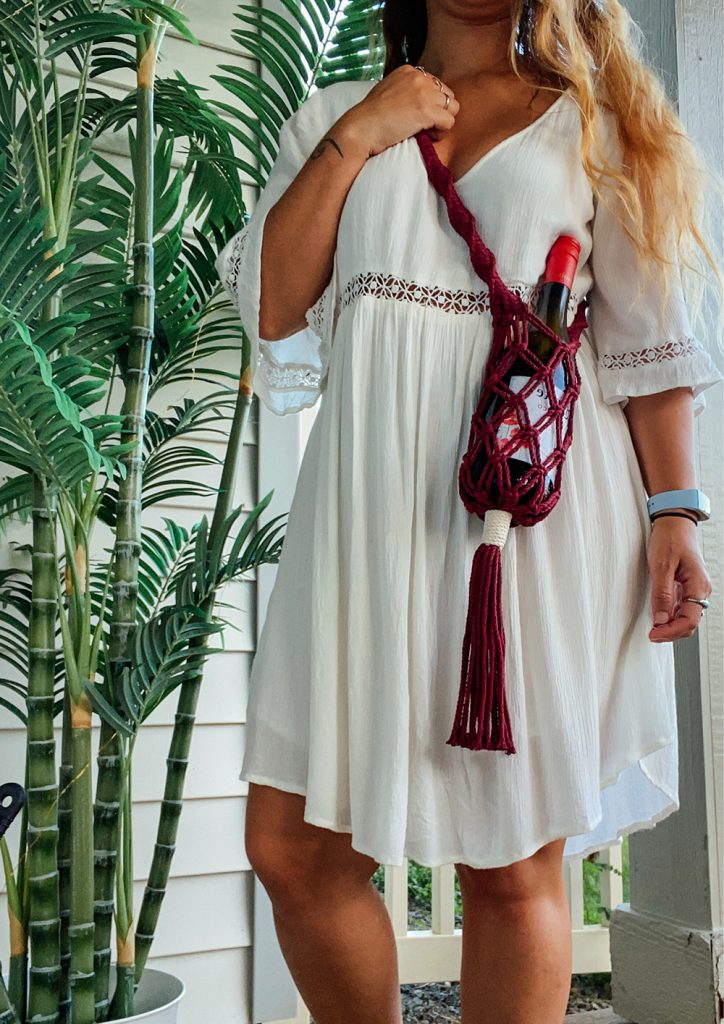 Know a mom who likes to end the day with a glass of wine? This bottle holder is just what she needs. Each of these is handmade with love and dedication and may have some imperfections as every piece is unique. These are red wine in color, but may appear a little different due to lighting. The length is approximately 93 cm. Pair the bottle holder with her favorite bottle of red for a completely thoughtful gift.
These beeswax candles are hand-poured in small batches in Oregon and contain only three ingredients – beeswax, coconut oil & essential oils.
With notes of eucalyptus and peppermint, this soothing candle will transport a momma to a much-needed place of relaxation where she can calm the senses and soothe her soul. The wooden wicks burn brightly and crackle lightly, while the matte black tin will blend seamlessly into her home.
Pair a candle with self-care hygiene set for the ultimate spa night for a stressed-out mom!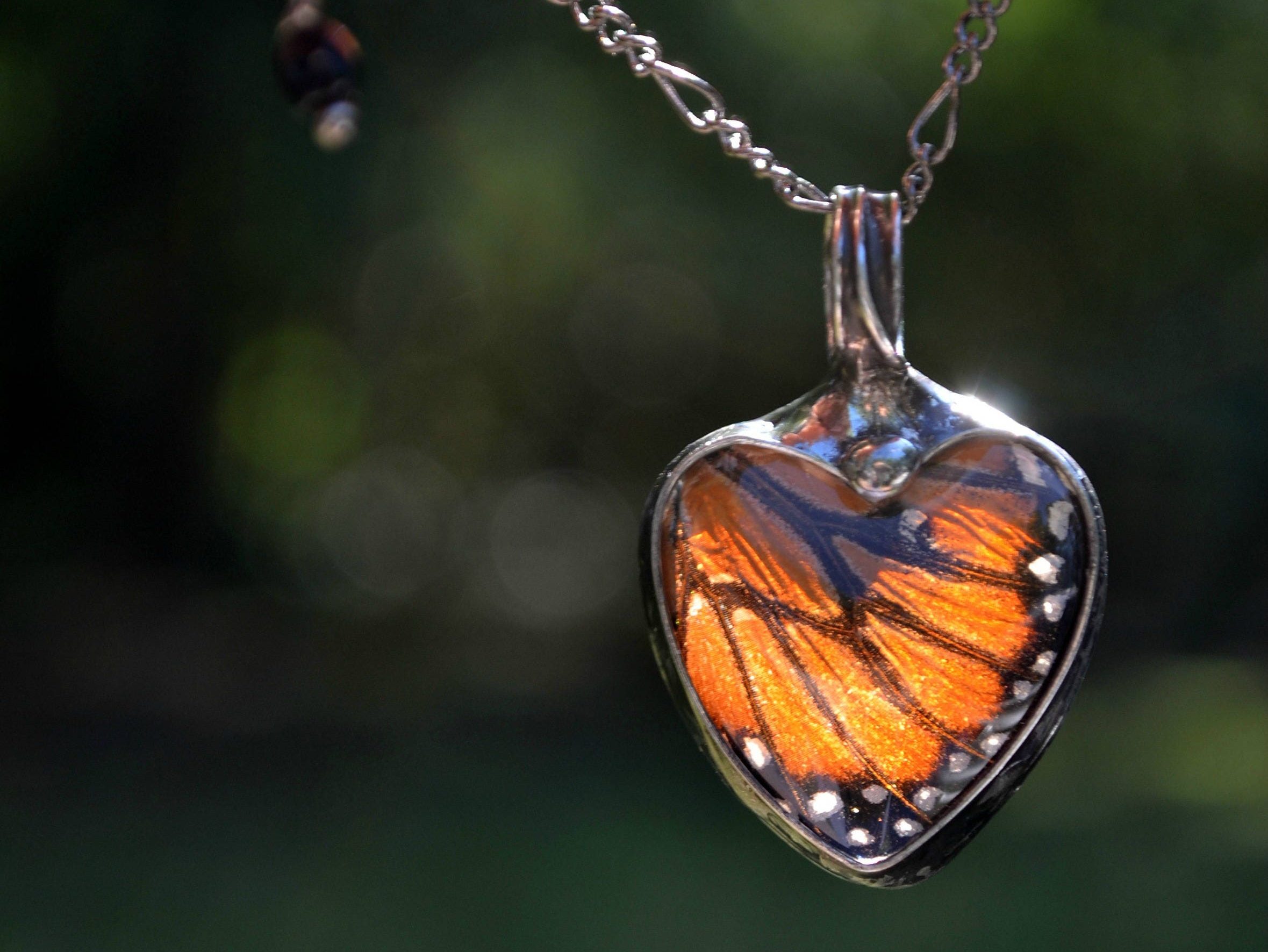 Beautiful and simplistic, this is the perfect necklace for a nature-loving mom. A real butterfly wing is encased between heart shaped glass cabochons. Butterflies have long been the symbol for rebirth and new beginnings, so this is the perfect Mother's Day gift for a friend who just welcomed a new baby into their family.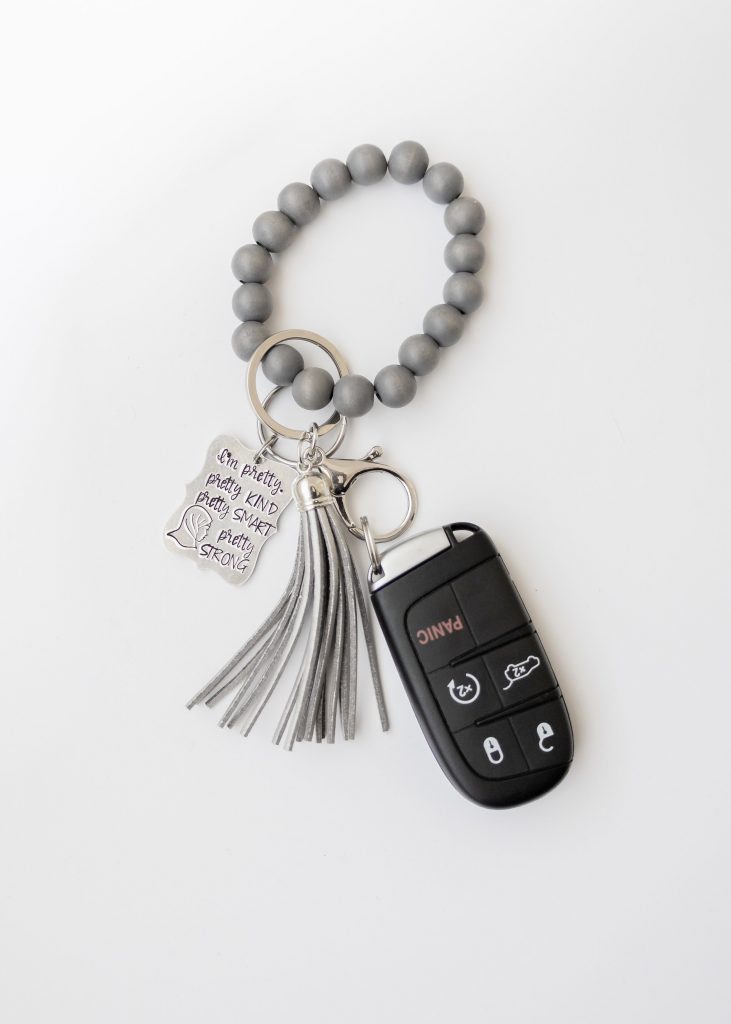 Of course women are pretty – pretty kind, pretty smart, and pretty strong! Motivational jewelry is a fun way to boost a mom's confidence throughout the day, and a stamped necklace is a fun piece to personalize with your silhouette of choice! Each piece is hand stamped on 1 3/8″ aluminum plaque.
You can choose from 13 different silhouettes as well as 3 different necklace lengths or a keychain. Text color options are black, silver (uncolored), red, orange, yellow, green, blue, purple, pink, teal, mint green, hunter green, lavender, white, brown, gold. With all of the personalization options, this gift is ideal for a mom that's hard to shop for.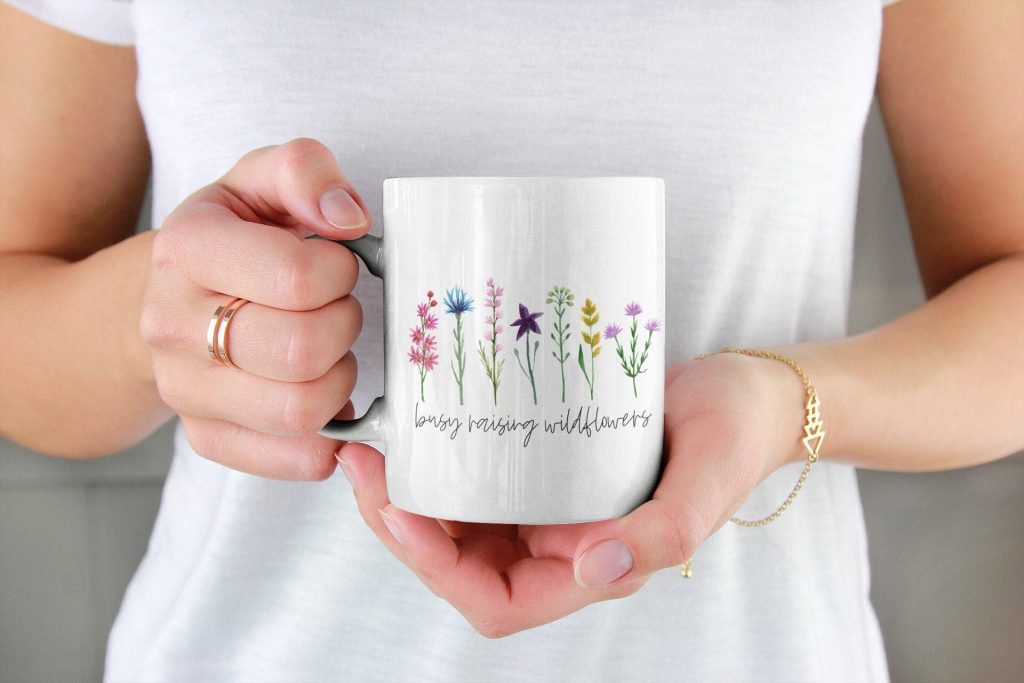 Maybe she raises plants, maybe she's raising kids! Either way, this cute mug is the perfect way to acknowledge a mom in your life! Choose from an 11 or 15 ounce size. And since moms are notorious for finding cold coffee hours into the morning, this mug is dishwasher and microwave safe!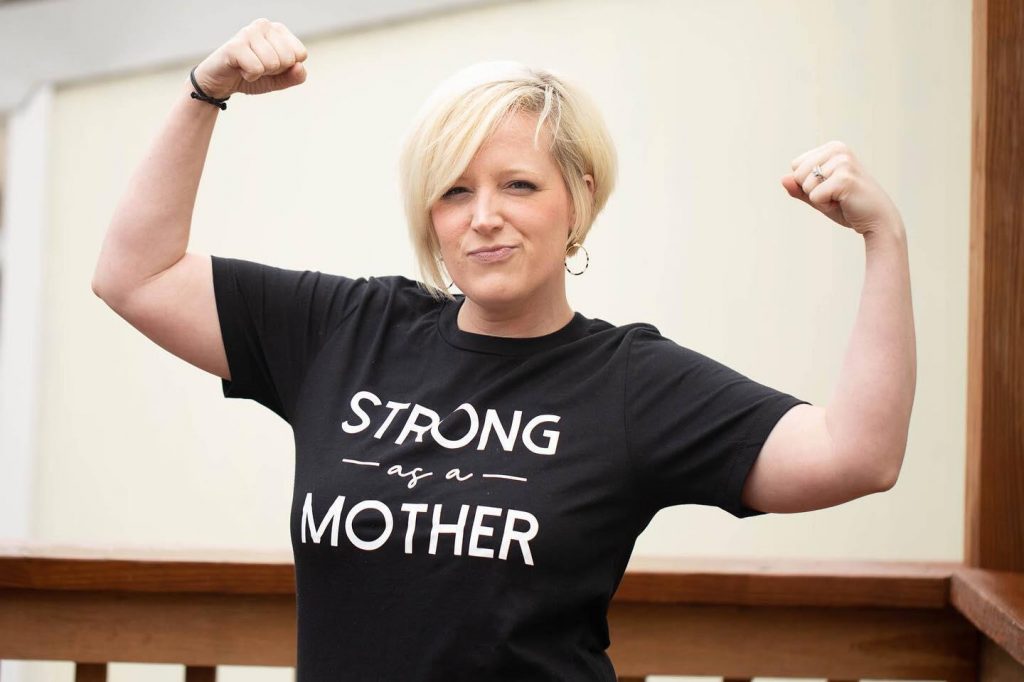 For all the strong mamas (inner strength, physical strength- it all counts!) we have the best way to honor how AMAZING she is! Shirts are preshrunk with a tear away label and unisex sizing for ultimate comfort. Proceeds from this store benefit The Love Will Foundation: a 501(c)(3) non-profit for mental health awareness.
Just check out this review from a recent customer: "Was not expecting the sweatshirt to be so soft! It is now my new favorite cozy sweatshirt… and for a great cause 🙂 Will be back!"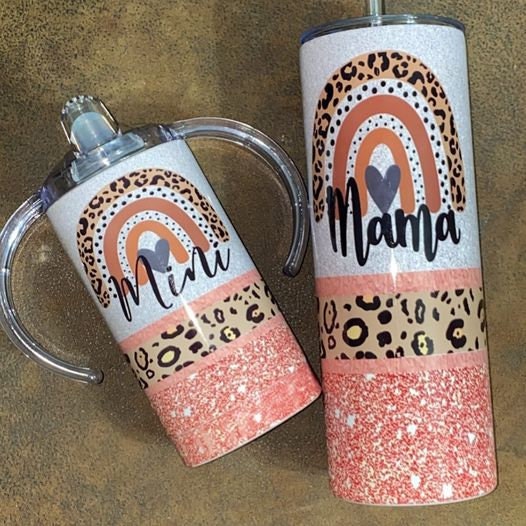 Moms and their little ones love to match! The 20oz stainless steel tall skinny tumbler includes a sliding lid and straw. The 12oz stainless steel sippy cup comes with 2 lids plastic sippy lid and stoppers along with a sliding lid and straw. Both tumblers come with your purchase so you don't have to worry about adding multiple items to your cart or making two separate orders.
These tumblers are made by sublimation, no epoxy or vinyl. It is made to look like glitter, but there is no glitter on the cup. These are hand wash only, so be sure to gift to a momma who has the time to do so!
This moss agate wire wrapped gemstone bracelet is made of gold wire wrapped genuine gemstones. The one-piece design is made with a hook style clasp and measures 7.5 inches in length. It's a stunning staple piece for any busy mom.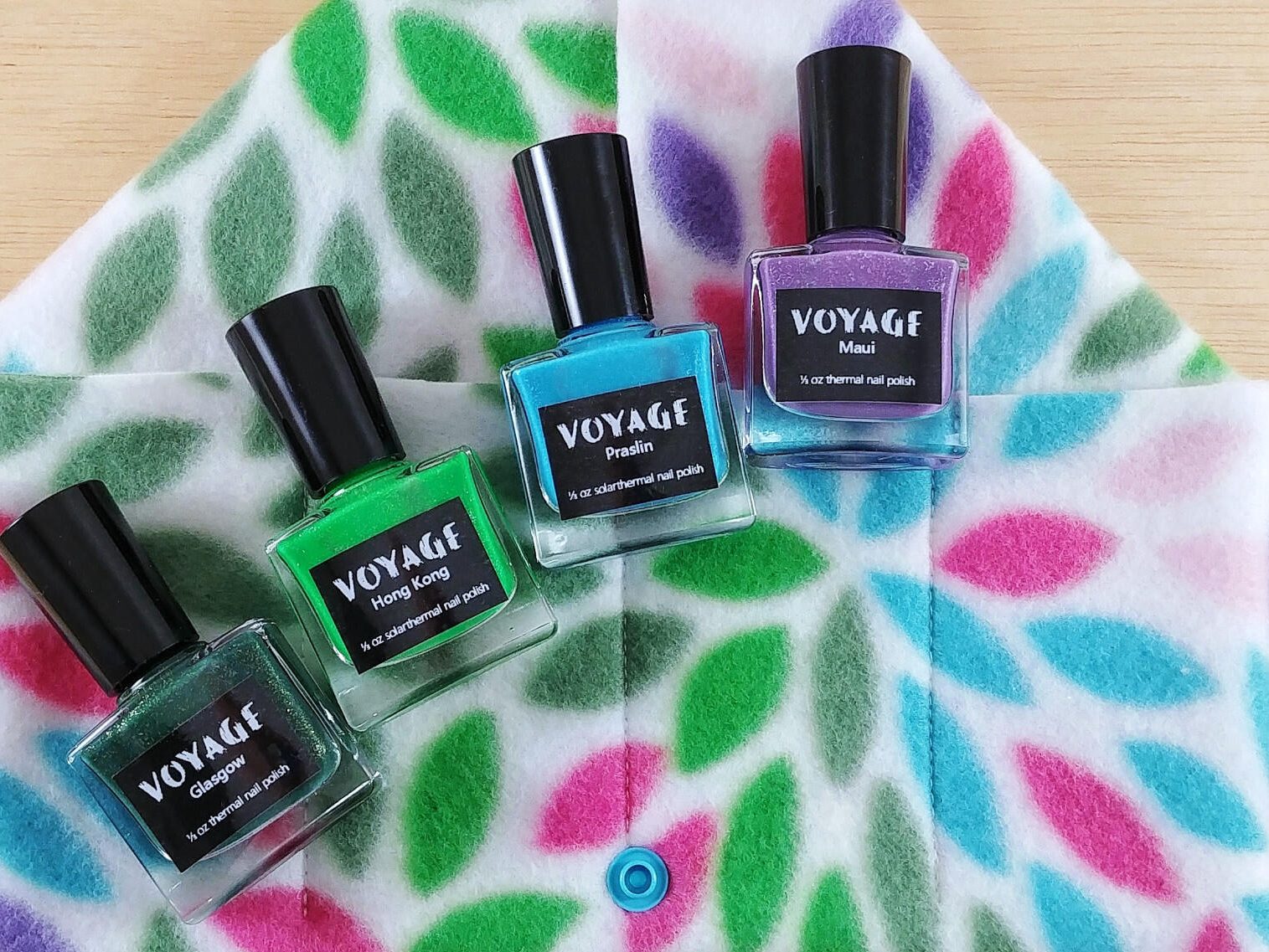 For the green and blue nail polish lover, give a boxed set of 4 color changing polishes in a plush travel bag! The 4 stunning colors are:
Glasgow: an emerald green to sheer thermal topper with gold flakies
Hong Kong: a neon green to yellow to orange to olive green solar thermal with sparkles
Praslin: a bright turquoise blue to gray to purple to navy blue solar thermal with sparkles
Maui: a soft purple to pastel mint thermal with white flakies!
All 4 bottles are tucked carefully into a colorful leaves patterned 4-pocket plush travel bag shaped like a cute envelope that snaps shut for carrying in a purse or backpack. Loaded into a white gift box with a peekaboo window, this gift is ready to give to a momma you love!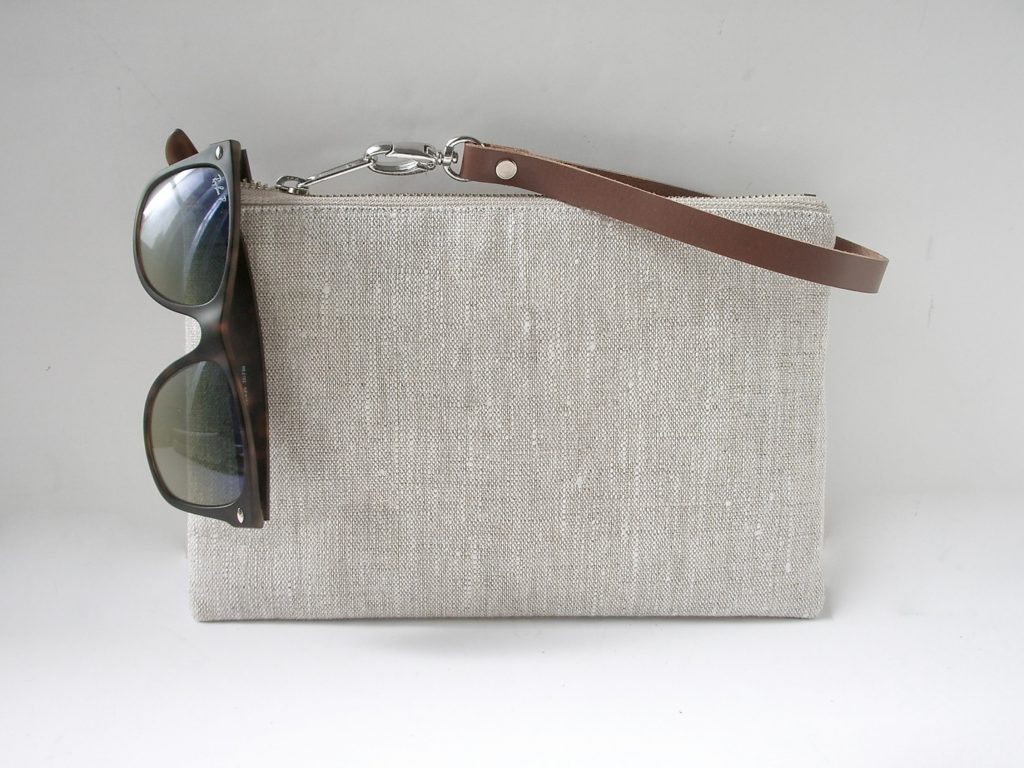 Sometimes the perfect Mother's Day gift for a friend has nothing to do with mothering at all. This natural, textured linen clutch bag in a neutral oatmeal color has a slim profile and detachable leather wrist strap. The simple, modern design in classic linen and leather will work all year long for effortless, casual style!
It measures approximately 9.5in L x 6in H. The natural, textured linen exterior is an oatmeal color. The detachable wrist strap is 100 percent leather, which is finished on top and left natural on the underside.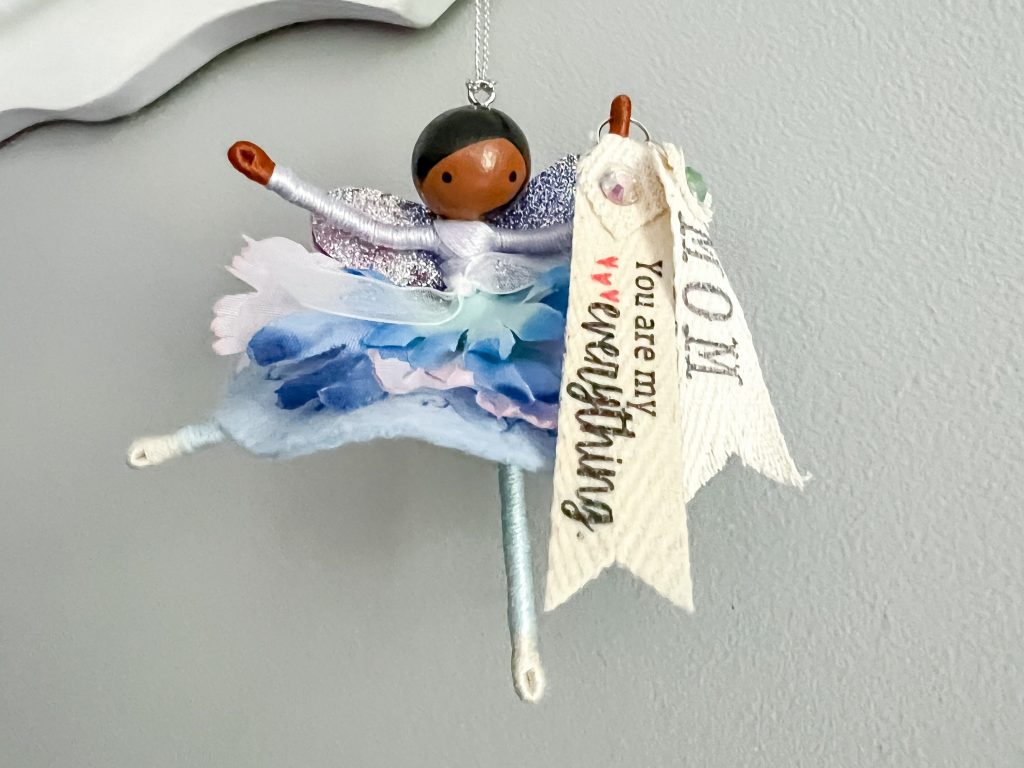 Imagine your friend's surprise when you give her this special, one-of-a-kind handmade keepsake gift. You'll add lots of sparkle to her life with this beautiful handmade flower fairy ornament featuring a heartfelt quote, "You are my everything." What a treasure that will be loved for years to come.
Customize your pixie with your choice of hair/skin color and name or year tag. To save you a little bit of time your order comes wrapped in tissue and a drawstring pouch. Free gift messaging can be included, just enter the message at checkout.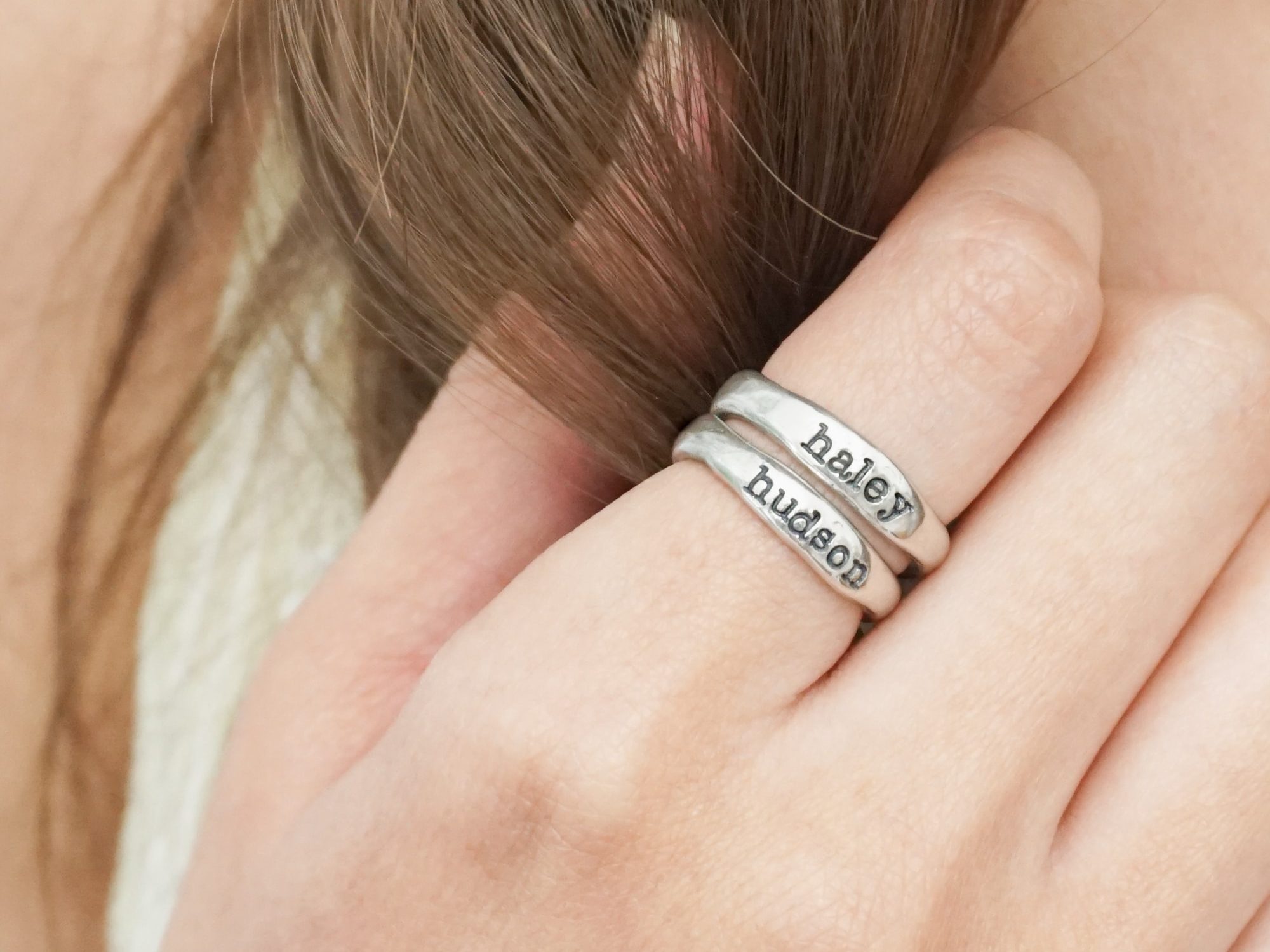 This stacking ring is custom made in pewter and personalized with hand stamped text and birthstones, symbols including a heart, angel wings, footprints, cross, moon, star, and paw print.
You can customize the ring with a special name, date or short phrase and stack them up for a trendy look! These gorgeous stacking rings are hand molded and cast in fine pewter for a beautiful organic shape and feel. If you're ready to splurge on a friend, consider snagging her one for each of her kids' names— what a beautiful way to honor her and her family.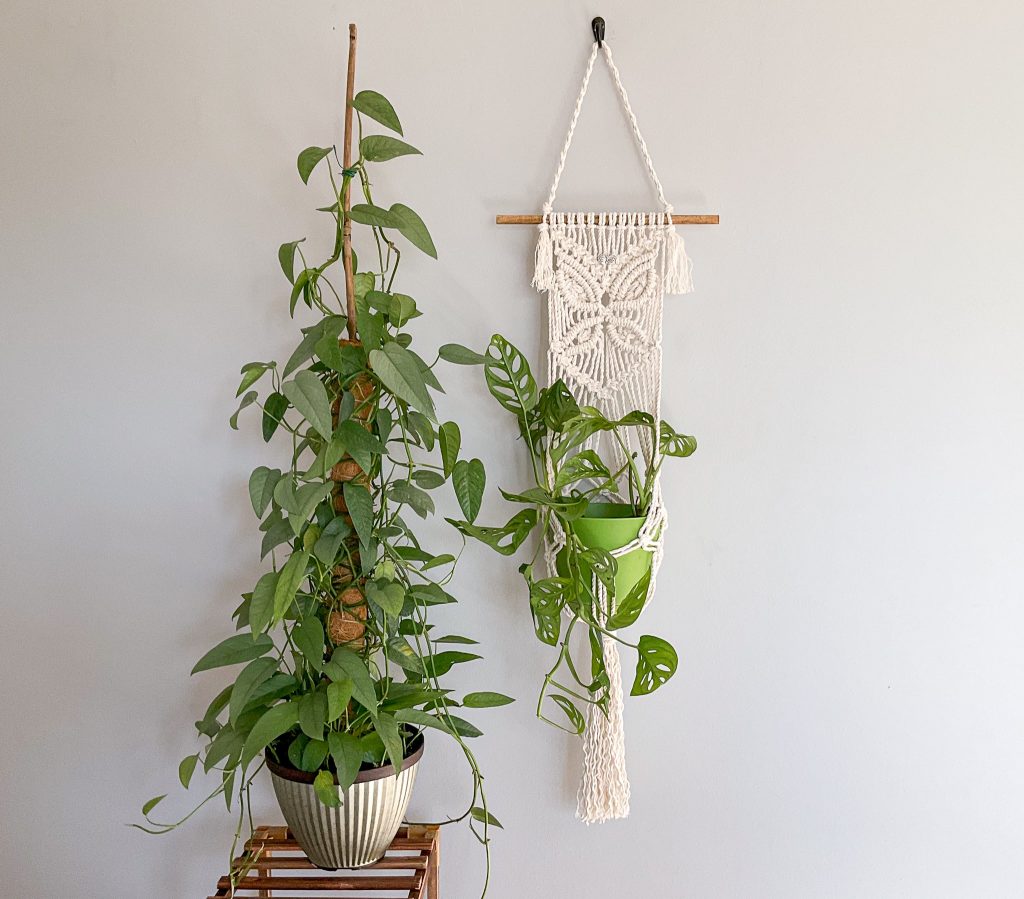 This beautiful butterfly hanger is made with premium natural (off white) cotton cord, wooden hand stained dowel and silvertone butterfly charm. It measures approximately 12 x 36″. Go ahead and fill the plant holder for the ultimate gift to treat a plant-lover or boho mom.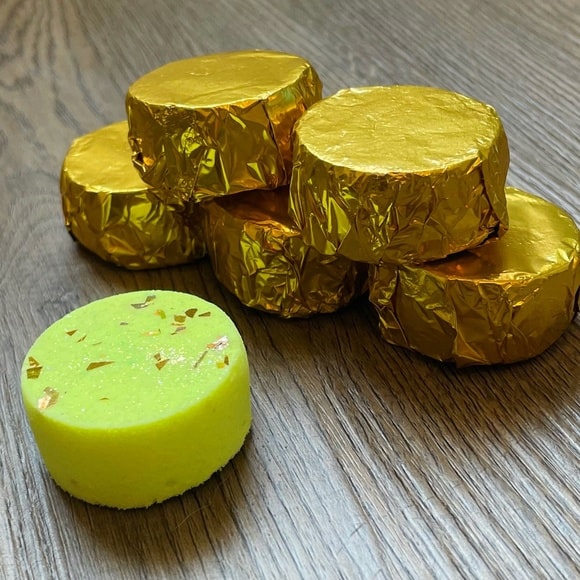 Sometimes a mom just needs to lock the bathroom door and relax in the hot shower for a few minutes. Why not elevate the experience with a shower steamer from Sassy Lil Sweetheart? 13 different scents are available, including a lavender and vanilla scented Time to Unwind set and the lemon cupcake scented Fools Gold set.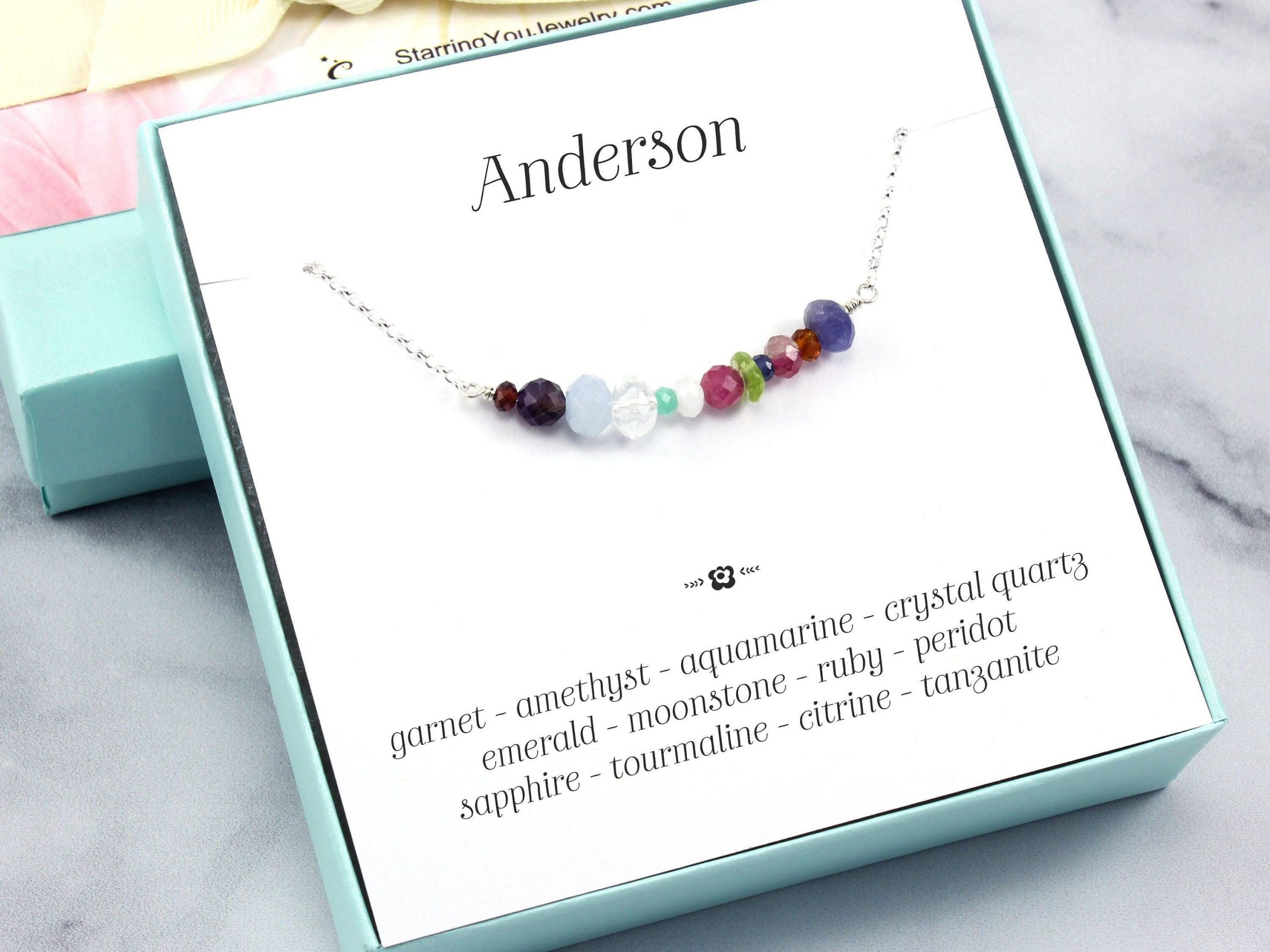 A simple, minimalist necklace with so much meaning. Customize the necklace with your friend's children's birthstones. Made with real, natural, untreated gemstone beads and available in your favorite metal (sterling silver, 14k gold filled, or 14k rose gold filled). Comes with a personalized card with the family surname at the top and the birthstones at the bottom.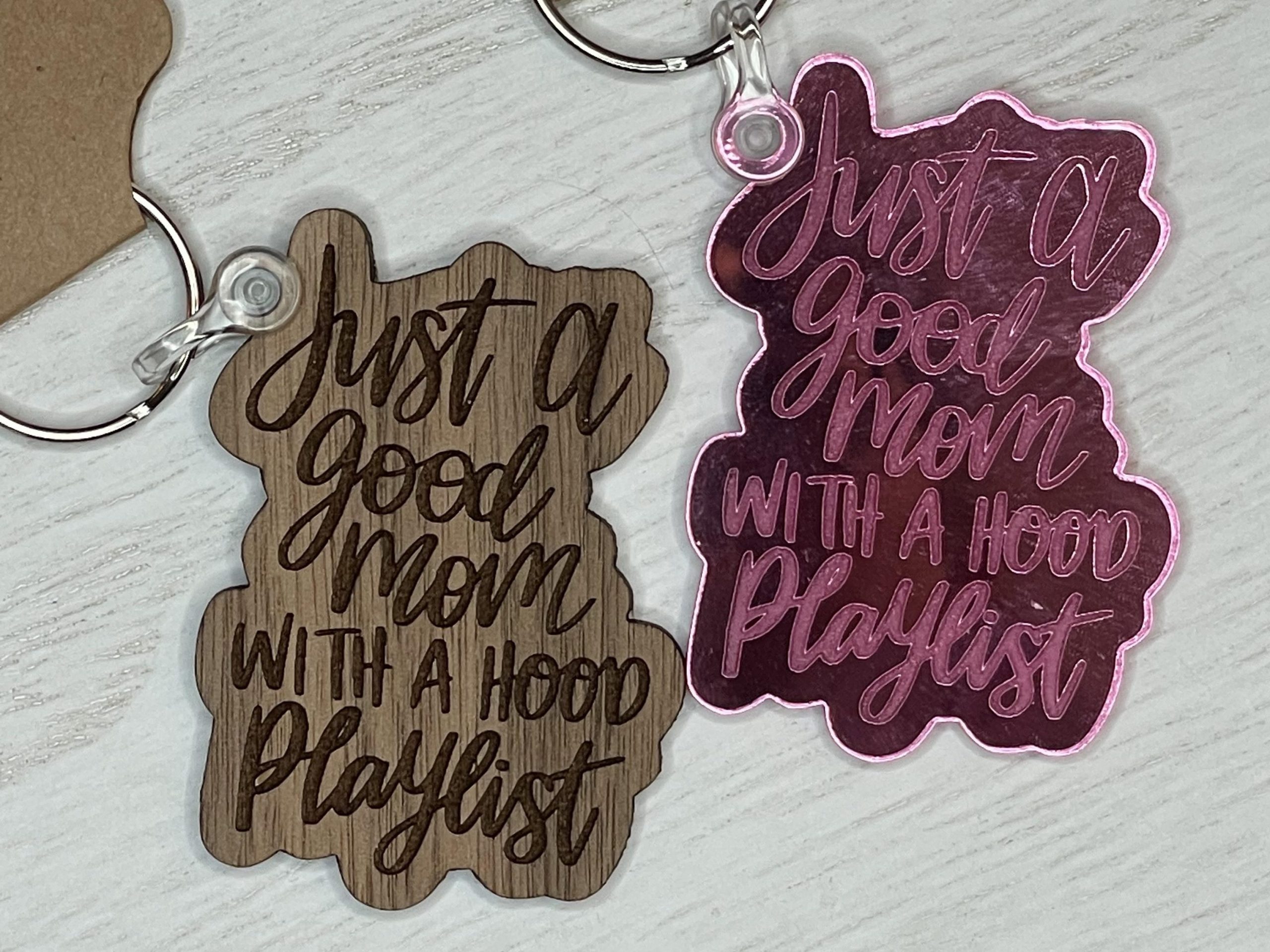 We all have that one friend who's "Just a good mom with a hood playlist." Celebrate her good taste with this adorable keychain. Each item is approximately 2.5 inches tall and 1.75 inches wide. Choose from walnut wood or pink mirror acrylic to suit your friend's specific taste.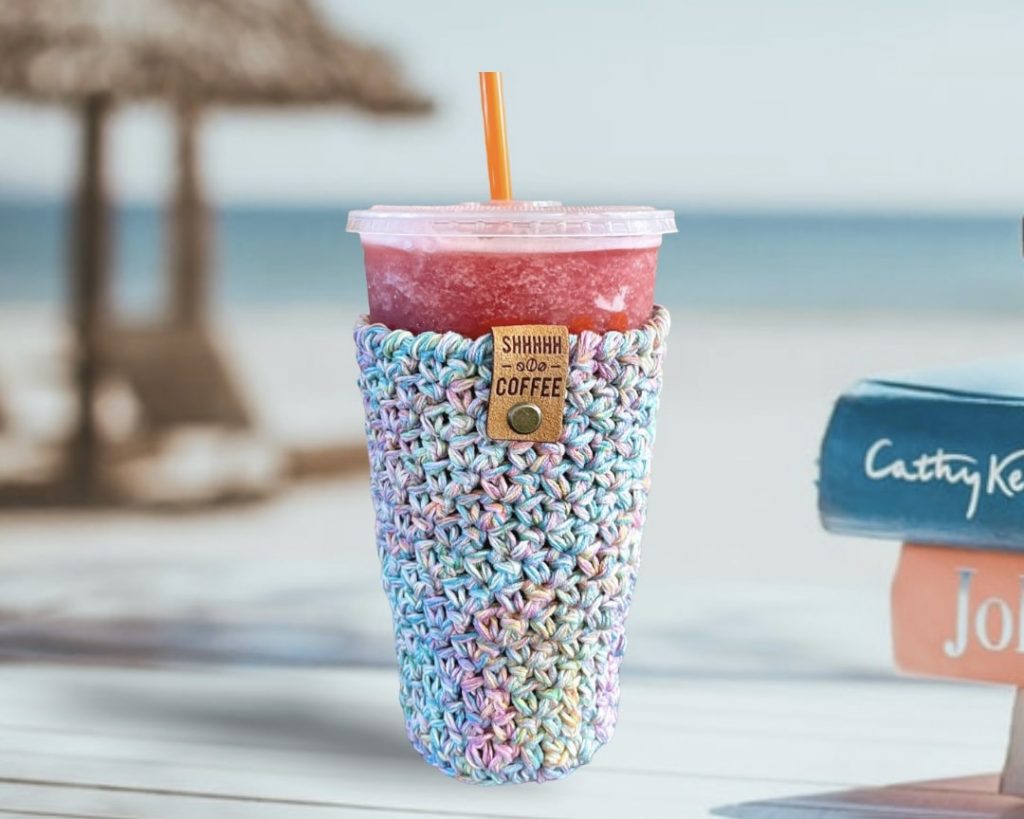 Iced coffee connoisseurs are sure to love this colorful iced drink cozy! Made with 50% cotton and 50% acrylic yarn, this cozy will insulate any iced drink while absorbing the condensation during the warm summer days. What mom has time to find a coaster everytime she puts her iced coffee down? None that we know! Choose from 6 different ultra suede tags to fit her style and personality!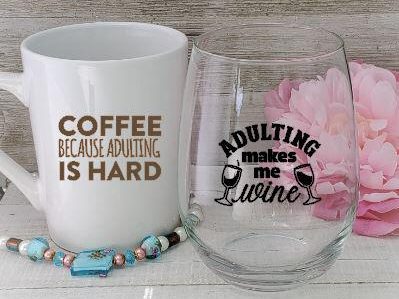 Every mom has those days when she needs to start with coffee and end with wine. This is the set she needs for those long days of parenting. This set has several quotes that complement each other like "Mom's Motivation" and "Mom's Sanity," or you can come up with your own.
Didn't find exactly what you were looking for on this list? Check out GoImagine's marketplace here with thousands of handmade products a mom is sure to love! Best of all, 100% of our profits are donated to charities that support children, including Horizons for Homeless Children, Relief Nursery, Curious Learning and The Shine Initiative. What better way to support a mom you know and families across the world?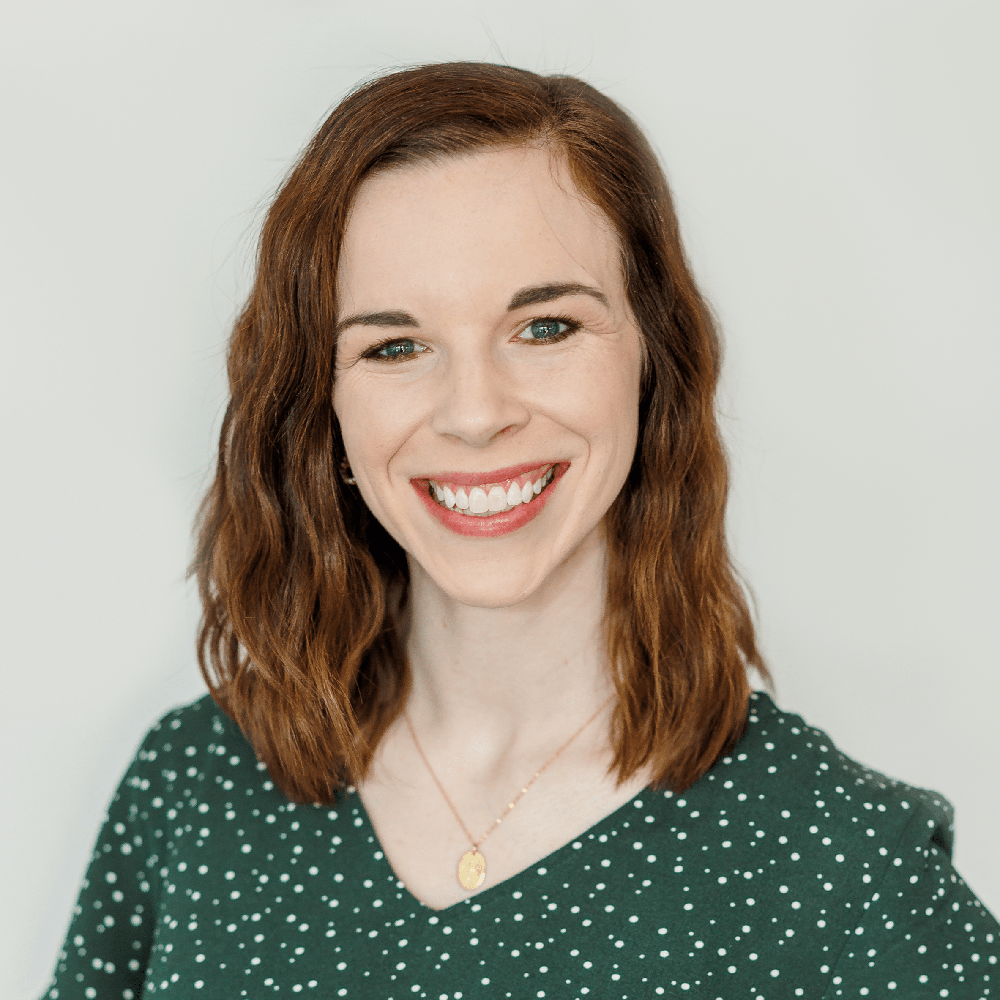 Katie is a freelance writer focused on creating engaging copy and content that gets found (hello, SEO strategies) and gets read (hello, audience engagement). If she's not at her computer, you can probably find Katie baking in the kitchen with her three-year-old tornado or reading the latest thriller on the back porch.