Craft Fairs and Artisan Markets are a great opportunity for artisans to showcase their handmade products and connect with potential customers. However, standing out from the crowd can be challenging with so many vendors at these events. Effective merchandising is key to successful selling at craft fairs and artisan markets. In this blog post, we'll share 5 tips for crafting a visually appealing booth and displaying your products in a way that entices shoppers to make a purchase.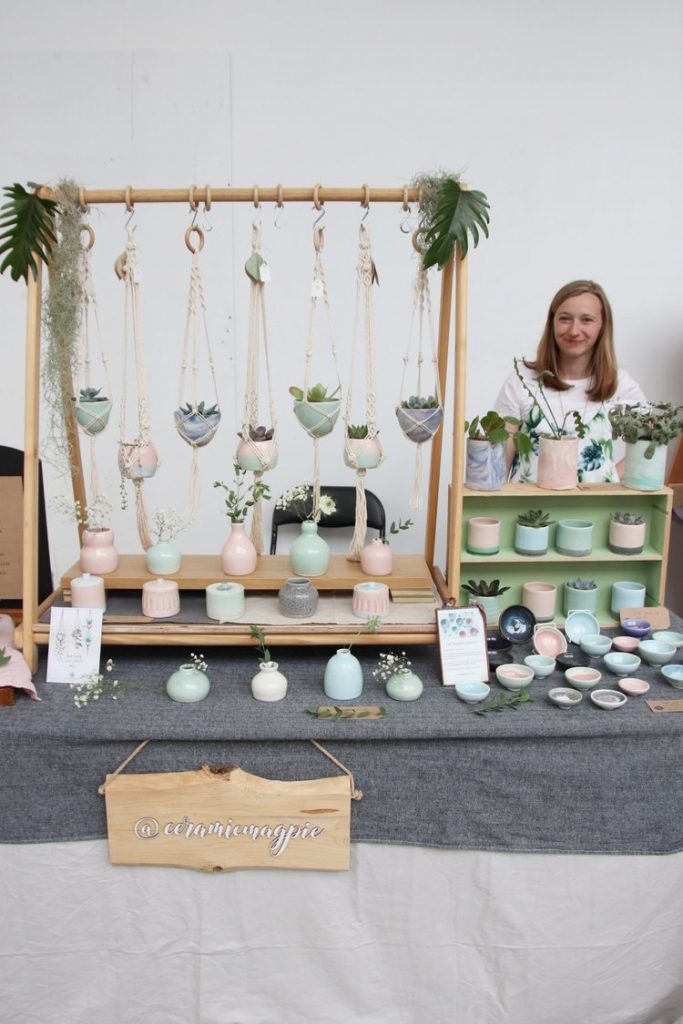 1. Start with a cohesive theme or color scheme:
Before you start setting up your booth, think about the overall look and feel you want to convey. Consider choosing a color scheme that complements your products and reflects your brand identity. If you're selling various items, try to find a unifying theme that ties everything together. For example, if you're selling handmade pottery and textiles, you could create a cohesive look with a natural, earthy color palette. A neutral color pallet oftentimes works best for making your product stand out, but make sure that neutral fits within your brand. Think about your customer and what colors may attract them to your booth.
ABOVE: Ceramic Magpie has a beautiful display (left) with a neutral color palette that compliments her products. In contrast, the bright display by Xanadu Designs (right) really stands out and is perfect for the bold, colorful jewelry for sale.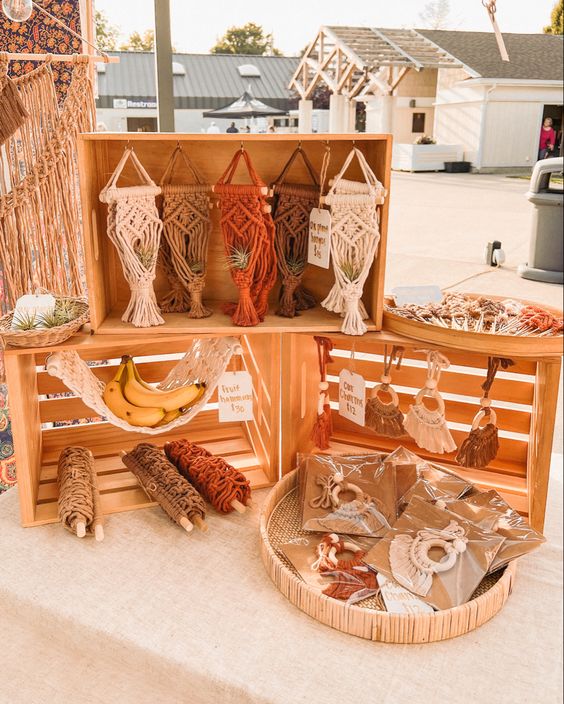 2. Use height and depth to your advantage:
Don't be afraid to play around with different levels in your booth. Use risers, shelves, and other display fixtures to create varying heights and depths, making your booth more visually interesting and drawing shoppers' eyes to different parts of your display. Just be careful not to make your booth too cluttered or overwhelming. Here are a few ideas to use for height in your booth:
Wooden or Plastic Crates
Acrylic Risers
Stepped Shelves
Pegboard*
Grid Panels
Tiered Baskets
Dessert or Display Stands
Stacked Boxes or Baskets
*Modern pegboard is becoming a go-to for craft fair displays. It's versatile and can accommodate both shelves and hanging displays. Companies such as Vertical Ledge carry a wide variety of options, but plenty of DIY tutorials are also available.
ABOVE LEFT: Meraki The Studio Co. uses wooden crates to add height and display her products in use.
ABOVE RIGHT: Studio LP Ceramics has an eye-catching display of her ceramics merchandised at different heights.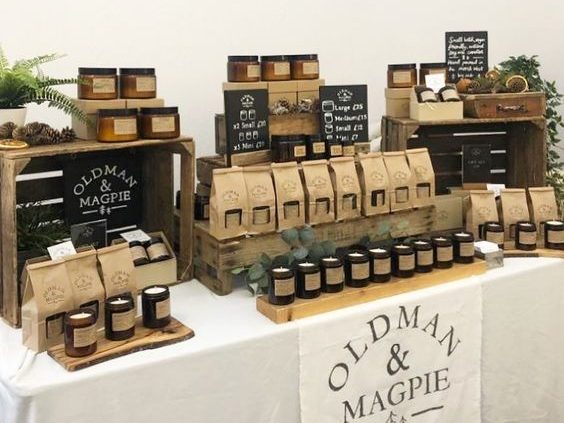 3. Make your products the focal point:
While creating an aesthetically pleasing booth is important, your products should always be the main focus. Arrange them in a way that makes them easy to see and touch, and display your bestsellers and new items prominently. If you're selling items that need to be tried on, like jewelry or clothing, make sure you have a mirror available. If you're selling items that need to be sampled, such as soaps, candles or food items, make sure they are easily accessible towards the front of your tables.

ABOVE: Old Man & Magpie Candle Co has done an excellent job making the candles the focal point of this display. Each scent is front and center for customers to browse and smell while the remainder of the stock is behind, ready to be purchased.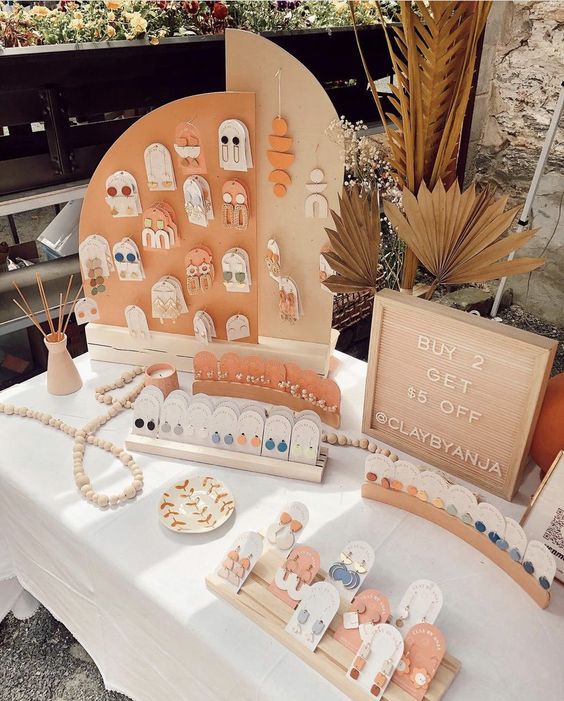 4. Provide clear pricing and product information:
Shoppers should be able to quickly and easily find out how much your products cost and what they are. Consider creating price tags or signs that clearly display the price and any important product details or care instructions. This will help shoppers make informed purchasing decisions and feel confident in their purchases. Letter boards are becoming very popular for displaying messaging and pricing at markets, but if you're looking for a few other creative ideas to display your pricing, head over to Handmade Seller.

ABOVE LEFT: Clay by Anja uses a simple letter board to display a promotion.
ABOVE RIGHT: DEBROSSE created these beautiful price signs with a product picture. Canva template is available on their site.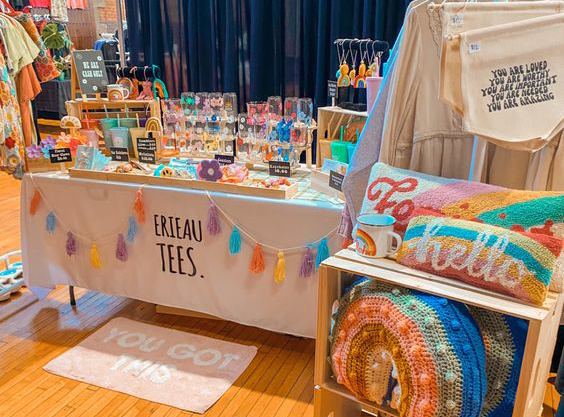 5. Add some personal touches:
Lastly, don't forget to infuse your booth with some of your own personality and style. Consider adding a banner or signage that showcases your brand name or logo, or incorporate small decorative touches like plants or artwork. Personal touches can help make your booth feel inviting and memorable. Erieau Tees adds a bit of flair to her simple logo tablecloth with a tassel garland. Everything matches her products perfectly.
Craft fair and artisan market merchandising is all about creating an inviting and visually appealing booth that highlights your handmade products in the best possible light. By following these tips, you can create a booth that attracts shoppers and encourages them to take a closer look at your creations. Join the conversation and get ideas in Maker Circle. Not a member yet? Click here for more information.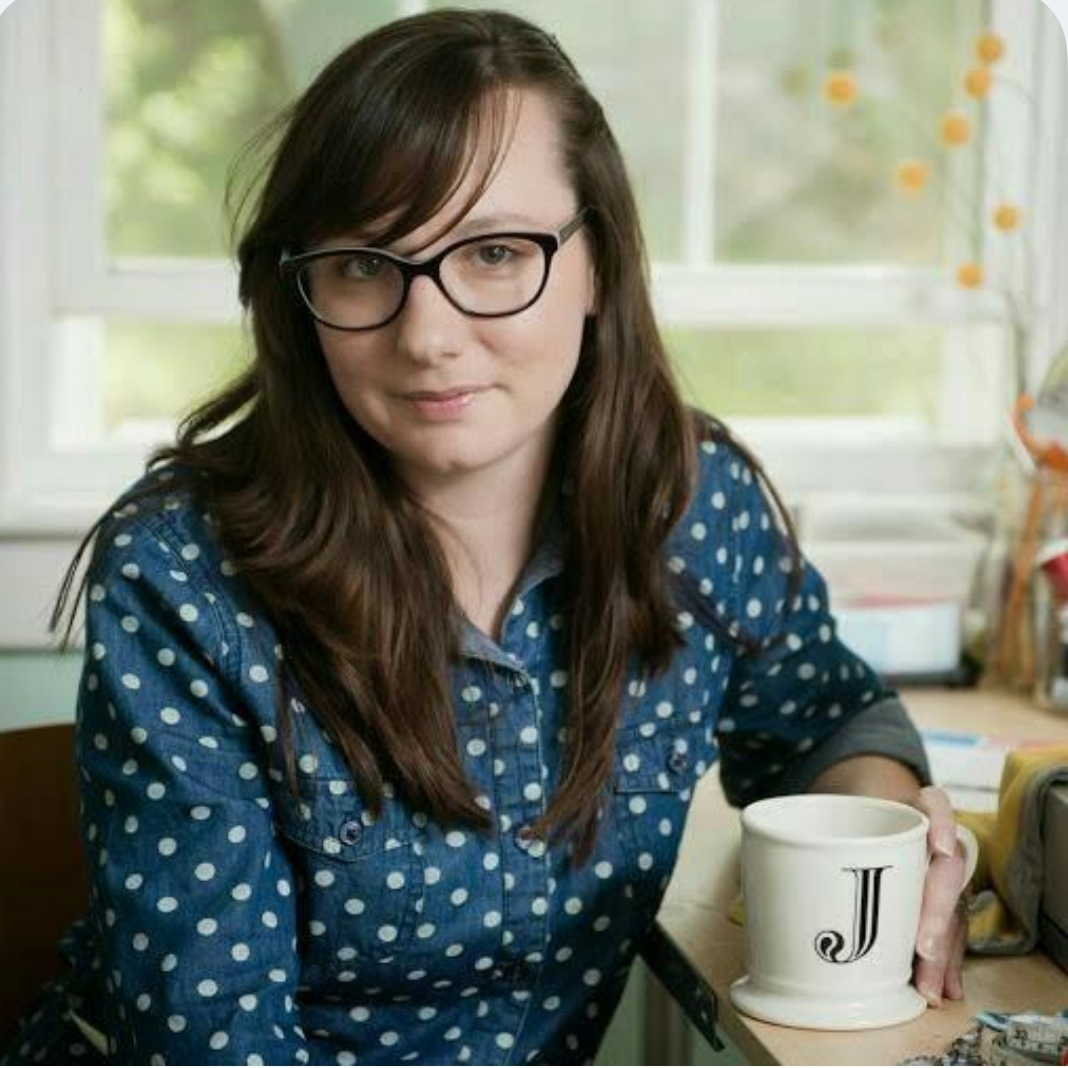 Jacki is a multi-talented creative professional with a background in visual merchandising. A maker with years of experience selling online and at artisan markets, she excels in creating captivating displays that enhance the shopping experience. Jacki's unique blend of visual merchandising expertise and passion for handmade sets her apart in the industry.