Meet Tomoka, the creative powerhouse behind Tomokaart. Growing up in Japan with artistic parents, Tomoka was surrounded by art of all its forms. She pursued her love for art by majoring in Oil Painting at Tama Art University in Japan. However, she found herself drawn to exploring different mediums to express her artistic impulses and let her energy out. While Tomoka never stops experimenting with other mediums, she's discovered two that bring her the most joy; block printing and uniquely painted polymer clay. You can find both in her shop on goimagine.
Through a series of questions, we got to know Tomoka and a bit about her business.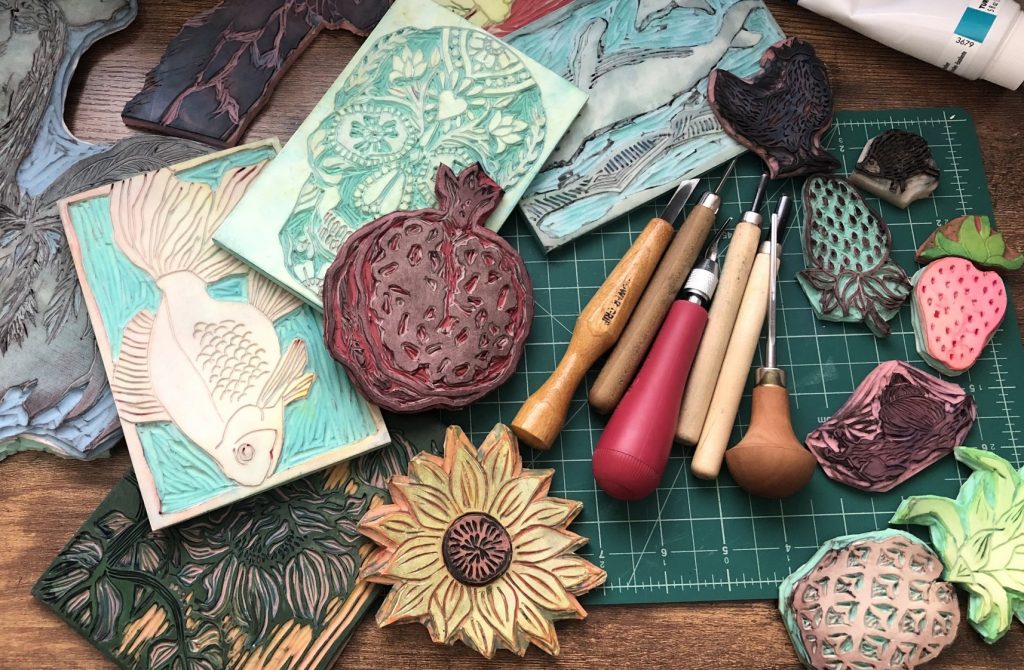 What do you make, and how did you get started with it?
I use my hands to create unique block prints with my original hand-carved stamps and uniquely hand-painted polymer clay pieces. I have always been drawn to the old-fashioned way of doing things, but I like to add my own little twist to it. Though I have an artistic background and long history of doing other crafts, I recently picked up the art of carving blocks. I'm still relatively new to this technique but have fallen in love with it; this is how the journey began.
Where does your inspiration come from?
I find inspiration from people around me, even though my main motifs are animals and nature. When I think of the people in my life, I imagine what kind of t-shirt they would wear or what type of gift they would love to give. For instance, I imagine a husband presenting his wife with a unique shirt or a mommy showing off her baby with a cute animal onesie. I also create pieces that I would love to wear or keep for myself, which leads to me holding on to too many of my creations! Also, it brings me joy to see people enjoying my work.
What does your creative process look like?
My creative process is a bit of a wild ride. I often wake up with ideas that I just can't wait to bring to life. I sketch out some designs and then begin carving out rubber blocks with carving knives. Music is a huge part of my creative process. I find myself getting carried away at times, which can result in a lively and nice effect in my designs. My art comes from chaos not from order, but my formal training in art has equipped me with the skills to maintain cleanliness of lines and balance within the frame. This enhances my artistic vision.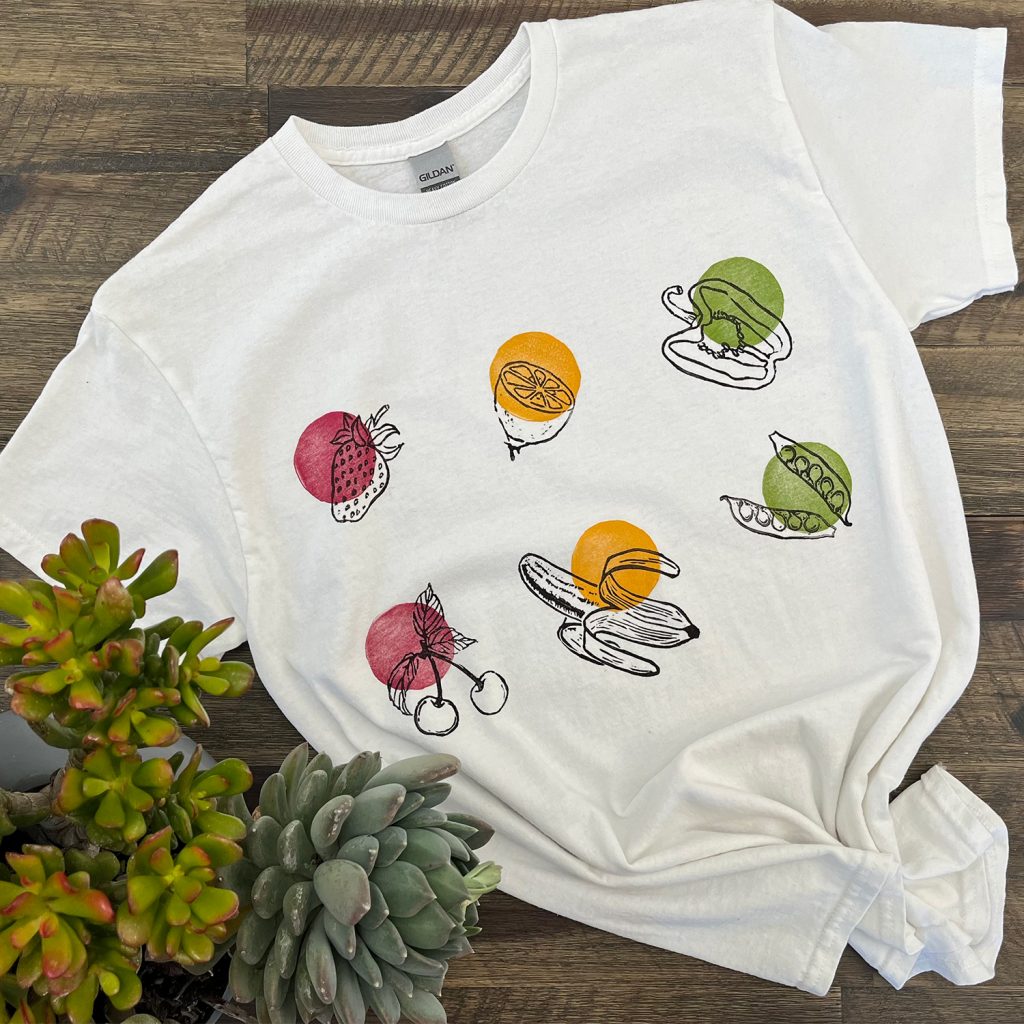 How do you stay motivated?
I find my motivation to create from within, regardless of my mood or circumstances. No matter how I am feeling, I turn to my art as a form of therapy and a way of life. There is something incredibly freeing about expressing myself through my creations. I find that the process of creating helps me feel more grounded and centered. Art creates my happy place.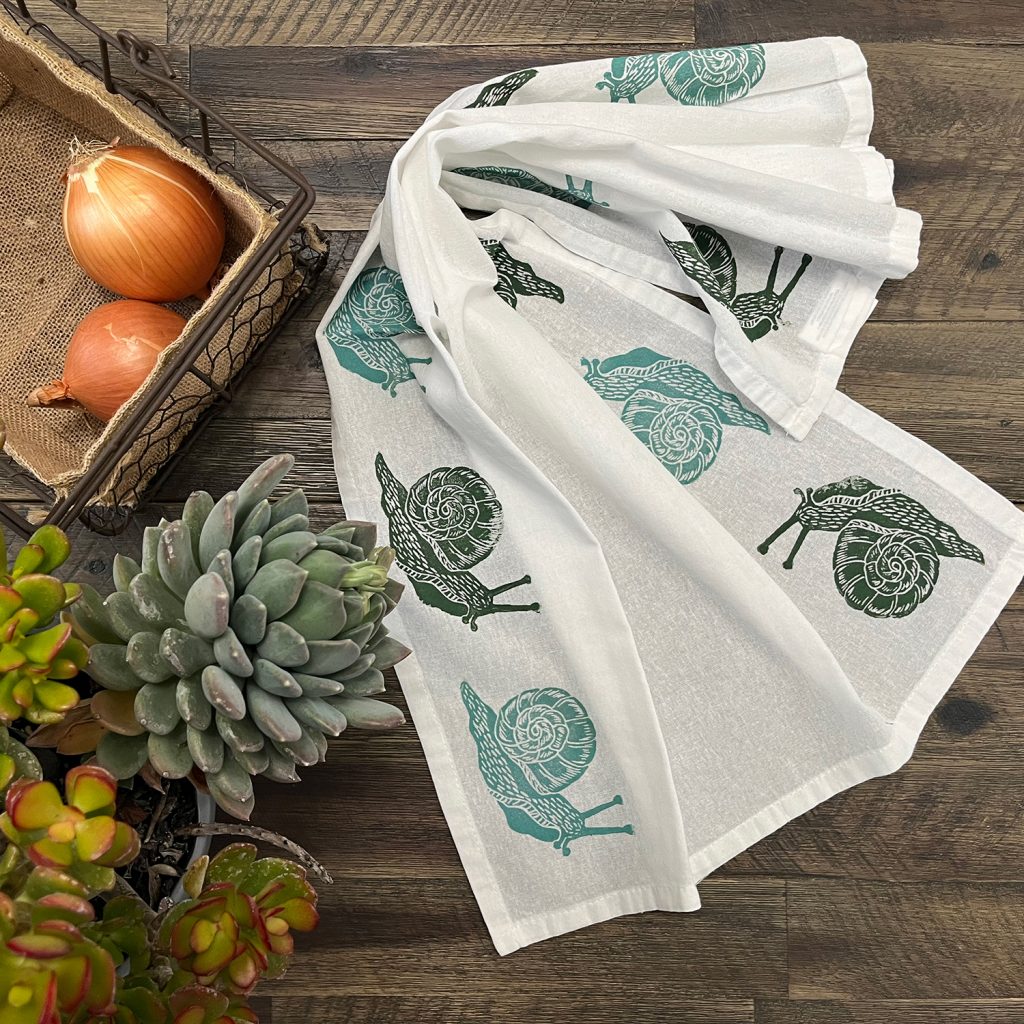 What is your favorite material to work with?
I simply adore working with paints, especially the vibrancy and versatility of colors they offer. Whether it's mixing up block print fabric paints or experimenting with gel paints to add color to my polymer clay creations, I find the process to be both fun and fulfilling. I prefer rubber blocks over linoleum or wood. Due to the softness, it's easier for my hands when I carve. When it comes to printing on fabric, I've noticed that the rubber blocks have a unique ability to grab and release fabric paint. Rubber blocks produce exceptional results that I simply can't achieve with linoleum without a press machine.
Where can we find you?
If you're in the San Diego, CA area… look for Tomokaart at local art markets.
Shop Online: goimagine.com/tomokaart
Instagram: @tomokaart
Facebook: @Tomokaart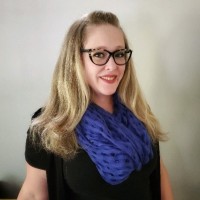 Stephanie is naturally creative and is passionate about art, design, and everything handmade. She has always enjoyed exploring new techniques and trends in the handmade industry and has channeled this into her role as the Creative Director and co-founder of goimagine. Through her love for creating, she has successfully sold her unique wares, which range from fine art to simple crafts, in both online and in-person markets.