Please sign in so that we can notify you about a reply
Set of 2 Mushroom Acid Art #2 Psilocybe cubensis Slipmat Turntable 12" Scratch Pad Slip Mat x2
Perfect for decoration and protection of your records
Professional Grade 12″ Custom Slipmats SPECS: Material: 100% polyester felt Weight: 16oz Dimensions: 11.75″ Diameter Thickness: .0625 (1/16″) Bottom Surface: Glazed Grade: Strong High Quality Feel: Soft Accuracy: Precise 12″ Classic Non-glow Custom Slipmats are made from only the highest quality 16oz felt material. We use a state of the art printing technique to print our slipmats. This method of slipmat printing has been crowned king for it's ability to dye the fibers of the felt without leaving a residue or any sort of top surface feel. Our inks will keep colors vibrate and from fading once printed. The artwork will last the life of the slipmat. All our slipmats come with our specialized Glazed bottom surface, which has become the industries professional standard in slipmats. So…. you can throw your wax paper and plastics in the trash; our Glazed surface is putting "SLIP" back into SLIPMAT. Please remember all of our items are made by hand so fabric placement may vary slightly.
Products for DJ's and Vinyl Enthusiasts......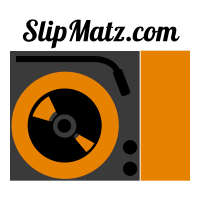 Refunds and Exchanges
If your item arrives damaged please feel free to send a message. Please send me a picture of the broken item and I will send you a replacement.
Unfortunately, custom orders cannot be returned or exchanged.