Please sign in so that we can notify you about a reply
•Red & Green Hot Chili Peppers in Hand Blown Glass - Set of 2. Perfect for decorating with a Southwestern or South of the Border flair. Makes a Hot gift as a Pendant for your Spicy Valentine!
•Each ornament is created with clear borosilicate glass and kiln annealed for strength & durability. It measures approximately .75" by 2.75" and comes with a ribbon for hanging as a Suncatcher or on your Christmas Tree.

•Each set of Chili Peppers will be 'Made to Order' especially for you. These ornaments created on a torch by Justin. Because they are handmade individually they will be very similar to shape and colors in the sample photo, but not exact. We try to match glass color and ribbon color, style and texture, as close as possible to the photos in this listing, depending on availability. As our Glass resources are created in 'batches", variations in color may occur from batch to batch and individual manufacturers.
• When ordering more than one ornament, Justin tries to make them as close to the same size as possible, but can not guarantee that they will all be exactly the same as each other.
•All of our creations are our original designs and are individually hand-crafted by Justin or Cindi. The handmade quality and creativity are what set our work apart from mass-produced products. Color, size, and texture variations contribute to the uniqueness of each piece.
•We love seeing how you display your suncatcher/ornament in your own unique environment.
Please feel free to share on Instagram and tag me @sycamoreshadestudios and to leave a review with a photo.
•Item photos are posted in low resolution for web purposes and colors may vary slightly depending on your monitor settings.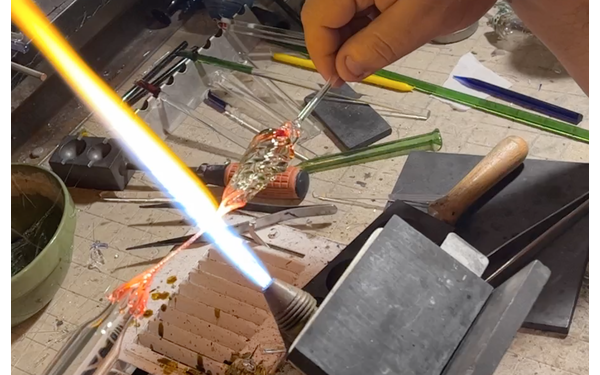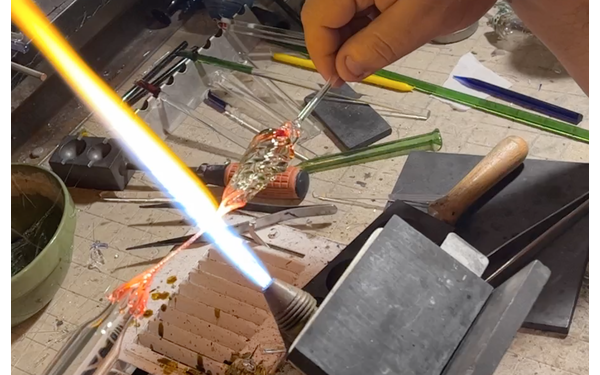 Sycamore Shade Studios is a family studio inspired by the Sycamore trees that grew on my grandfather's farm in Virginia. Is was there where I had my first memories of drawing with my grandfather's carpenter's pencils on tiny paper pads and sitting under the immense Sycamore trees daydreaming. I have imagined myself there as I have dreamt up many and varied creative ideas over my years of being an artist and art teacher.

My journey with glass began over 20 years ago when a friend invited me to try working in stained glass. At first, I was very nervous about getting cut by the glass or being burned by the soldering iron, but I overcame my fear and created my first stained glass window depicting a scene with hummingbirds and morning glories, that I designed myself. As my confidence in the technique developed, I eventually began designing and creating glass mosaics and then, later, discovered fusing glass in a kiln in a class at my local stained glass workshop. I became addicted to all the creative possibilities that these new techniques and tools presented to me.
I splurged, and purchased a Glass Kiln as a new creative 'toy' and began exploring glass fusing on my own. I created my first fused glass stars for gifts for family and friends. So many people liked them, so I decided to try selling them at a school fundraiser. Success - This was the beginning of Sycamore Shade Studios! At this point, my adult son, Justin became interested in working on the torch and helped to transform my 3 car garage into an Art Studio complete with Lampworking torches and Glass kilns.
Recently, we have added a Laser Cutter to our studio. This fun cutter gives us the opportunity to design and create our own wooden ornaments, boxes, displays and shadowboxes for our collaborative fine art diorama glasswork creations that we create for Installations and Art Exhibits.
The Glass creations in our shop are created essentially, by melting glass. We use 2 methods.
'Lampworking on a Torch' - Justin creates his Blown Glass Ornaments, and Pendants by heating up a hollow glass tube and manipulates it by twisting, shaping and fine-tuning with the use of graphite tools, pliers, and paddles. The addition of complementary glass colors, frit, and silver makes each creation unique and one-of-a-kind. No two are exactly the same. Each Ornament or Pendant is then placed into a glass kiln to be annealed (cooled slowly in a digitally controlled kiln). The entire process of annealing takes about 12-16 hours.
'Glass Fusing' – Collage Method with Flat glass and 'Frit' - Cindi uses this method to create Glass Star Ornaments, Glass Dishes and other glass Home Decor and elements for our one-of-a-kind creations. She begins by selecting specially formulated colored sheet glass and cutting it with a glass cutting tool or glass water saw and then arranges and temporarily glue the glass pieces to hold them in place before being transported to the kiln. Sometimes they are embellished with crushed glass in various sizes (frit). Once the glass creations are dry, each is placed into the kiln for 'firing'. Each piece is fused/melted together slowly in a digitally controlled kiln to 1450 degrees to facilitate gradual heating and slow cooling. The entire process of firing and cooling takes about 27 hours. Some creations such as Dichroic Pendants require 3 separate firings: 1 to fuse the 'collage' pieces onto a base, 1 to fuse a clear layer on top of the 'collage', and then another to 'fire polish' the edges after cutting the finished collages into pendant shapes. Dishes and formed pieces require a minimum of 2 firings - One or more to fuse (melt) the pieces together and an additional firing to 'slump' the glass into the shape of a dish, bowl, or other form. Each piece is then cleaned. Glass Stars are then wrapped with Wire and Accent beads to create Ornaments.
Our Laser Cut wood creations are designed by sketching the initial design and then fine-tuning it on the computer with Photoshop and then converting to a special file with Adobe Illustrator that allows our laser cutter to arrange it into cutting and engraving steps. Then, the file is 'sent' via WIFI to our laser cutter and it magically cuts out our design for you. Depending on the creation, we then peel off protective paper, and add cords and accent colors and/or beads. Our layered ornaments require painting with alcohol inks, positioning and glueing the layers together and then adding a matching ribbon.
Our Glass and Wood and Jewelry creations are currently available for sale here, on GoImagine, Etsy, and The Art Shop at Moore College of Art in Philadelphia, Kindred Kaboodle in Carlisle Pa, Lebanon Picture Framing and Art Gallery, Lebanon PA, Wildwood Park Nature Center, Harrisburg Pa and the Village Artisans Gallery, in Boiling Springs PA .
Check out our one-of-a-kind Installation and Gallery Art @ www.intheshadeofthesycamoretre...
ALL OF OUR CREATIONS ARE ORIGINAL DESIGNS. The handmade quality and creativity are what set our work apart from mass-produced products. Color, size, and texture variations contribute to the uniqueness of each piece.

We aim to create items that you will love to keep for yourself or give as gifts. Please contact us if you have any issues with your order. Our creations are made individually - most are 'Made to Order'. Please realize that there may be subtle color, texture and finish variations depending on the raw materials that we have available to us and colors. Also, item photos are posted in low resolution for web purposes and colors may vary slightly depending on your monitor settings.
We do not accept returns for custom and personalized items, unless we have made a mistake with your order.