About this Product
Cute bronze Sea Turtle pendant with a green patina finish. 1 1/8" by 1 1/8". This little turtle is made from bronze metal clay. A patina naturally occurs when the clay is fired at 1550° in charcoal, so no two have exactly the same color pattern. A high quality solid copper ball chain necklace is included. You may choose the length from 16" to 22".
Grasston, MN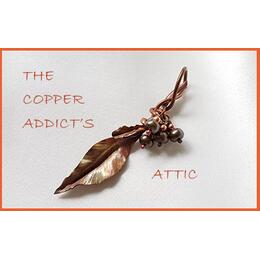 Meet the Maker
I started making things when I was a child. My mom was a sewer. She sewed our clothes and sewed for neighbors who wanted clothes made for special occasions. I always wanted to "help" her with her sewing, so she taught me to sew for myself. By the time I was 11 I started making my own clothes from my own patterns. My mom was not a hoverer and would let me decide what to make and pick out the fabric. I made mistakes and learned a lot.
In my later teens I started making leather purses and my mom would sell some of them to women she worked with. I learned how to knit to make my own sweaters and I crocheted afghans and made gifts for family and friends.
When we bought some horses I learned how to make leather bridles, reins and halters. Then I heard about Biothane and started making horse tack from it and sold a lot of custom bridles and halters online.
When my neighbor started his own medical device company he needed someone who knew how to sew, so I went to work for him for several years. I trained and supervised the sewers and worked in R&D developing new products. When the company was sold to a huge corporation it was time for me to move on, creativity and big business don't seem to work well together.
It was at this time that I decided to do what I'd wanted to do for years, make jewelry. I started out with copper because it's easy to get and inexpensive. I thought I'd practice with copper and then move on to sterling silver once I got good at it. The more I worked with copper the more I appreciated how beautiful it is and silver seemed kind of boring in comparison. I tried wire wrapping first because it seemed easier than trying to shape copper sheet. After awhile wrapping wire started to feel tedious and repetitive so I decided to get out my torch and hammers and try shaping copper sheet instead. I watched a few YouTube videos to get an idea of how to start. Once I got going I realized this was what I really enjoyed. Who knew heating copper to a cherry red and beating it with a hammer could be so much fun!
Since I enjoy making the components for jewelry more than assembling the pieces to make a finished piece, I'm selling the bead caps, coiled beads, links, bails and chains so others can design their own. I hope you enjoy browsing through my shop. If you have any questions, just ask.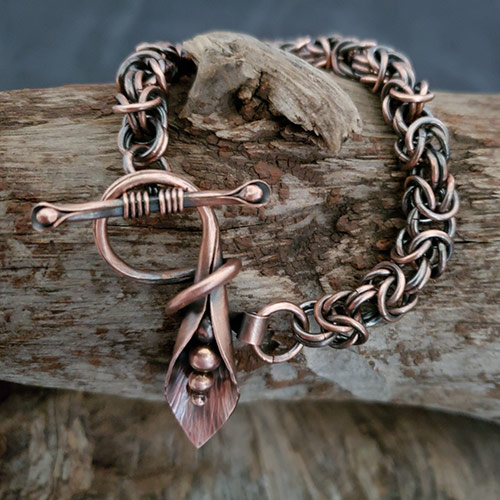 How it's Made
This pendant is made from bronze metal clay. The clay is fired in a steel pan filled with charcoal at 1550°. The entire process takes over seven hours. The charcoal produces a patina on the bronze, depending on where the piece is placed in the pan. No two pieces have the exact same color pattern.
Once it's removed from the kiln I place it in a jewelry tumbler and then hand burnish the high points to bring out certain details of the piece.
Shop Policies
Returns & exchanges
I don't accept returns, exchanges, or cancellations
But please contact me if you have any problems with your order.
All sales are final. Please look at all photos and read the description to make sure you understand what you are purchasing. I include measurements for each piece. If you have any questions, please ask before buying.
Please sign in so that we can notify you about a reply