Please sign in so that we can notify you about a reply
These Handmade Rainbow Modern Earrings are a beautiful gift for anyone who enchanted with rainbow colored jewelry or modern design!
These Colorful Oval Earrings features a Watercolor Style. They have been careful handmade and painted in our studio. Many ancient cultures used color to represent important concepts in their lives. Today, rainbows of color are also used as a sign of renewal, the LGTBQ movement, and several faiths. These beautiful earrings have an eye-catching appearance that would look great with any outfit!

These earrings are made from brass cutouts and copper pattern sheet that is finished with Jeweler's Lacquer for easy wear. They measure 50 mm in overall length, 40 mm in length, and 10 mm in width. They come finished with nickel-free 14K gold filled ear wires. It is a wonderful way to express your love for color and all color symbolizes to you!
These earrings come gift ready - complete with a gift box and message - and would be a lovely treat for yourself or a special gift for a loved one!
▪ Materials: Brass Cut Out, Copper Sheet, 14K Gold Filled Ear Wires
▪ Dimensions: 50 mm in overall length, 40 mm in length, and 10 mm in width
Want to know more about this jewelry collaboration between our studio and local artist, Cameron Webb?
www.cameronpaintings.com
Thanks for looking!

════════════════ ▪ ▪ ▪ ════════════════
This piece of jewelry will be shipped within 3-5 working days after your payment. After that, I'll send you a tracking number and you can easily track your package. Your jewelry will come to you in a gift box and additional external protective packaging.
Standard shipping usually takes about 2-5 business days and 1-4 business days for Priority.
We do not accept cancellations for orders. We do offer returns and exchanges within 30 days of the day your order is delivered. Shipping fees are non-refundable.
Please contact me if you have any questions.
Main Page: https://www.goimagine.com/moon...
LONG, LONG AGO...
(Back when Twitter was a new invention,
Apple first unveiled the iPad,
and the 2008 recession was causing job loss)
2009 started off on a grim note. I lost my job of three years teaching Beginning Silversmithing because of a drop in students. It hadn't paid a lot, but I had loved doing it. Along the way, I had made a number of interesting handmade jewelry pieces that I now needed to sell. Pronto.
Like a lot of people who had grown up working in the jewelry industry, I had heard the accepted "wisdom" that no one would ever buy jewelry off the internet, but I really wanted some way to sell items that didn't involve travelling to craft fairs or giving half of my sale price away to a gallery. Being away from the studio made me realize that it was incredibly important to me to have that creative outlet. So I started to make a general plan for what I'd need to be able to do jewelry full time.
In 2010, with some fear and trepidation, tons of mistakes, and lots of serendipity, I started an online shop called Moonkist Designs on this new thing called Etsy. 10 years later, we have created over 25,000 orders for our amazing customers. I have learned so much from this amazing journey. Although I started the business as a one-woman show in 2010, it has grown to be more than I can do alone, and I'd be seriously remiss not to mention everyone else who works with me on a daily basis.
John joined me in 2014. He is my head jeweler and brings a diverse background in everything from sheet metal fabrication to model rocketry to embroidery, he approaches making fine jewelry with an eye to design, detail, and durability.
Kira joined us in 2015. With two college degrees in art, she was more than ready for the challenge of jewelry creation. However, as our business has grown, Kira has become my office manager. She helps answer customer inquiries and keeps us coordinated!
Beth joined us in 2020. She is originally from Tennessee, and stepped in to help with order fulfillment, shipping, and customer service. She's part of the coordinated effort to keep us organized, and we appreciate her immensely!
I still enjoy teaching, and have taught many beginners the basics of working in different kinds of metal. On the way into my studio there is a sign that advises, "Do small things with great love." That wise advice has become one of the things I teach my students, and one of the basic principals of my business. After 10 years, I still think I have the best job in the world. I work with people I care about, making beautiful things that make people happy. I'm proud of the work we do and grateful for the opportunity to share it with you. Thank you for all the years of support!
I look forward to working with you!
Gena Smith Owner, Moonkist Jewelry
Want more Moonkist?
Find our GoImagine shop here: https://goimagine.com/moonkist...
Visit us on Etsy here:
Moonkist Designs: www.moonkistdesigns.etsy.com
Moonkist Creations: www.moonkistcreations.etsy.com
Fern & Rowan: www.fernandrowan.etsy.com
Or stop by our website: www.moonkistdesigns.com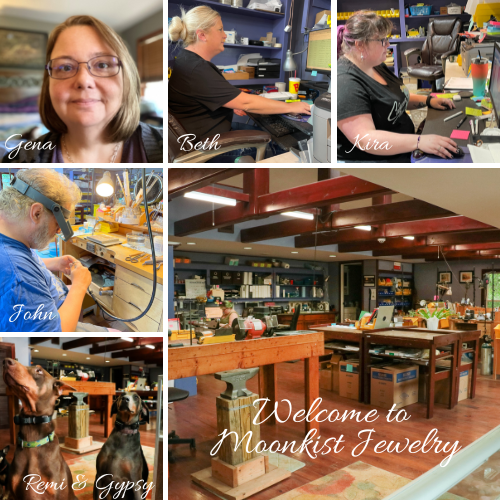 Welcome to Moonkist Jewelry! We have included information about our policies below. Please email us at goimagine_store@moonkistdesigns.com if you have any questions, or click "Contact Maker."
Production & Shipping Times
We make everything to order and our production time is 3-5 business days. We ship from our studio in South Carolina, through USPS with First Class and Priority options. All orders are shipped fully insured and with tracking. USPS First Class typically delivers within 3-5 business days and Priority within 1-4 business days. Unfortunately, delivery delays can occur that are outside of our control, such as delays due to holidays, weather, COVID, or other unforeseen circumstances.
Cancellations, Returns, & Exchanges
We do not accept cancellations on orders. We do accept returns and exchanges within 30 days of delivery; we ask that you contact us within 14 days of delivery to initiate the return process and send the item(s) back in the original packaging within 30 days of delivery. Buyers are responsible for return shipping costs, and shipping is not included in any refunds issued. Returns are processed within 1-3 business days of the item arriving back at our studio.
Resizing
We have found that the best way to get an accurate size for your finger is to have your finger measured with a metal wide band (wedding band) ring sizer at a jewelry store.
We also offer a reusable plastic ring sizer on our Etsy store, with full and half ring sizes. It comes with free Domestic US shipping and a free resizing for any of our rings, good for any time. Find our reusable plastic sizer here:
www.etsy.com/listing/95543346/...
We understand the challenge of buying jewelry without trying it on. We are happy to offer one free silver resizing within 30 days of delivery of your jewelry purchase. Please contact us for details on sending us your resize. After 30 days, our sterling silver resizes are $30.
Warranty & Repairs
Moonkist Jewelry fully stands behind the products we sell. Therefore, all of our products are covered by a one year warranty starting from the day when the original order was received.
Warranty Terms
1. Customers are responsible for the shipping fee to send the items back to our studio.
2. Please pack items in a jewelry box and bubble wrapped envelope. Jewelry sent without adequate packing can be damaged or not arrive.
3. When sending back the items, please use a shipping method that has tracking.
4. Moonkist Designs reserves the right to void the warranty on any items showing signs of modification, abuse or damage beyond "normal wear," as determined by our jewelers.
Repair services are offered beyond the year warranty; please contact us if you need repair assistance with your Moonkist jewelry piece!
Custom Orders
As a handmade jewelry studio, we love taking custom orders! Whether you want to modify a piece we have listed, or have something entirely unique and one-of-a-kind in mind, we'd love to work with you on your project. Because these are pieces customized for you and not one of our currently listed pieces, custom orders can't be returned for a refund or an exchange, although we're happy to help with sizing and repairs. Please contact us if you have a custom jewelry project in mind!
Care Instructions
In order for your jewelry to provide years of happiness, it has to be treated with kindness. To help you with this, we provide a polishing cloth and care instructions with each of our jewelry pieces.
Sterling silver is a mixture of metals that can react with chemicals found in air and produce tarnish. High moisture levels, exposure to sunlight, & contaminants such as salt water or cosmetics will cause discoloration.
All finishes wear with time. Dark finishes can be maintained at home by using a liver of sulfur gel or by using hard boiled eggs (tutorials online).
However, we understand that problems occur and accidents happen, and we are happy to help. If you find yourself needing help or a repair on your jewelry, please contact us! You can find more detailed jewelry care instructions here on our website: https://moonkistdesigns.com/pa...