Please sign in so that we can notify you about a reply
Customizable Badge Reel using a 1.5" 'badge' on a retractable black badge reel with belt clip or alligator clip. . Customizable with your photo, photo of pet, photo of child, design, saying, etc.

A vinyl snap strap makes it easy to attach ID holders, name tags, and badges while offering immediate accessibility; ideal for medical personnel, teachers, maintenance, safety and security personnel.

Extended cord length measures 26.5 inches

Almost all of my button designs can be made into a badge reel design; just message me and let me know which image it is that you would like made into a badge reel.
Hello, I'm Cindy, also known as G...

Really not a lot to say about me. I really enjoy making things, especially for others. Over the years (admittedly, decades) I've gone from crochet to paper crafting to sewing to machine embroidery, then back to crochet, back to machine embroidery, back to paper crafting, back to sewing - as long as I am making something I am in my zone.
Recently I started 'badge' making - I love the versatility of them. Pins, magnets, key rings - even mirrors and bottle openers. They are so open to personalization and variation - from holiday or mood to whatever is going on in the world at any given moment. Can use photos, drawings, artwork, fabric, etc.
I use a few different programs for the design, printing and cutting of the circles needed to make the badges, then usually an electronic paper cutter to cut the circles precisely. It's a lot of fun watching it go from a thought to a design on the computer to a cut out circle to a pin, magnet, keyring, zipper pull and more.

I have another shop here on goimagine where you can find fabric face masks. The pins wear great on masks either with pin or my pinless (magnet) versions. madebyg.goimagine.com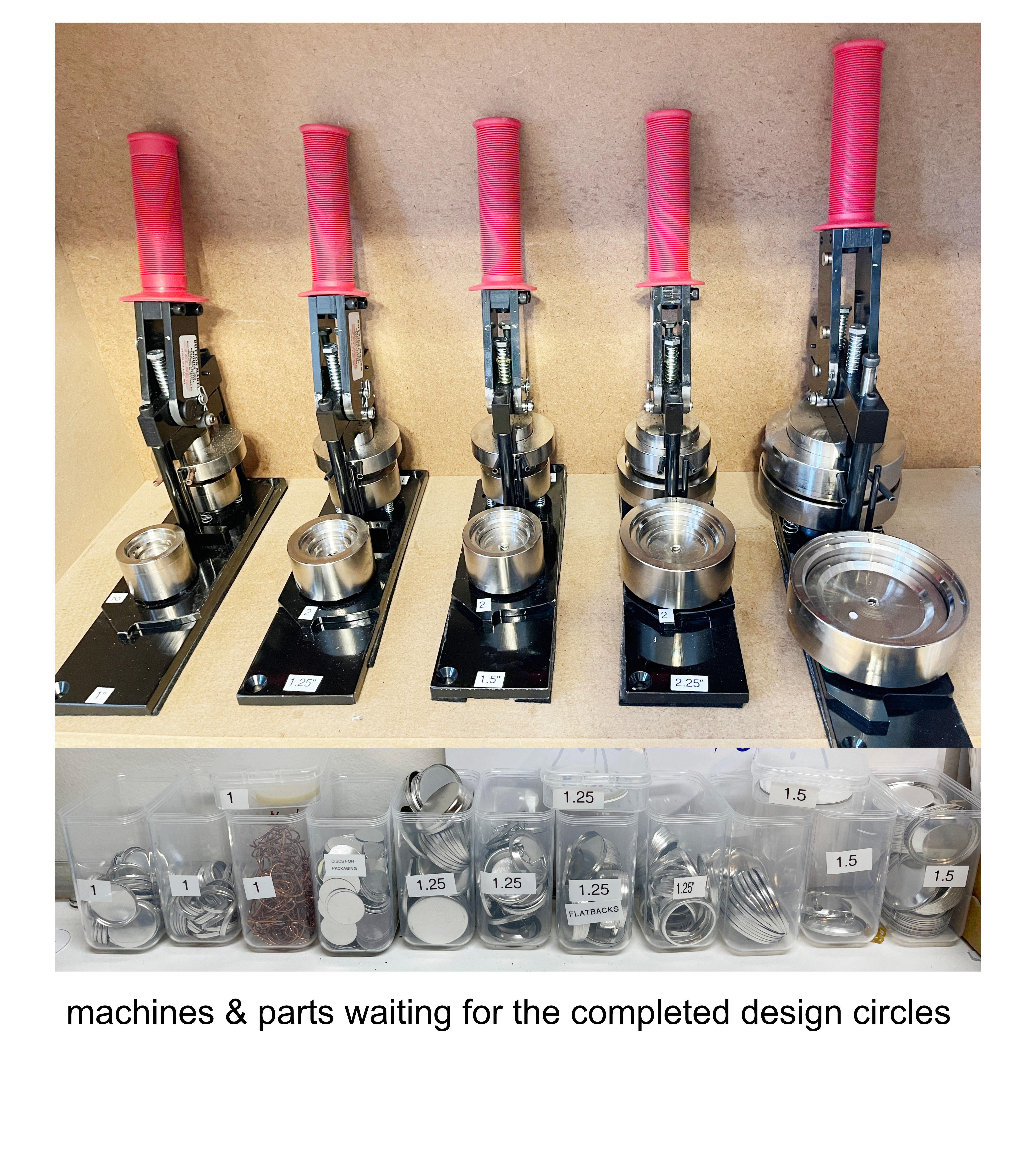 Cancellations will be accepted same day as order as long as item hasn't been shipped. I ship quickly so this could be within an hour.


If you are truly unsatisfied with the product due to workmanship or perceived damage, please send a photo of your area of concern. If the damage/fault is mine, I will refund in full once I receive the item back. Please contact me before making any return.

If your package comes damaged, let me know right away and please take photos of the damaged box/envelope as received so I will be able to work with the delivery service. Pictures are required for proof and notification of damage must be immediate.