About this Product
This listing is for a doll face hair clip holder. Hair clips can clip right on to the dolls braids and be displayed in any little girls room. The ribbon loop at the top allows you to hang it from a door knob or a nail in the wall. Her face measures approx. 7" across and each ponytail is approx. 16" long. You may pick your skin tone: fair (shown) or tan and you may also choose your hair color: blonde, brown, dark brown, black and red.
The hair clip holder includes a bow hair clip of your choice. Please leave me a message in the notes section when checking out letting me know which color bow you prefer: red,orange, yellow, green, emerald, mint, navy, aqua,purple, hot pink, pink, brown or black. If there is no note we will send the color shown in the picture.
***Other than the included bow, the hair clips shown are just for illustration and are not included***
Copyright is owned by Baby WhatKnots LLC 2010-Current.
Each holder is handmade so there will be some slight variation.
All Hair Clip Holders arrive wrapped in tissue paper with a coordinating ribbon and tag. If you are giving this as a gift it will be all ready for that special Little One in your life.
CAUTION: These are NOT TOYS. Never leave a child unattended while using our products.
Valparaiso, IN
Welcome! Please enjoy FREE SHIPPING on all US orders over $35.
Contact Maker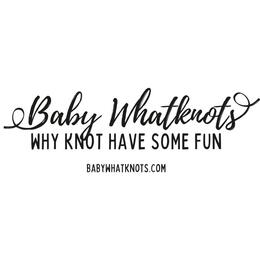 Meet the Maker
Hello! My name is Melissa and I am a stay at home Mom to three wonderful children. I started my Baby WhatKnots business in 2010 and I truly enjoy what I do. God has blessed me with an amazing husband and three wonderful children. I would love to share with you how I started my business and how God has led me right where I need to be.
A Blessing in Disguise

In 2009, during the economic downturn, I was laid off from my job. At the time, my husband and I were expecting our first child and I was 8 months pregnant. The plan had always been for me to be a working mom; day care, car pool, the whole thing. After I lost my job, I quickly scrambled to return things back to normal. I remember taking my big old belly on several interviews and never receiving a call back.
My daughter was born several weeks later and it didn't take long for me to realize that I wanted to stay home with her. I just couldn't imagine having to go back to work. After she was born, I started to make her accessories. It started with burp cloths and blankets and then moved on to pacifier clips and hair bows. It was something that I enjoyed doing and it wasn't long before I had friends and family requesting items from me.

In 2010 I opened my first online store and started selling my creations. Several years ago, I came across the concept of the Jesse Tree. I started to make and sell sets in my shop and local community and my business has now grown to selling hundreds of sets a year. I am so grateful that God has blessed me in so many ways and given me this opportunity to spread the Gospel.

I look back now and know that God had a plan for me all along. I felt so scared and defeated the day that I lost my job. I was so confused about what God was doing but I've learned now that even when things don't make sense, I need to trust Him.
"For I know the plans I have for you," declares the Lord, "plans to prosper you and not to harm you, plans to give you hope and a future." Jeremiah 29:11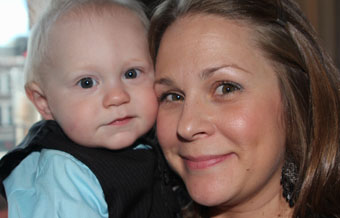 Shop Policies
PROCESSING TIMES:
Each of our items are handmade to order. Please allow 3-5 business days for processing.
SHIPPING TIMES:
USPS First Class Mail service is 3-5 days (excludes Sunday) USPS Priority Mail service is 1-3 days (excludes Sunday) USPS Priority Express Mail service is an overnight shipping service but some locations require 2 days Delivery times are provided by the United States Postal Service, however, occasionally packages can be delayed. If you have a specific "need by" date, we highly recommend that you purchase the Priority Express Mail Service, as this is the only guaranteed service.
RETURN POLICY:
If you need to return your order for any reason, simply contact us within 7 days of order being marked delivered by USPS. Personalized items where you have selected a name or hair color, etc. are not eligible for return. Returned items must be in original condition, buyer is responsible for any loss in value if an item isn't returned in original condition. Please be sure to package returned items in a way that they will not be damaged in transit, this is especially important for our Jesse Tree ornaments. Buyer is responsible for return shipping and must provide a tracking number. Refund will be applied once we receive items back in original condition. ***Jesse Tree Ornament Sets, Jesse Tree Advent Cards, Jesse Tree Wooden Display Trees and Jesse Tree Advent Pocket Calendars purchased after December 15th, will have a 10% restocking fee.
CANCELATION POLICY:
Cancelation requests must be received within 24 hours of purchase
PAYMENT:
We accept payments via Paypal
FAQs:
Q: What is our current processing time? A: Each of our items are handmade to order. Please allow 3-5 business days for processing unless indicated otherwise on the items page. Q: Do we offer free shipping? A: We currently offer free domestic shipping on orders of $35 or more. Q: Do we have any coupon codes? A: Yes, we do offer coupon codes several times throughout the year. Coupons are good on regular priced items only. Coupons must be entered at the time of the order. One coupon may be used per order. Coupons are not valid on wholesale or custom orders. If you received a coupon code from us with your order, it can only be used on our website, babywhatknots.com. for information about sales and coupons, you can like us on Facebook, www.facebook.com/babywhatknots, or follow us on Instagram @baby.whatknots. Q: What are our business hours? When can we be reached? A: Our standard business hours are Monday - Friday from 6:00 am CST until 4:00 pm CST. If you contact us, we usually will respond with 24 hours. Please see our Shop Announcement section for updates regarding changes to our normal hours as they do vary occasionally especially around major holidays. Q: Do we accommodate custom orders? A: Yes, we do take custom orders. Please note, custom items cannot be returned. Please contact us so we may discuss the details. Q: Do we offer wholesale pricing? A: Yes, we do offer wholesale pricing on select items. Please contact us so we may assist you. Q: Do we offer a RUSH order option? A: We do not charge a fee for RUSH orders. If you need something quickly please contact us so we may assist you. Also, you always have the option to upgrade your shipping speed during checkout.
Please sign in so that we can notify you about a reply