About this Product
Fall Kitchen Dish Cloth Towel Sets
Welcome to our Fall Kitchen Set collection, where warmth and functionality meet exquisite craftsmanship. This carefully curated set features an array of essential items designed to elevate your kitchen experience while adding a touch of seasonal charm to your living space.
Embrace the cozy ambiance of autumn with our meticulously crafted Oven Mitt, Towel with a thoughtfully handmade hanging ring, a charmingly designed dishcloth, and a high-quality sponge for all your culinary needs. Each piece in this set is not only a practical tool but also a decorative accent that embodies the spirit of the season.
Whether you're looking to enhance your own living space or searching for the perfect gift, our Fall Kitchen Set is a delightful choice. Show your appreciation to co-workers, express gratitude to teachers, celebrate newlyweds with a unique and thoughtful present, extend a warm welcome to new homeowners, or simply treat yourself to a dose of seasonal joy.
Rest assured, each item in this collection is crafted with love in a smoke-free home, ensuring the highest level of care and attention to detail. Elevate your kitchen decor and embrace the autumnal vibes with our Fall Kitchen Set – where practicality meets aesthetic appeal in perfect harmony.
Find me on FACEBOOK

www.facebook.com/cinsknitsnthi...
Join my Facebook GROUP where I will post shop announcements, exclusive sales, giveaways, coupon codes, etc.
https:///www.facebook.com/grou...
Follow me on Pinterest
https://www.pinterest.com/Cins...
Follow me on Instagram:
https://instagram.com/cinsknit...
Lee, MA
Thank you for considering Cin's Knits n Things for your Knit and Crochet needs.
Contact Maker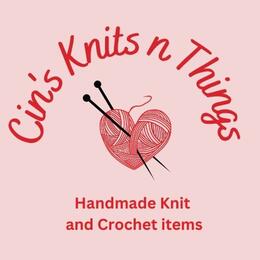 Meet the Maker
My Passion for Yarn Creations
Allow me to introduce myself, I'm Cindy, the creator behind @cinsknitsnthings. My love for knitting blossomed when I faced a job loss and sought a fulfilling activity to occupy my days. I sought ways to cope with stress, and that's when I discovered the therapeutic benefits of knitting. Self-motivated, I embarked on an online journey to teach myself this craft.

As I delved deeper into the creative world, I noticed the beauty of crocheted items and decided to expand my skills. Once again, I turned to online resources and taught myself the art of crochet. Encouraged by my daughter, I contemplated sharing my creations with others, which led to the birth of the name @cinsknitsnthings. Now, through this platform, I take immense pride in sharing my knitted and crocheted masterpieces with the world.

When I'm not immersed in knitting or crocheting, you'll often find me passionately engaged in other activities. One of my most cherished involvements is with the American Legion and the Legion Riders, where we tirelessly support Veterans in need. I also have a love for motorcycle riding and proudly ride my own bike.

Constantly seeking to expand my shop's offerings, I'm rarely seen without a project in hand. Witnessing the joy on someone's face when they receive one of my handmade items brings me immense satisfaction and fuels my creative spirit.

Shop Policies
Please review the product information and shop policies below ⬇ before ordering. Items already made with be shipped within 1-3 business days. Items that are made to order may take up to 2 weeks depending on order volume. During the holiday season, this may take longer. If you need an item by a certain date please reach out to me to see if it is possible.
Shipping Policy: Please ensure that the name and shipping address are correct before submitting your order. If sending a gift, please double-check that the shipping address reflects the recipient's name and address. Shipping labels are automatically generated based on the shipping address provided by the customer during checkout. We are not responsible for delays/re-shipping costs or loss if provided an incorrect or undeliverable address. Orders cannot be canceled after they have been shipped. Most items arrive within 7-14 business days, however, the US Postal Service does experience occasional delays, if item is needed sooner, please select Priority.

Return Policy: Contact us within 3-days of delivery if there's a problem with your order. All damage or error claims need to be accompanied by photos for verification. If it is agreed that the item needs to be returned it must be shipped back within 14-days of delivery in its original unworn condition to receive a refund. Items that have cooking, or cigarette odor will not be accepted. Buyers are responsible for return shipping costs. Please provide a return tracking number. **Refunds will be issued minus the original shipping cost** Exchanges are not possible at this time. Instead, you can return the unwanted item and order a new replacement separately.


5. Missing/Stolen Packages: We cannot issue refunds or replacements at our expense for missing or stolen packages after it has been marked "Delivered" by the postal service. Once an order is delivered it is no longer our responsibility to track its whereabouts. Please ensure you have a safe delivery location or have your mail held for pick up at the post office. If your order tracks as delivered, please contact your local post office directly to resolve any delivery issues. A missing mail search can also be requested through this link: https://www.usps.com/help/miss...


7. No Returns, Refunds, or Exchanges on the following items:
HATS - for hygiene and health reasons
** IMPORTANT ** –Please measure Child's or your head before ordering to ensure proper fit. Measure around the head just above the eyebrows for circumference and from the top center of the head to the bottom of the ear for height. You want the hat to fit snug because the hats do stretch an additional 1" to 1 ½" larger than the circumference size to allow for growth. If you need an adjustment in circumference or height please let me know. For hygienic reasons, these hats can not be returned if worn.
Please sign in so that we can notify you about a reply