About this Product
Hi! Please read this to know EVERYTHING.
THESE COME IN SINGLE UNITS (ideal for helix, cartilage, tragus, daith, conch, labret piercings) so if you're getting them for your earlobes, you would need to order 2 to receive a matching pair.
Look in the UPGRADE shop section for a variety of other post options. However, this design is large enough that it will not likely work as a nose piercing.
---
~~~ The Opals ~~~
These utterly gorgeous studs are my attempt at creating an ethical inexpensive opal earring to wear in as many color varieties as possible.
If you're looking for an opal in a specific color you don't see here, let me know and I might start carrying it.
This opal is synthetic. I am obsessed with sustainable gemstones, and so the only natural opals that I like to carry are Australian or Mexican opals that have been verifiably ethically mined, but those are expensive. This is a less expensive and more varied alternative!
All these opals are 4mm in diameter. Some of them are slightly more domed than others.
---
~~~ The OPTIONS for BEZEL SETTINGS ~~~
You can pick how you'd like the opal to be set. It all depends on your personal taste and piercing.
A bezel is the cup that is soldered to the post of your choice and is what your opal will be set in. A bezel setting is more expensive than the floating setting because it takes a lot more work to make, but it's much more durable and formal-looking.

The FLOATING opal. - This is sitting directly on the top of the post and is attached using a skin-safe adhesive that was originally invented as liquid stitches. These are for earrings where it looks as if the opal is growing out of you. They're also able to capture more light as this kind of setting. This piercing will be about 1.5mm tall when worn.
I DO NOT suggest wearing floating jewelry in unhealed piercings. The adhesive crystalizes on the back to immerse the steel pad of the earring, and then I cut the crystals down so the match the steel. This surface cannot be sanitized like the silver bezels, and so I do not suggest it for any unhealed piercing.
The SERRATED BEZEL Opal - This cup has little jagged edges on the top to hold in the opal. It's made of .999 fine silver to cut down on tarnishing that might block light. The serrated bezel is the tallest option, as I cant sand down the serrations. This setting lets in more light than the round bezel setting, and less than the floating opal. To reach the top of the cup, the opal will have sterling silver stacked under it. This will be about 3.5mm tall when worn.

The ROUND BEZEL Opal - The round cup is smooth on the edges and, like the prior option, is made of .999 fine silver. This setting lets in less light than the floating or the serrated opal, but offers the most protection. I am able to cut down the premade bezel after soldering it to your post, and stack sterling silver under the opal itself in the bezel to lift it up to about 2mm. This bezel has the shiniest edge.
---
~~~ SIMPLEST POST ~~~
Regular Earring Post - This is a 22 Gauge wide, 10mm long, Surgical Steel Post. It includes a hypoallergenic silicone back as well as an extra wide titanium butterfly back. These are for traditional lobe piercings and are the classic pointy earring design.
~~ THE OTHER COMMON POST OPTIONS ~~~
Body Jewelry Style Post options are organized by
GAUGE . LENGTH . METAL . TYPE
GAUGE: This refers to how thick a post is. Higher numbers mean skinnier wires. 22g is the skinniest possible jewelry post.
LENGTH: This is the length of the post. It's measured in millimeters because they're whole numbers and inches ends up needing fractions. Regular earring posts are usually around 10mm. Healed helix piercings are usually between 8mm-5mm. Longer posts can be special ordered.
METAL: This is the metal that the POST itself is made out of. The jewelry design is often a different metal.

SS = Surgical Steel. I use 316L Steel. This is a kind of Stainless Steel often used for surgical tools. It's the best type I can source. It is extremely hard, nonreactive, and easy to sanitize.
Flex = Bioflex. This is NOT metal. It's a nickname that refers to a soft flexible plastic. It's safer for mouth piercings, but is less durable than steel. It's currently only available in 16g and the top is a short pin that inserts into the tube of the shaft. I usually send a free extra post. It can be trimmed down to 6mm. Longer bioflex posts can be found in the Add-On section.

TYPE: This refers to how you connect the front of the post to the back. Posts have a variety of closures and different styles are good for different things.

IT = Internally Threaded. This means the front has a screw that goes IN the post. The post itself is a tube ending in a flat disc in a "labret" style. The shaft may have a tiny dent so the screw is nice and firm and unlikely to unscrew itself. The disc of the back is about 4mm wide.
PF = Press Fit. These Threadless posts are the best for tiny designs or jewelry that's worn all the time. The post is a hollow tube with a flat disc back. The front of the earring has a slightly curved wire pin attached to the back that inserts into the post. The pin can be bent to increase friction and make it harder to open/close.
~~~ UPGRADED POST OPTIONS ~~~
Alternate posts such as Nose Hoops/Screws, Lapel Pins, or Ear hugs are available to add to your order in the upgrade section of the shop. Please put BOTH the earring and the upgraded post into your cart before checking out. If you can't find what you're looking for, just ask. I can customize specialty posts or make the jewelry to fit your own posts as long as you know the threading or pin size. I can even make large gauges.
Thanks!
Columbus, OH
These designs are all customizable. I can make them as finger rings, ear huggies, nose rings, dangles, ear charms, on earwires, and with titanium…
Contact Maker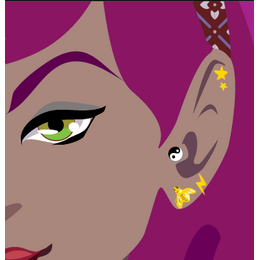 Meet the Maker
Scientist turned disabled artisan.
Narcoleptic lover of monsters.
Caretaker of the uncharismatic.
She'll tell you everything about bugs if given half a chance.
She/Her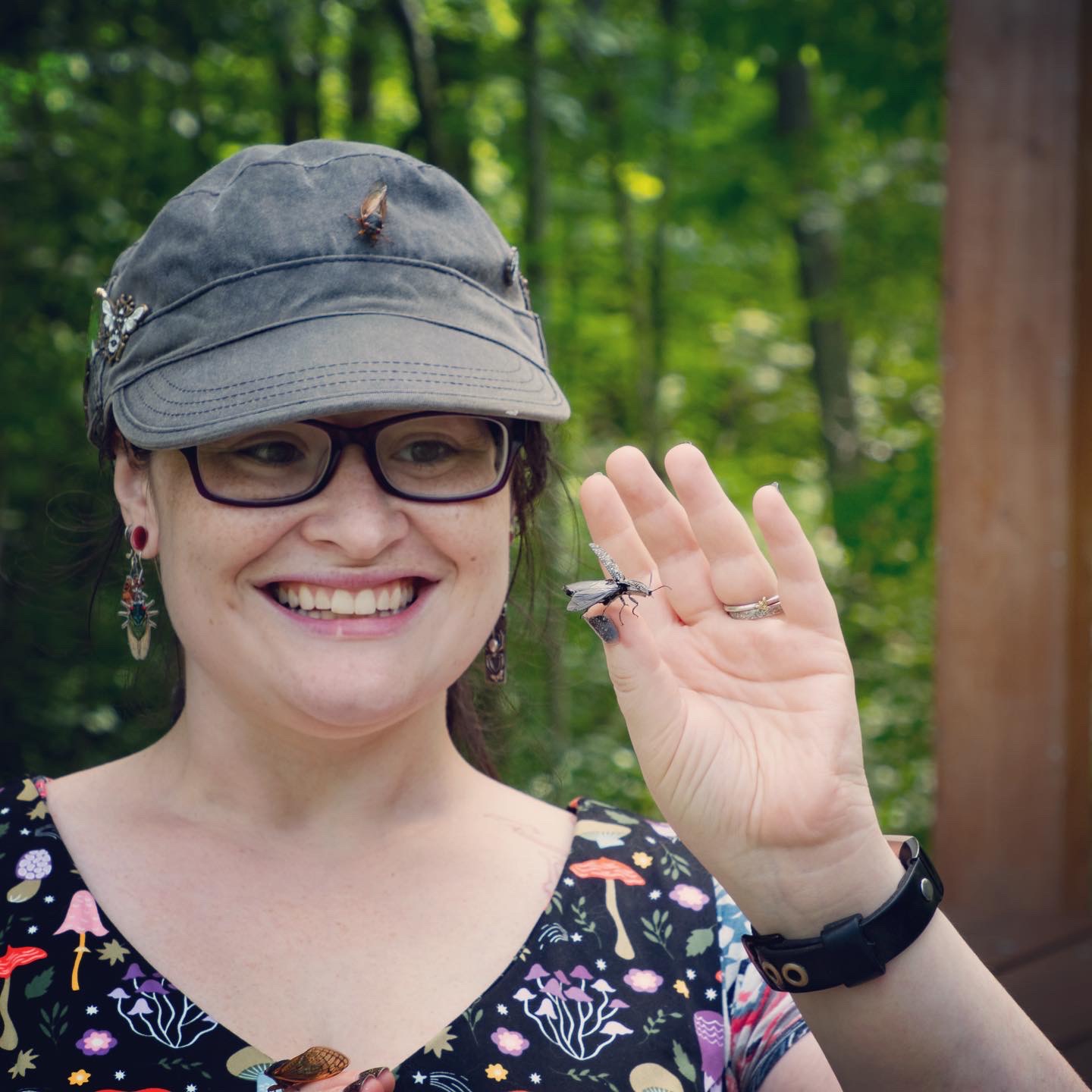 How it's Made
How Its Made
Picking the Opal: The opal earrings are made in a bunch of different ways depending on what you choose! All of them, however, involve specific ethical synthetic opals that I ordered from Sanwa, who I've had a relationship with for about 10 years. They make reliable high quality synthetic opals in a huge variety. There are about 100 different colors, and I tested a bunch, and selected color, shape, height, and curvature for each one to bulk order and make available. I tried to cover most of the color families without going broke on this end!
I pull out the opal, check it over, and then go to get the connection piece for the post you chose. I personally engineered the blank surgical steel posts for all the 20, 16, and 18 gauge posts and have been improving them since I started doing this in 2009. You will get the best version (most durable, most interchangeable) that exists in the entire piercing marketplace to date.
This next step depends on what option you chose:
( Pssst: Remember that a bezel is the metal cup that your opal will be set in.)
The FLOATING opal. - There is no bezel here, so I sand the back of the opal, sand the top of the steel connection piece, don my PPE, and use tweezers and a thick crystalizing skin safe adhesive to fully immerse the pad of the connection piece. Once it dries a day later, I use a razor to trim the adhesive to match the pad. Then I test the piece with the post you chose, and test it to make sure it won't break. Then I polish it one last time, and put it in a colored labeled cup to go to packaging.
The SERRATED BEZEL Opal - I center mark and then weld the fine silver cup to the connection of your choice. This particular little cup has little jagged edges on the top to hold in the opal. I send it through the tumbler, sand it once, and then set the opal. The opal is much shorter than the serrated up, so to reach the top of the cup, the opal will have silver stacked under it. I put the piece in a tiny vice and take it under my microscope for setting. I use a whole bunch of tools to shape the top of the bezel around the opal to hold it in. Once it's done, it goes through final polishing before being matched with the post and tested.
The ROUND BEZEL Opal - The round cup is smooth on the edges and, like the prior option, is made of .999 fine silver.
Then I polish it one last time, and put it in a colored labeled cup to go to be packed in a different room.
After that, it's gift wrapped and packaged in repurposed sustainable packaging and sent along to you. Each order comes with a sticker from an artist whose work I appreciate, and is wrapped in washi tape. MyM is very careful to never use stolen art and if you want any of the washi tape, I am always happy to connect you to the producer! They're always another small business who deserves support.
Shop Policies
Cancellations

I accept order cancellations anytime before the item has shipped.
Returns
I accept returns for 45 days. Buyer is responsible for return shipping costs and any loss in value if an item isn't returned in original condition.
Please sign in so that we can notify you about a reply