Please sign in so that we can notify you about a reply
Hey Bee Honey Doormat, Custom Funny Doormats, Funny Welcome Doormats, Customized Housewarming Doormats Gift

These Doormats make the perfect personalized gifts for your loved ones! Each mat is handmade by myself and if you have any requests feel free to reach out and I will do my best to accommodate you.

Our Doormats are made out of 100% Coir and overnight curing is required so after they have been painted and have completely dried they will be shipped out the next business day.
Mat's may discolor after exposure to water. The higher traffic the area is, the quicker the doormats will fade over time.

Shake doormat out or sweep. Avoid using a hose because the doormat fibers will swell and darken if saturated with water. Coir doormats are not waterproof. They are to be kept dry.
No additional charge! Please ask us and we will do our best for you to send your shipping in 3 days.
If your order is a gift and you are sending it directly to your recipient and would like to include a note, please include it in the specific note section during checkout. The gift note will then be printed and shipped with your order.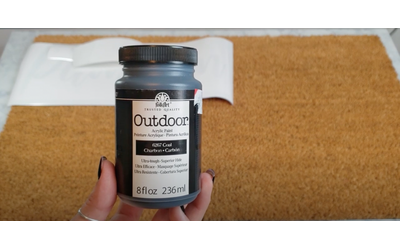 Cutting a stencil with your Cricut machine.
Apply transfer tape to your stencil (I like to use a piece that has been previously used so it comes off easily, just a trick I've learned)
Press the vinyl onto the mat
Carefully pull off the transfer paper
Use the masking tape to tape down the design to the floor mat
With a blow dryer or heat gun
Apply paint, being careful not to get it anywhere but on the stencil and where you want it to be–no sense in ruining this doormat before you can even get it to the porch
When done remove the vinyl to reveal your design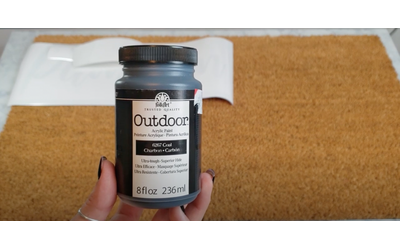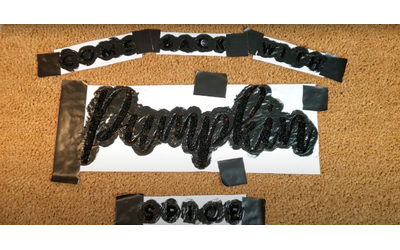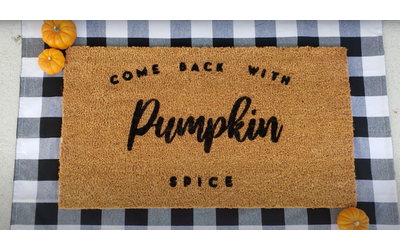 Every home is special, full of memories, big moments, places to laugh and plenty of love. Find the right way to express each room's personality with personalized coir doormats. We'll print your inspiring quote or vivid image directly onto durable coconut fiber that can stand up to wet boots and shoes.