About this Product
Hey there fellow moth lover, this stained glass suncatcher is just for you! This piece is an accurate design of the gorgeous Honey Locust moth, featuring beautiful pink glass, hand painted details, 3d antenna and a lovely wire frame.
Dimensions
Width-10 in
Original and unique artwork for any space.
The process of creating stained glass art starts with an original design, glass selection, and then cutting and shaping each individual piece by hand. After the pieces are properly shaped and cleaned, the edges are then wrapped in copper foil which is what the solder adheres to. Next, each piece is soldered with 60/40 solder (tin/lead) with the exception of items such as earring which are made using lead free solder so they are safe to wear daily. Once the artwork is soldered and washed it is then polished. Most of my glass designs get a coat of black patina, which darkens the solder lines, giving the design more definition and it's final finished look. Add on the chain or string, and it is finished and ready to be packaged and shipped to it's new home.
Each item is made as they're ordered so colors and patterns in glass will slightly vary, making each piece even more unique.
Love the design but prefer a different color? Just send me a message and I would love to create the piece of your dreams.
All orders are carefully packaged to ensure it's safety and to make sure it reaches you in excellent condition.
Stained glass artwork is made of glass and is held together with solder that contains lead (with the exception of a few items such as earrings). Always display out of the reach of children and pets and wash hands after handling.
Contact me with any questions.
Farmington, MO
*Last day to order in order to receive by Christmas is Monday, December 11th*
Contact Maker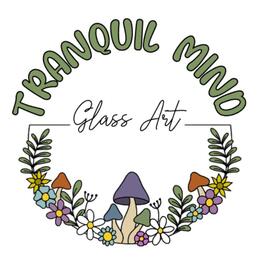 Meet the Maker
My name is Madilyn, I am 24 and have been creating stained glass since December 2020. I now make glass art full time and have never been happier.
I first discovered stained glass when I came across glass artists online and was instantly in love with the process, but it didn't occur to me that I could actually do it too. A few days before Christmas I mention to my mom how amazing I thought these glass artists were, and she surprised me Christmas morning with most everything I needed to get started and I have been obsessed ever since.
On the rare occasion I am not doing glass art, I enjoy spending time in nature with my boyfriend and my dog. I get a lot of inspiration from nature and the peace and quite is a great way to reset my brain.

Please sign in so that we can notify you about a reply