Baby Whatknots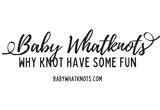 Hello! My name is Melissa and I am a stay at home Mom to three wonderful children. I started my Baby WhatKnots business in 2010 and I truly enjoy what I do. God has blessed me with an amazing husband and three wonderful children. I would love to share with you how I started my business and how God has led me right where I need to be.
A Blessing in Disguise

In 2009, during the economic downturn, I was laid off from my job. At the time, my husband and I were expecting our first child and I was 8 months pregnant. The plan had always been for me to be a working mom; day care, car pool, the whole thing. After I lost my job, I quickly scrambled to return things back to normal. I remember taking my big old belly on several interviews and never receiving a call back.
My daughter was born several weeks later and it didn't take long for me to realize that I wanted to stay home with her. I just couldn't imagine having to go back to work. After she was born, I started to make her accessories. It started with burp cloths and blankets and then moved on to pacifier clips and hair bows. It was something that I enjoyed doing and it wasn't long before I had friends and family requesting items from me.

In 2010 I opened my first online store and started selling my creations. Several years ago, I came across the concept of the Jesse Tree. I started to make and sell sets in my shop and local community and my business has now grown to selling hundreds of sets a year. I am so grateful that God has blessed me in so many ways and given me this opportunity to spread the Gospel.

I look back now and know that God had a plan for me all along. I felt so scared and defeated the day that I lost my job. I was so confused about what God was doing but I've learned now that even when things don't make sense, I need to trust Him.
"For I know the plans I have for you," declares the Lord, "plans to prosper you and not to harm you, plans to give you hope and a future." Jeremiah 29:11