Color Garden Jewelry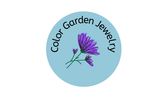 GARDEN INSPIRED. CELEBRATING COLOR.
Here we celebrate color and it all started with a garden. Through her brand, Color Garden Jewelry, designer Debbie Rowe pulls her inspiration from the garden she remembers visiting at her parents' home. It's here that her love affair with color began. Rows of perennials and annuals bursting with color and charm. Bright pink tulips sitting alongside cheerful yellow daffodils. Big fluffy blue hydrangeas mixed in with pure white roses.
It's no surprise then that as she started to build her brand, she would find similar delight in the beauty and natural characteristics of gemstones and crystals. From her studio in Kentucky, she celebrates the unique quality of every piece she makes so that you have something no one else in the world has —a special gift for you to love or to share with someone special. The world is full of color and she intends to play with every single one.
For exciting new products and updates, follow instagram.com/colorgardenjewelry.