Little Hat Marketing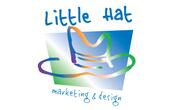 Thank you for visiting my shop!
I love handcrafting and creating new products, working in different mediums - wood, paper, glass, beading, metal - playing with the next shiny thing! My favorite product to create is a personalized gift and I welcome custom requests. Whenever possible, I enjoy upcycling wood and other materials into new creations.
I'm always learning how to use new tools and equipment to cut and produce my products. My shop includes working with quality button making equipment, several high-end photo printers, saws to cut wood to size, sublimation equipment for pressing photos onto metal/mugs/fabric, vinyl cutting machines, and a laser cutter/engraver machine.
Many of the home décor selections on my site have a dual use, such as signs, with removable photo magnets to use on your fridge. Or holiday items where the photo magnet can be used separately after the holiday.

During the year, my husband Lou and I participate in local (Howell, NJ area) craft fairs and events, creating personalized photo gifts on site.
Linda Coppolino
Little Hat Marketing & Design
Handcrafted Art.Paper.Photos.
732-938-2095
P.O. Box 270, Howell, NJ 07731-0270