McKean Creations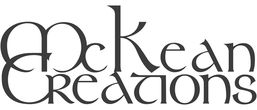 Who knew an ankle bracelet would bring about the birth of McKean Creations?
My love for stones, beads, jewelry and accessories started as a child and never went away. I was quite the fashion statement in my pop beads of many colors and my friendship bracelets made of string in my early years. Later, in my teenage years, it was anklets, barefoot sandals and flowers in the hair. As an adult, I worked in a department store in the jewelry and accessories department and my jewelry stash grew. In 2006, while in Santa Cruz I decided to buy an ankle bracelet. Maybe I was trying to recapture my youth, I don't know, but I couldn't find one I liked, and more importantly, one that would fit. As soon as I returned home, I relearned how to make my own, and soon my coworkers and friends were all wanting to buy one for themselves. This led to creating earrings and bracelets which led to an invitation to sell at a large local season long craft fair. McKean Creations was born. Over a decade later I am still designing and growing in my knowledge of a variety of jewelry styles, learning more ways to create beautiful, comfortable and durable jewelry that become special keepsakes for my customers. It's such a pleasure to see the happiness each piece brings them.
I feel from casual to elegant, jewelry should be a reflection of your style, so at McKean Creations I offer an eclectic array of custom designed jewelry handmade by artisan Marcia McKean (that's me). You will find unique handcrafted jewelry that is great for any occasion, either for yourself or as a gift. Browse through my Goimagine store, pick out your favorites, then treat yourself or a loved one to that beaded indulgence you so deserve. I hope you enjoy wearing it as much as I enjoy the creation.
Many Blessings,
Marcia