Sowers Creations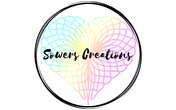 Hello, I'm Andrea! I first learned how to crochet, thanks to my dad (yes! dad!), when I was just a kid. While other things have come and gone, the love of texture art has stayed with me. My main love, and what I specialize in, amigurumi, came about 10 year ago thanks to my desire to make cute stuffed items. You may also see regular/non-stuffed knit or crochet items, but amigurumi is my main focus.
All pieces in my store are made to order, unless otherwise stated. However, if there is something you'd like that you're not seeing, please reach out to me or start a custom made order. I love to do custom pieces and it's very rare that I can't find something/come up with something that will work!
Want to know more about me/my products? Check me out on social media!
All items are made in a pet-friendly (dog/cat) and smoke-free home.