Please sign in so that we can notify you about a reply
Vintage glass beads in the ROYGBIV rainbow color sequence with hematine and sterling silver. Unisex design.

Check out "How It's Made" for the story behind this necklace.
Vintage glass beads: 1950s Japanese Cherry Brand 9-10mm rounds in dark ruby, Madeira topaz, aqua, and amethyst; 1920s Japanese sapphire blue 10mm rounds; ruby red 5mm rounds.
1980s Austrian crystal Art. 5030 emerald green grooved 10mm rounds.
Rutilated quartz 9-10mm rounds.
Hematine: 6mm and 8mm rondelles; 8mm rounds; 5mm barrels.
Sterling silver triangular "patchwork" toggle clasp and artisan crimp covers.
Strung on 49-strand bead stringing wire.
Necklace length/weight: 21"/2.8 oz. oz.
#202226RB
I work with artisan and other beautifully designed toggles and clasps. Helpful hint: Practice hooking and unhooking the clasp; visualize this while doing so without looking.
Please take care to avoid knocking or dropping beads against hard surfaces. Many beads I use (glass, ceramic, etc.) are breakable.
Bead descriptions are based on bead vendor information and the best of my knowledge.
Colors viewed may differ from actual colors due to device variances.
Packed in a gift-ready window-lidded tin (anti-tarnish tab enclosed).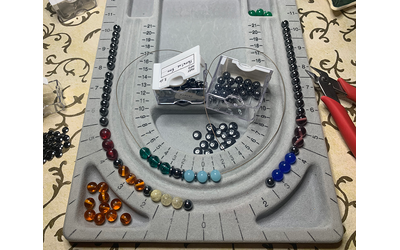 Notes on this piece: This necklace was inspired by goimagine's Seeing Rainbows Maker Challenge. I started with two ideas — to design a necklace with a rainbow color sequence, and to donate net proceeds to an organization that provides services to LBGTQ+ youth.

I'd completed a rainbow color sequence semi-precious stone and artisan lampwork necklace set before this design, purchasing beads specifically for that project. This necklace was designed with beads on hand from my collection, focusing on my favorite Japanese mid-century round Cherry Brand beads. It came together with relative ease, using four different hematine beads as spacers and applying the 3, 4, 6, 7 patterns I often use.

Then things got complicated. :) My first completed necklace was beautiful, but I decided it was too long (24") for the unisex design I intended. I re-strung a shorter version, but found a sequence error. I re-strung it, dropped a bead and replaced it with the wrong red bead. I re-strung it again and saw that I'd left out a bead. I'm wondering if my first version was the one intended to be... but for now here's version 5.
My designs are inspired by the beads, by their color, shape, size and origin.

I've been buying/collecting beads for over 20 years, focusing on early and mid-century glass beads, but including semi-precious and other stones, freshwater pearls, contemporary artisan lampwork and ceramic beads. I work with sterling silver, bronze, or copper clasps and use sterling or gold-filled findings.
In my first years of bead jewelry design, I had to see and/or touch the beads to know what I wanted. After years of experience, I can confidently shop online (fortunately, during these times) and have a growing list of "go-to" artisans, vendors, and brands for my supplies.
My design descriptions include a list of "ingredients" used in each design.
Some designs come together quickly and organically. Others are re-worked several times, even if I've already attached the clasp with crimp beads and crimp covers and need to completely re-string.
Designs are often "retro-classic" as my OOAK designs are bead-centric with a nod to mid-century costume jewelry, rather than inspired by current fashions in jewelry designs or color trends. Add a pinch of whimsy and my personal take on color palettes.
I work on felted bead boards to calculate the length of each necklace (usually "matinée" length 20-24") and to hold the beads I've selected for my design. Sometimes I change my mind mid-design and put away many of the beads I've been working with, then search for or order others. I usually work with 49-strand .018 or .019 gauge bead wire, which allows stringing back under a half-inch or so of beads after the crimp bead and clasp are attached. I work by creating my design on the wire, rather than try to lay out the complete pattern, as it's important to see how the beads will hang and to pick compatible spacer beads.
I use sterling or gold-filled ear wires and headpins, and often create "mis-matched" earring pairs.
The weight and length of each necklace are listed in case you have a preference for lighter or more substantial pieces. (I enjoy both.)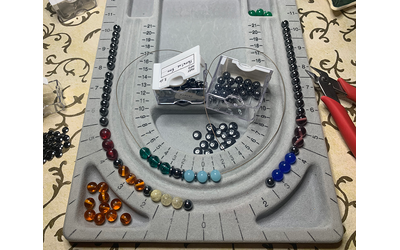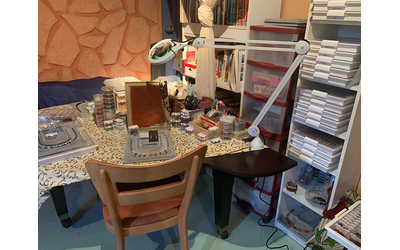 The name Dark Poet Designs was lifted from my once-upon-a-time one-line resume:
"...wife, mother, Girl Scout leader, bookkeeper (in both senses), dark poet..."
I am a retired elementary school teacher who has been designing bead jewelry for over 20 years. Originally, I hosted in-home studio shows. Over time, teaching and Argentine tango became my focus. I kept creating, but quit marketing my work.
I create necklace/earring sets, earrings, and an occasional bracelet. Each of my designs is one-of-a-kind. I frequently use mid-century vintage glass beads, usually post-war Japanese, German, or Czech. Other materials include semi-precious stones, freshwater pearls, crystals, seed beads, glass rondelles, raku or ceramic beads, contemporary artisan-made beads in various media, and sterling silver or bronze beads and clasps.

Thank you for visiting my page. To see some of my past work and browse through some interesting links, visit my website. My work is for sale online exclusively here at goimagine. Some of my work may be seen on Instagram. I'm also on Pinterest, Facebook, and Tumblr.
— Karen Reck | Los Ranchos de Albuquerque, New Mexico
P.S. I haven't written a dark (vampires, ghosts, and demon lovers) poem in several years.
Contact me
Please contact me if you have any questions about your order, my work, or my terms.

Shipping
U.S. shipping is FREE/included in price (First Class).
Time in transit may vary depending on USPS.

Estimated packing/shipping times: 2-5 days.
I will accept returns if you:
Contact me within 5 days of delivery
Ship items back within 7 days of delivery
Conditions of return
Buyers are responsible for return shipping costs.
Item(s) must be returned in their original condition and in original packaging.
Refunds will be issued after I've received your return.
Custom orders cannot be returned or exchanged.


Thank you for your support of goimagine and my work!