Los Ranchos, NM
25% off with Holiday2023 code at check-out through 12/31/2023. Thank you for visiting my shop and for supporting the #caringeconomy!
Contact Maker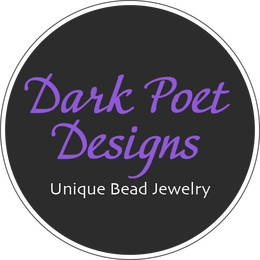 Meet the Maker
The name Dark Poet Designs was lifted from my once-upon-a-time one-line resume:
"...wife, mother, Girl Scout leader, bookkeeper (in both senses), dark poet..."
I am a retired elementary school teacher who has been designing bead jewelry for over 25 years. Originally, I hosted in-home studio shows. Over time, teaching and Argentine tango became my focus. I kept creating, but quit actively marketing my work... until joining goimagine.
I create necklace/earring sets, earrings, and an occasional bracelet. Each of my designs is one-of-a-kind. I frequently use mid-century vintage glass beads, usually post-war Japanese, German, or Czech. Other materials include semi-precious stones, freshwater pearls, crystals, seed beads, glass rondelles, raku or ceramic beads, contemporary artisan-made beads in various media, and sterling silver or bronze beads and clasps.


Thank you for visiting my page. To see some of my past work and browse through some interesting links, visit my old website. My work is for sale online exclusively here at goimagine. Some of my work may be seen on Instagram. I'm also on Pinterest, Facebook, and Tumblr.
— Karen Reck | Los Ranchos de Albuquerque, New Mexico
P.S. I haven't written a dark (vampires, ghosts, and demon lovers) poem in several years.
Please sign in so that we can notify you about a reply