About this Product
Necklace Description: This pendant is an orange and creamy white banded agate gemstone. This reminds me of the ice cream pop called that is a mix of ice cream and orange sherbet. I have wire wrapped a bail on this agate gemstone using antique copper wire. I am also including in the purchase a 22 ¼ inch brown suede leather necklace. On this necklace I have wire wrapped an antique copper toggle clasp. I would also recommend using your favorite chain or ribbon to change the look of the pendant.
Earring Description: I have also made a pair of matching earrings to go with the wire wrapped agate pendant. The earrings are round orange agate gemstone beads. These hang from antique copper fish
Your Purchase: Your purchase will include both the wire wrapped agate pendant, the suede leather necklace, and the earrings.
Measurements: The orange and white agate gemstone is 2 1/8 inches long by 1 3/8 inches wide. The opening of the bail is 15mm long by 8mm wide. You should be able to get most chains or ribbons through this opening. With the copper wire wrapped bail, the total length of the pendant is 2 ¾ inches long. The suede leather brown necklace is 22 ¼ inches long. The orange round agate gemstones used for the earrings are 8mm in diameter. The total length of the earrings is 1 3/8 inches.
Processing Time: This item is a finished product. My processing time is 1 to 2 days depending on what time I receive the order and I get home from my day job.
Packaging: My packaging for jewelry will include a cotton lined jewelry box. I do this because it adds more protection for the jewelry while it ships. It also makes a nice package for giving as a gift.
Environment: This item was made in a smoke free and pet free home.
Color: Colors may vary based on the difference in computer monitors.
Handmade orange and white wire wrapped agate pendant with earrings item EN00124.
Mesquite, TX
20% off your first purchase. Use coupon code: Jewels2at20
Contact Maker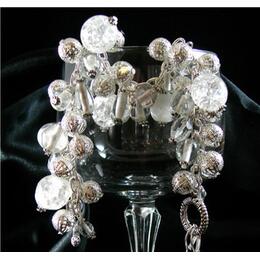 Meet the Maker
Thank you for stopping by! My name is Terri. I love to make jewelry, and I will make jewelry out of most anything! I have been crocheting since I was six and love combining yarns for a unique texture and look. If you have been to my shop before, be sure to sort by newly listed so you can see my new additions. Let me know if you have any questions on my items.

And...yes, in the pic my readers do have the sticker showing the strength. I have them in different strengths throughout the house. I leave them on the readers so that if I pic up an older pair with a lower strength, I can look at the sticker and not think I am going blind!
In this picture I am making dainty little necklaces and hair bows for my granddaughter. I make my jewelry in the formal dining room. My husband said we should not have bought a house with a formal living and dining room, because we do not use them. Well, I am using them now!!! I have foil down on my table to protect it...and it forms to the table so it worked well, and rubber gloves on so I do not burn my fingers while making the bows! Just in case you were wondering...and, my mouth is open cuz I am talking.
Shop Policies
I gladly accept returns and exchanges
Contact me within: 14 days of delivery Ship items back within: 30 days of delivery
I don't accept cancellations after the item has shipped.
Conditions of return Buyers are responsible for return shipping costs. If the item is not returned in its original condition, the buyer is responsible for any loss in value. I would suggest using the original packaging to mail it back.
If you are not happy, I am not happy! Please contact me if you have an issue.
Please sign in so that we can notify you about a reply