About this Product
Our DIY Paintable Kits are delivered right to your door...no shopping needed, we supply everything! The theme of our kits are a surprise, some are seasonal. Seasonal kits arrive the month before the holiday or beginning of the season.
Our CRAFTERS kit has some assembly and glue is provided. This kit is a bit more challenging than the Novice Kit, but perfect for those that love to craft. Pictures shown are representative of what you may receive. You will love your surprise kit!
The pictures attached are a sampling of what you may receive!
Why are our kits so special?
- You receive a brand new design every month, but can purchase older designs as well. We send our seasonal items a month or so ahead of the season.
- Your design is created from laser cut/engraved wood (1/4" and 1/8") and acrylic. Some have attachable accent pieces, glue, paint, sandpaper, brushes, water cup, water based markers, instructions and an idea sheet. Materials will vary according to the craft.
- Perfect for girls night out, crafty parties or just for yourself.
- Additional kits available for purchase for group events at a discount.
- DIY Friendly - Not creative? No worries....we provided step by step instructions and an idea sheet.
Here is a craft tip to get you started - our paint pallets include basic colors. Trying using a tiny bit of red and white to get pink! Use blue and yellow to get shades of green! Use blue and red to get purple...add a tiny bit of white to lighten it up!
These kits are recommended for teens and adults. Small children must be supervised at all times. Kits contain small, fragile pieces.
FYI - Hanger/Stand Kit is NOT included but may be purchased separately.
NOTE: Please keep in mind - these kits are HANDCRAFTED at the time of your order. We do work to get your order out quickly, in 3-5 days, sometimes sooner. We will post a tracking number as soon as it leaves our studio. Please let us know if you have any questions!
Thank you for your business!
Senoia, GA
At Senoia Trading Company, we hope to make you smile! Our art style is Fun, Funky, and Boho DIY Farmhouse. Each item is created with purpose and…
Contact Maker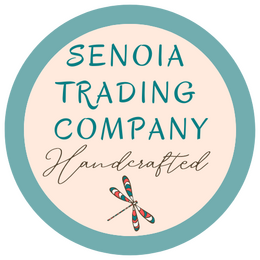 Meet the Maker
Thank you for supporting Handmade, Handcrafted and Goimagine in their endeavors to make the lives of children a much happier place to be. Each product listed has been designed, created, repurposed or handcrafted in our studio. Our DIY kits are stocked with everything you need to create your own customized home decor. A lifetime of happy crafting and creating spectacular gift baskets has brought us to this adventure of creating DIY paintable craft kits. What fun we are having coming up with new ideas!
How it's Made
Our She Knows How DIY Paintable Kits are laser cut and engraved out of wood and/or acrylic in our studio. The kits are assembled carefully with all of the supplies you need to create something wonderful for your home or to gift to a friend. In fact, our kits are the PERFECT gift for the friend who has everything!
Shop Policies
Shipping Times
Most products listed are ready to ship or download. Each product will have a shipping time noted in the details. Downloadable products are available for immediate download. Custom products will require additional processing times and will be noted in the description.
We do not ship internationally.
Downloadable Digital Designs
These products are non-refundable and cannot be cancelled after purchase. If you have an issue, please contact me and we will work it out. A physical product will not be shipped. Digital designs are for personal use only, cannot be resold except as a physical product or an addition to a physical product, they may not be used for print on demand, or sold in their digital form.
I will accept cancellations
Request a cancellation within: 2 hours of purchase
I don't accept returns or exchanges
But please contact me if you have any problems with your order. If your order was damaged in transit, contact me immediately.
Custom Orders and Processing Time
I do accept custom orders, please contact me for more information. All custom orders will require a design fee and you will sign off, via email, on the final proof before processing begins. Once processing begins, no changes can be made. A 50% non-refundable deposit is due before the design stage begins. Custom orders can take up to 4 weeks to process from start to finish. A tentative ship date will be given before the process begins. There are no returns on a custom order.
Please sign in so that we can notify you about a reply