About this Product
Hi! Please read this to know EVERYTHING.
THEY COME IN SINGLE UNITS (ideal for helix, cartilage, tragus, daith, conch, labret piercings) so if you're getting them for your earlobes, you would need to order 2 to receive a matching pair.
Look in the UPGRADE shop section for a variety of other post options. However, this design is large enough that it will not likely work as a nose piercing.
---
~~~ Silver Cicada Friend! ~~~
This unbelievably detailed and gorgeous cicada casting blew my mind when I first saw it. It's exactly what I was looking for. Sadly, I didn't get it listed before cicadamania happened. But people are still allowed to love all things cicada the rest of the time too! At least, I love them. This tiny singing friend measures 8mm wide and 21mm long. That seems crazy long, but a lot of that is wings!
I set it up so that you can pick where I attach the post.
This earring's front is sterling silver! It will develop a patina over time. A layer of clear nail polish can prevent it from gaining a patina. A shining cloth will remove that patina and give it greater depth as it ages. A patina has been added to the background of this jewelry already, so just the raised parts are shined.
Sterling silver is a metal alloy containing 92.5% Silver to Copper. Pure silver, without a small amount of copper, is too soft for most jewelry.
---
~~~ SIMPLEST OPTION ~~~
The Regular Earring Post - This is a 22 Gauge wide, 10mm long, Surgical Steel Post. The backs are hypoallergenic silicone backs. Perfect for traditional lobe piercings
~~ THE OTHER OPTIONS ~~~
Body Jewelry Style Post options are organized by
GAUGE . LENGTH . METAL . TYPE
GAUGE: This refers to how thick a post is. Higher numbers mean skinnier wires. 22g is the skinniest possible jewelry post.
LENGTH: This is the length of the post. It's measured in millimeters because they're whole numbers and inches ends up needing fractions. Regular earring posts are usually around 10mm. Healed helix piercings are usually between 8mm-5mm. Longer posts can be special ordered.
METAL: This is the metal that the POST itself is made out of. The jewelry design is often a different metal.

SS = Surgical Steel. I use 316L Steel. This is a kind of Stainless Steel often used for surgical tools. It's the best type I can source. It is extremely hard, nonreactive, and easy to sanitize.
Flex = Bioflex. This is NOT metal. It's a nickname that refers to a soft flexible plastic. It's safer for mouth piercings, but is less durable than steel. It's currently only available in 16g and the top is a short pin that inserts into the tube of the shaft. I usually send a free extra post. It can be trimmed down to 6mm. Longer bioflex posts can be found in the Add-On section.

TYPE: This refers to how you connect the front of the post to the back. Posts have a variety of closures and different styles are good for different things.

IT = Internally Threaded. This means the front has a screw that goes IN the post. The post itself is a tube ending in a flat disc in a "labret" style. The shaft may have a tiny dent so the screw is nice and firm and unlikely to unscrew itself. The disc of the back is about 4mm wide.
PF = Press Fit. These Threadless posts are the best for tiny designs or jewelry that's worn all the time. The post is a hollow tube with a flat disc back. The front of the earring has a slightly curved wire pin attached to the back that inserts into the post. The pin can be bent to increase friction and make it harder to open/close.
UPGRADE: Alternate posts such as Nose Hoops/Screws, Lapel Pins, or Ear hugs are available to add to your order in the upgrade section of the shop. Please put BOTH the earring and the upgraded post into your cart before checking out. Thanks!
Columbus, OH
These designs are all customizable. I can make them as finger rings, ear huggies, nose rings, dangles, ear charms, on earwires, and with titanium…
Contact Maker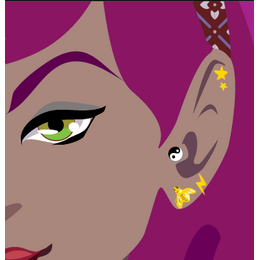 Meet the Maker
Scientist turned disabled artisan.
Narcoleptic lover of monsters.
Caretaker of the uncharismatic.
She'll tell you everything about bugs if given half a chance.
She/Her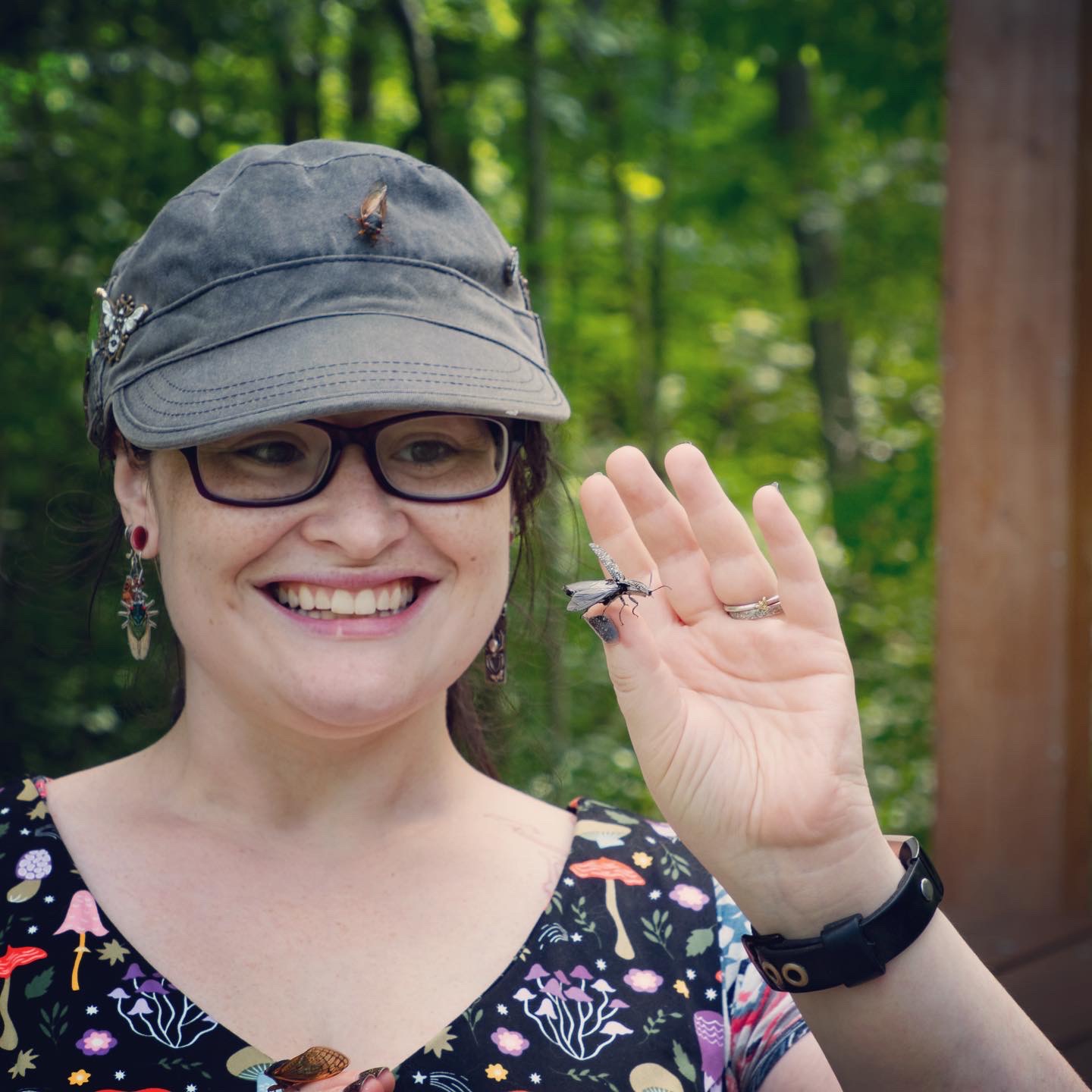 How it's Made
I take a ninadesigns cicada charm, fill it with melted sterling silver without melting the design itself, and then insert the stainless steel connecting part into the sterling silver.
Goodness, that makes it sound much more simple than the process is. This is one of those designs that takes more time than almost any other. Sinking a piece of steel into melted sterling silver takes some serious preparation, and any finish that was added by the supplier of the design is lost in the multiple heats that the cicada requires before its finished. That adds multiple extra finishing steps to the design.
That said, I think the outcome is worth it!
Shop Policies
Cancellations

I accept order cancellations anytime before the item has shipped.
Returns
I accept returns for 45 days. Buyer is responsible for return shipping costs and any loss in value if an item isn't returned in original condition.
Please sign in so that we can notify you about a reply