About this Product
Yes! Soap has soap butts! You will receieve 4-5 random soap mold ends
Trinity, NC
WubaLife welcomes you to immerse yourself in the rustic simplicity of handcrafted herbal bastille soaps, Coconut/Apricot salt candles with wood…
Contact Maker
Meet the Maker
Well Hello there Wuba loves!
I guess this is where I tell you a little bit about myself.
Hi, my name is Melissa. Well, let me tell you how I got started in the making of soap! My grandmother was looking for someone to learn her business. Lo and behold, I came to her mind. She called me up, I drove three hours to learn the amazing art of soapmaking! As soon as the oils started swirling, I was hooked! I dallied in it for years selling here and there. Then last year I wanted to make something more with WubaLife. So, here I am moving forward with my dream. Yes, I have fallen a lot. But, I always get up and begin again. And truly, I'm having a blast doing this!
Fun fact: Wuba is Swahili and means, 'I saw Beauty'. So my rough translation for WubaLife is, 'I saw a beautiful life'.
Okay, so I'm an introverted coffeeaholic. I've married my hero who is my dearest bestest friend and we have four adventurous, amazing, witty (shall I go on?) adult children. I'm dearly in love with my three cats! Two are Sebastian & Biscuit (or Thor, depends on who's talking to him), they both have Cerebellar Hypoplaysia, with Sebastian also having twisted leg syndrome (mostly corrected) and a huge heart. Everyday they makes us laugh!! We as well have our fiesty Bella who is our only 'normie', lol I'm also learning the piano at my age! Say what?? Yes, I totally am!
I always thought when I neared this stage of my life (50ish) things would slow down. But you know what? I feel like I've just woken up to this amazing dream and that dream is starting new right before my eyes!
WubaLife is based on this scripture:
For you reach into my heart. With one flash of your eyes I am undone by your love, my beloved, my equal, my bride. You leave me breathless— I am overcome by merely a glance from your worshiping eyes, for you have stolen my heart. I am held hostage by your love and by the graces of righteousness shining upon you. ~Song of Songs 4:9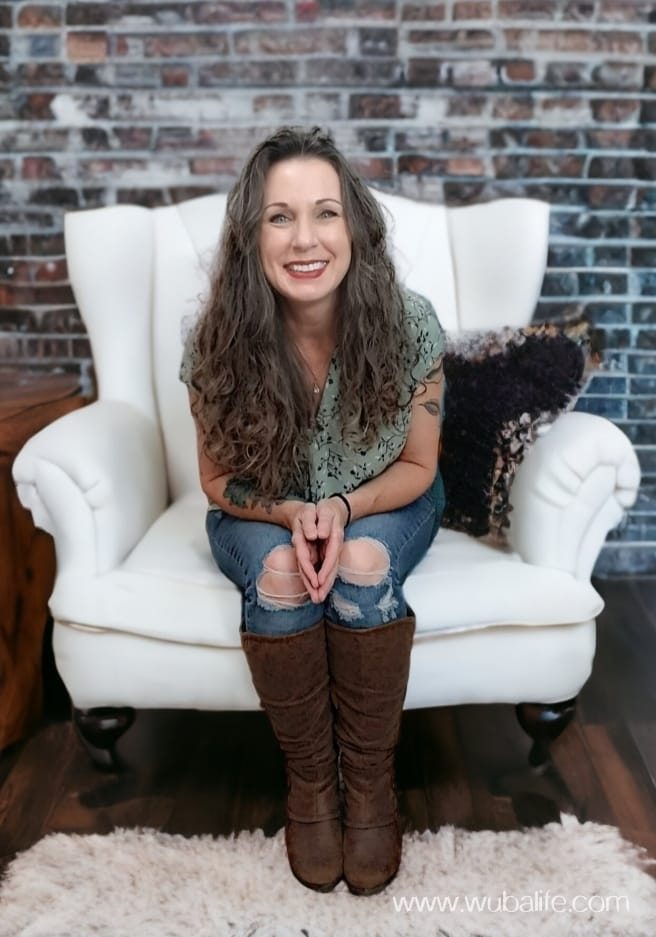 Shop Policies
Return Policy:

At this time, WubaLife does not offer returns. If for any reasons you have an issue with your purchase please email Melissa and let's see if a solution can be worked out. This is a one-woman show, so please be kind.
Do you help others with your products?

Great question! As a matter of fact, I do. But, and there is a huge but. I only help if there is a genuine need. If there is, I place their name in a lottery that I hold once per month on the first. If they are chosen, then I will send them approximately $40 (forty dollars) worth of products of their choosing with free shipping. The recipient will need to contact me via email to receive a one time use only voucher.
When will my package ship?

I ship packages out Monday-Friday, 9a.m.-3p.m. If you order on a Friday, Saturday or Sunday I will mail your package out on Monday. All orders Monday-Thursday will be shipped out next day.
Why isn't my package here? I chose 2-day priority mail.

I am a one-woman show, and some products are made to order and all are handmade. I ship from North Carolina. The closer you are to me, the faster your package delivers to you.
A product I ordered was damaged via transit. How can this be fixed?

I know that from time to time accidents happen on the journey from my space to yours (or your gift recipient). If a product arrives damaged, please send an email to Melissa with an attached photo(s) of the damaged item(s) and I will be in touch with a solution within 24 hours.
I made a mistake! Can I edit my order once it's placed?

Depending on what the error is, I will try my best to fix the problem. Wrong shipping address? Sure. Wrong billing address? Of course. I cannot make any updates to your private payment information. If you happened to use the wrong card then I can simply cancel the order. Wrong item ordered? I will do my best to get things swapped. Email Melissa ASAP.
My order is a gift. Do you offer giftwrapping?

I'm so glad you asked! Why yes, I do! I will include a personalized note from you to your gift recipient. Just add the details in the additional notes section at checkout.
Shipping to Canada/International

I do offer shipping to Canada. As expected, shipping is fairly costly. I only charge you the shipping charged to me by the carrier. Not being an export expert, I'm not sure what other tariffs and customs cost might be involved. Any other costs are your own responsibilities and I am unable to tell you in advance of these costs because, I honestly don't know how it works. Order at your own risk. INTERNATIONAL SHIPPING: Same thing as above for all other countries EXCEPT I only offer DHL Express to countries outside of Canada.
Special Custom Orders
I absolutely love custom orders!! Depending on your order will depend on how long it will take to make. If you request a soap loaf or soap loaf cut into bars or even half a soap loaf, with a certain color, color scheme, design and scent it will take 4-6 weeks. That includes ordering customer requested scent(s), making, curing time and packaging. The same with candles. All custom made vessels take about three weeks. Once I make the concrete vessels it takes at least 7-10 days to cure, then another 2 days to seal. On top of that, it takes another week for the wax to cure in the vessels. So plan ahead!! I will inform you step-by-step of the goings on in making your order by sending you pictures of the making and the waiting process via email or text. It's so much fun seeing your order come to life! If you have any questions or want to place a custom order please contact Melissa.
I received the wrong product!!

Everybody makes mistakes, everyone has 'those days'...even WubaLife. If you received the wrong product(s) I will be happy (albeit a bit disgruntled that I made a mistake) to send you the right product(s) right away! And guess what? You get to keep the wrong product(s) sent! Wait? What?? Yes, keep it for yourself, give it away, it's yours!
Soapy Stuff

All WubaLife's products for bath, body and home are hand-made and of course, cruelty free. No two look alike, especially soap bars. Deviation Is A Definite!
Soap and Candle Directions:

FOR SOAP: Wet, Lather, Rinse, Repeat (if you want). Do not eat the soap, no matter how delicious they smell. Trust me, soap tastes gross. Discontinue use if rash, redness or itching occurs. Consult your physician if irritation persists. Has this happened? No, but it's here just in case it does and everyone needs a disclaimer to protect their bum. FOR CANDLES: WubaLife candles are all made with wood wicks, it is essential that these wicks are trimmed before each use. Just pinch the charred bits off of a cooled, extinguished candle. And only burn for up to two hours at a time. Burn candle in an open space.
WubaLife's products that are not soap

Please read all directions before use and be the responsible human that you are and use accordingly.
I really need help

Please email Melissa, I will get back to you ASAP. You are not alone. Please know that. I will pray for you and send the prayer to you. You take priority above all else. No matter how many emails I get, your email is a priority. In the subject line, just type HELP. Here's my disclaimer: Sometimes you just need someone to talk to and pray with. That is what I'm offering. Disclaimer is this: (because everyone needs to protect their bum): I am not a physician or counselor.
Please sign in so that we can notify you about a reply