About this Product
This tech gear organizer is perfect for someone who plays golf. These are great for those who have has a lot of chargers, earbuds and cords and would like a nifty way to store them and/or for anyone who travels often. You could also carry golf equipment such as golf club tool cleaner, golf tees and more.

FEATURES:
Fabric: Golf balls and tees
Measures 18 in. x 8 in. (when fully opened)
Measures 6 in. x 8 in. (when folded)
Zipper pocket 4.5in. x 8 in.
Zipper opening 7in.
4 pockets 3 in. x 5.5 in. each.
This nifty organizer bag has golf balls and tees on the outside and zipper pocket. Inside is lined in green with white utility mesh pockets. This is lightly padded for added protection.

This would make a great gift for the golfer, someone who travels often, college student, friends and family.
Organizer bag is ready ship
Does not include props in pictures.
Please Note:
Due to monitor differences, lighting and other factors, actual item colors may be slightly different than how they appear on your screen.
Fuquay Varina, NC
Hi! I'm Diane. I hope you enjoy browsing in my shop.  If you have any questions feel free to ask.  Custom orders are always welcome.
Contact Maker
Meet the Maker
Hi! Welcome to my shop. So, you want to get to know a little bit about me? My name is Diane. I was born and raised in Colorado. I have lived in West Virginia, Nashville and currently North Carolina.
As a child growing up my mom was always doing something crafty, usually knitting, crocheting or sewing. She encouraged her love of crafting with me in so many ways. I can remember doing paint by numbers, the Tandy leather kits, making tissue paper flowers. She taught me hand embroidery, cross stitch and how to crochet. In junior high I took home economics class and started to learn to sew and again my mother taught me a few tips and tricks for sewing. I made myself a few clothing items and then life got crazy for many years, and I didn't sew again until later.
I met my 2nd husband in 1999 after being a single mom with 4 boys. We moved from Colorado to West Virginia where he decided he wanted to make knives. Long story short, we got involved in pre-1840 rendezvous where he could sell his handmade knives. In order to do that he had to have clothing for the time period. Well after not sewing for 15 years I started making clothing for the time period for the family so we could attend. Then I started sewing the men's clothing to sell at events that we went to which included waist coats and knee breeches. We did that for 8 years and then our health got in the way where we could no longer do the rendezvous and our kids had grown up.
I still wanted to sew but wasn't sure what I wanted to make. I decided I would make my own purse. I was having a hard time finding one that I liked with the things I wanted it to have. So, I created my own purse. I have found some patterns and tweaked them to my liking and started selling purses online about 6 years ago. I was formally Diane's Diversions (Di's Diversions) and that shop name came about because I was making all kinds of items.... tile coasters, crochet beanies and scarves as well as purses. I have found I really enjoy making bags and am keeping my focus on what makes me happy.
I take pride in the purses and bags I create. I cut out one piece at a time from the fabric, so the placement looks good on the bag or purse. That could mean 3 pieces, or it could mean 10 pieces, each one cut separately. Yes, I may waste a lot of fabric this way, but I would rather have a good-looking purse rather than worry about wasting fabric.
The picture of me was taken at my local fabric shop showing them the custom order bow tuck purse I made with fabric I got from there..
I hope you enjoy my shop and thank you for shopping handmade items.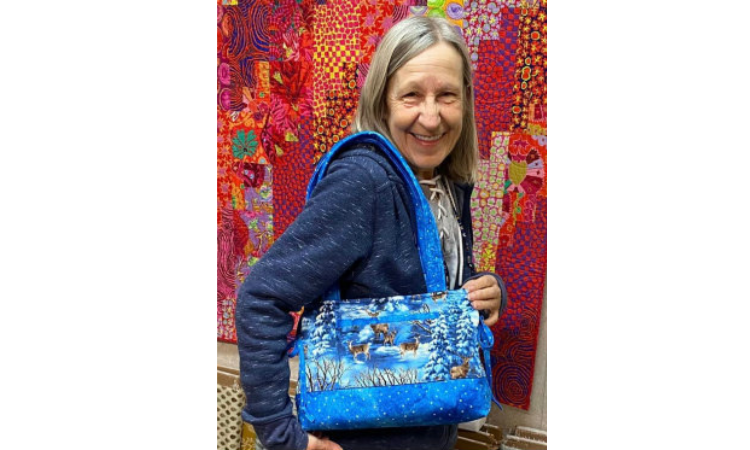 How it's Made
This nifty organizer bag has golf balls and tees on the outside and zipper pocket. Inside is lined in green with white utility mesh pockets. This is lightly padded for added protection.

Shop Policies
SHIPPING TIME: Most items will be shipped within 1-2 days after payment is received. On Made to Order items is generally 3-5 days for item to be made and then shipped. Custom orders will vary depending on fabric and item.
RETURN POLICY: Items can be returned in 3-5 days after receiving them provided they have not been used in any manner. Customer will be responsible for return shipping fees. Custom Orders are nonrefundable.
Please sign in so that we can notify you about a reply