About this Product
SET OF ONE HAND TOWEL AND TWO CLOTHS
ONLY CORAL IS AVAILABLE AT $4.99 & READY TO SHIP
Contact me for custom order in other colors
Imagine this handknit XO's (hugs and kisses)set greeting a guest in their guest bathroom or giving it as a hostess gift this summer for using in their kitchen! Send your love to someone with this beautiful set, it would make a great Mother's Day gift!! Or keep it for your own to brighten your day!
It's a wonderfully versatile set of a hand towel and two cloths knit in 100% cotton.
The edges on the pure white cloths are double seamed to prevent rolling and provide sturdiness despite the delicate look of the pattern when combined with the contrasting color of the O's.
The beach glass set(1 hand towel and 2 cloths) is a vivid aqua and pure white(only available as custom order)
The coral set(1 hand towel and 2 cloths) is a sun bleached yet bright coral and pure white
The hand towel measures 18" long by 16" wide
The cloths measure about 8 & 1/2" x 8 & 1/2"
They can be washed and dried on a cool or warm setting, but NOT high or hot as 100% cotton has a tendency to shrink. Can be ironed on cotton setting.


Colors may vary depending on screen resolution

Summerville, SC
Thanks so much for stopping in! Why don't y'all sit on the porch & stay a while!CUSTOM ORDERS HAPPILY ACCEPTED! FREE LOCAL PICKUP FOR THE…
Contact Maker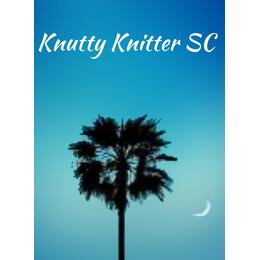 Meet the Maker
Hey y'all!!! Welcome to Knutty Knitter SC!!
My name is Jennifer, I'm originally from Central NY but moved here to Summerville, SC because I absolutely love the lifestyle and the people here! I'm Mama to a GIGANTOR 18yr old son whom I adore & have The Big Guy, who isn't too bad & feeds my yarn addiction.

I will knit just about anything you can think of but my favorite items are things like shawls, blankets, baby sweaters…The idea that something I've created can be passed down in a family & treasured does my heart good!
I look forward to helping your ideas become a reality!
Have a blessed day!
Jennifer
Knutty Knitter SC
Shop Policies
Shipping on in stock items will be done within 3 business days of payment
RETURNS
I CAN NOT REFUND/ACCEPT RETURNS But I will do what I can to make sure that if you have a valid complaint, it is addressed and fixed as quickly as possible
I always do my best to represent my work in my photos and descriptions. often times, it is difficult to capture the true color of the yarn. When able, I provide a stock photo from the manufacturer so I do not accept returns based on color dislike when photos like that have been provided.
Please read DESCRIPTIONS CAREFULLY! I always provide measurements, length, width, height...
If you are unhappy with an item purchased, please do not hesitate to contact me, I will do everything in my power to fix the situation .
I DO NOT KNIT PRODUCTS THAT INVOLVE COPYWRITTEN MATERIAL OR TRADEMARK INFRINGEMENT ie Disney characters, major league sports, etc. But if you see a knit item in a TV show and would like me to replicate it (a hat from Gilmore Girls, a wrap from Highlander etc) that I am able to do to the best of my ability!
CUSTOM ORDERS ARE NON-REFUNDABLE
I AM NOT RESPONSIBLE FOR ANY SHIPPING DELAYS. YOU WILL BE PROVIDED A TRACKING NUMBER ONCE I SHIP YOUR PURCHASE BUT I HAVE NO CONTROL OVER HOW USPS HANDLES YOUR ITEM. If there is a problem, please contact me and I am always happy to do everything I possibly can to assist!
Please sign in so that we can notify you about a reply