About this Product
This abstract rainbow colorful wall art is a one of a kind piece of home decor, great to brighten up any space. This piece is titled "Floating Hearts II". These are actually incredibly hard to photograph due to the fact that the lighting affects the appearance of color so much and monitor colors may vary. I have tried to photograph from slightly different angles so that you can see the gloss finish and the texture of the paint.
This canvas is 10" inches high by 8" inches wide and 5/8" inch thick and is unsealed.
This is a one of a kind original artwork, not a print or reproduction.

Each canvas has a "signature", number and year written on the back. This is #101 2020
Paintings listed for sale are complete works, fully dry and ready to frame or hang.
Cairo, GA
Welcome to RainbowMaille, where all of the paintings are original works, wire trees can be custom ordered and I try to keep all the jewelry nickel…
Contact Maker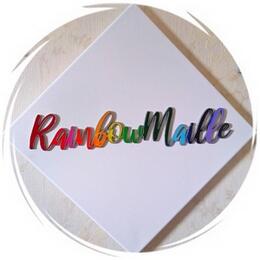 Meet the Maker
Hello, my name is Amanda, I am a housewife, a cat-mom, a rainbow lover and Maker of many things.
It seems like I have always been crafting something. I learned to sew, crochet, and embroider from my grandmothers when I was young and that was just the beginning of my love of making things. I have gone through phases in my life where I have crafted many things, it seems like almost everything. I love embroidery, cross-stitch, and floral arranging but I have also made Christmas wreaths, scrapbooks, and leather crafts.


I started making chainmaille jewelry around 2012. It didn't take long for "playing with rings" to become an addiction. As I learned more chain patterns, I also learned to use better quality rings and materials. I still love light-weight, small silver- and gold-plated rings, but I also use a variety of anodized aluminum of various gauges and sizes. I am careful to make sure that all my rings are made with nickel-free materials, but occasionally some clasps and charms are not guaranteed nickel-free. I know lots of people have metal sensitives and allergies (I do too) and I promise to clearly mark all of my products, so that you will always know what you are getting.

Part of why my chainmaille is priced higher than some others is because of the number of hours I spend on each piece. I probably could make things faster, but they would not be the quality I expect of myself. I am a bit O.C.D. so I tend to obsess over my ring closures. I know it is not possible to close every single ring perfectly, but I try. I aim for tight fits with good alignment not only side to side but top to bottom. In general, if I can see space/light then it's not right and I will do it again. I believe that gaps and misalignment lead to snagging and snagging leads to damage and breakage, so I work very hard to avoid that.
In recent years I have also started to make art in various other forms and mediums, from wire tree sculptures to paintings on canvas and the occasional combination.
How it's Made
A glimpse into RainbowMaille's studio
---
My art starts with pre-made medium-weight cotton duck canvases that come pre-stretched, kiln dried, and pre-primed, it saves a lot of time.
By sticking with the smaller size canvases like 8" x 8", 8" x 10", 10" x 10" 11" x 14" it helps to keep shipping easier and reasonably priced.
Currently using mostly acrylic paints these days, although I do have some older watercolor works for sale.
Made with Liquitex brand quality products including paints, mix-ins and varnish, although I do also sometimes use Krylon spray sealants.
I use a variety of brushes, pallet knives, putty knives, my hands and some other more non-traditional tools as well.
Shop Policies
Welcome to RainbowMaille, I try to use only nickel-free and hypoallergenic materials in my jewelry, if I ever use anything that is not nickel-free the listing will specify that. The wall art is not made with nickel- free materials because it is not meant to be worn.
Returns and Cancellations
Returns are accepted within 14 days of delivery, money will be refunded after the product is returned. Return shipping costs are the responsibility of the buyer.

If an item is broken or damaged in shipping I will repair or replace it at no charge, please message me to make arrangements. 4rainbowmaille@gmail.com

Cancellations are accepted before orders ship but be warned I ship quickly often same day on completed items.
Cancellations requested after the 24-hour period will be decided on a case by case basis and may not be eligible for full refund if the order has already shipped.
Once payment has been received/processed I will ship the order, most orders will ship within 1-3 days.
*You have a choice of shipping via USPS Priority mail or First-class package on most items, tracking is included.

Custom orders may take longer to ship depending on the size of the item.

*Please make sure to provide a correct/current address. I am not responsible for misdirected packages due to incorrect address information provided by the buyer.
Custom orders and wholesale
I will happily do custom orders for chainmaille jewelry or wire tree art, just contact me and tell me what you want. There is no design fee for custom work. However, if it requires the purchase of special materials there may be a variance from standard pricing.

I will not do wholesale due to the number of hours I put into each piece, although, I may offer some discounts on larger/multiple piece orders, email for details. 4rainbowmaille@gmail.com
RainbowMaille does not receive any payment information and will never share your personal information such as name and address. Any information provided is used solely for the purposes of: communicating with you about your order, fulfilling your order.
Please sign in so that we can notify you about a reply