Please sign in so that we can notify you about a reply
The Black Gold Pearl Netting Beadweaving Necklace features the following:
6mm Glass grey pearls

11o Matte Jet Black Seed Beads

11o Gold Silver Lined Seed Beads

Gold Toggle Clasp Gold

Gold Plated Wire Protectors
This exquisite Black Gold Pearl Netting Beadweaving Necklace will become a favorite accessory for all of your outfits. This necklace is for the woman who loves to make a statement with their fashion accessories. You will be sure to attract many admirers with this statement necklace.
This necklace is made with beadweaving techniques. The base is made with the vertical netting technique.
This artisan necklace would make a wonderful heirloom piece to hand down from generation to generation.
Your one of a kind piece of jewelry was created with much time and love. In addition this piece of art has been created especially for you.
THIS PRODUCT INCLUDES USPS FIRST CLASS SHIPPING!!!!
Visit me on social media
NOTE: Please use care when wearing this necklace. The necklace is sturdy, but can be broken if there is sudden pulling on the piece. Do not wear when swimming or around water. Treat necklace as you would any other heirloom piece of jewelry!
Blessings and Grace with Beads and Lace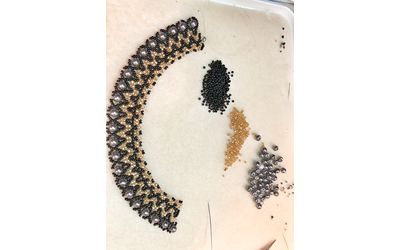 This necklace is made with the vertical netting technique. By using the vertical netting technique the necklace has the appearance of open lace work.
This technique doesn't use a loom. The necklace is made with a needle and thread and the beads are added one bead at a time.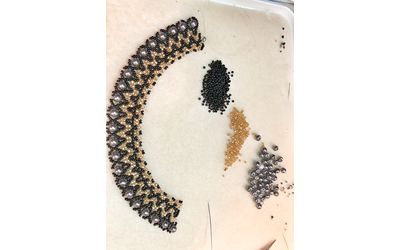 Teresa Delosh of Couture Jewelry specializes in handmade artisan jewelry that is designed to become family heirlooms for generations to come. I love to make jewelry that you will be proud to pass on to your family. I feature beadweaving, free standing lace, vinyl and leather jewelry. Now offering fashion accessories along with our jewelry.
PROCESSING TIME
Jewelry that is ready to ship will be available for shipping within 7 days. Orders may be shipped earlier, but are not guaranteed to be shipped prior to 7 days.
SELLING TO USA ONLY
Couture Jewelry doesn't offer shipping outside of the United States
CANCELLATIONS
Couture Jewelry does not offer cancellations. If there are any problems, please contact Couture Jewelry at info@couture-jewelry.com
GENERAL TERMS
Satisfaction is 100% guaranteed. If there should be any problems with an order, please contact me first before returning.
If after talking with you about your order you still wish to return the item please send back to Couture Jewelry in the original, unaltered condition and the original packaging within 14 days of purchase for a refund of the purchase price. If we have decided ahead of time you would like to exchange your purchased item for an equal value item, we can do this as well.
PLEASE DO NOT RETURN ANY ITEMS WITHOUT CONTACTING COUTURE JEWELRY FIRST. BUYER is responsible for shipping costs to send products back to Couture Jewelry. If the product is received not in original condition the BUYER is responsible for any loss in value.
Returns or exchanges are not accepted on the following:
Merchandise returned after 14 days from the original ship date
Personal items such as face masks
Custom Made Orders
Items that have been purchased on sale.
Refunds will be issued via Stripe once the merchandise has been received by Couture Jewelry. If you have any questions about your order, please do not hesitate to contact me by email at info@couture-jewelry.com
NO RETURNS ON PERSONAL ITEMS SUCH AS FACE MASKS!